For the first time in my nearly twenty years of reviewing personal watercraft – have I ever intentionally delayed, even avoided, writing a review. Seriously, this one has gotta be easily three, maybe four months late, and frankly, I'm still struggling to write this. But here I am, and here we are. So I guess there's no more putting off the inevitable.
A few months back, I got to spend a couple of days on the 2023 Sea-Doo Explorer Pro 170 – and I quite literally hated it. But to be fair, I think the problem might be more with me than the Explorer Pro itself. I've had quite a bit of time to think about it, and I think it's a matter of the Explorer Pro targeting a customer that frankly, I have zero in common with. I'm just not who the Explorer Pro is aiming for.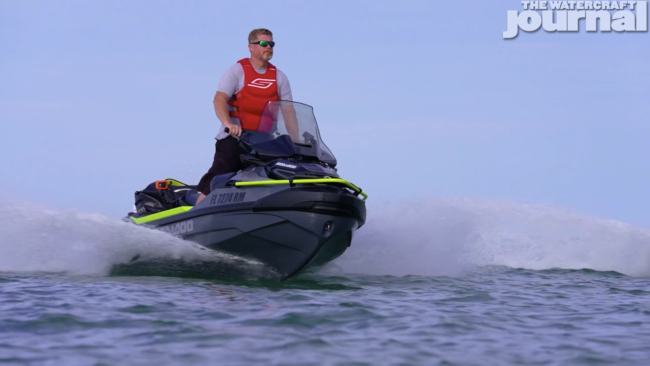 As biased as I can be, the Explorer Pro 170 represents everything that I detest about the trajectory of the current watercraft market: namely, a gravitation towards machines that insulate the rider from the environment and keep them distracted from the visceral sensation of riding – reducing the on-the-water experience to being little more than transportation; a means of getting from one place to another.
Of course, that was my initial response to the Explorer Pro. Others saw it just as Sea-Doo presented it: unlimited access to shorelines and waterways that you otherwise couldn't reach by conventional watercraft. Even the ad material was enticing (albeit misleading); smiling campers unloading coolers and camping gear as their Sea-Doos sit beached dozens of feet up a rocky shoreline.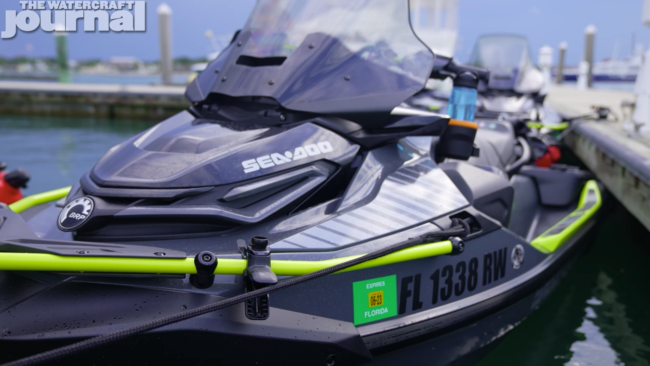 And while, yeaaah the Explorer's bow rail is intended to be used to drag the nose up on a shoal or sandbar (each fixture is reinforced with a steel plate so you can even tie up your anchor or dockline to the powder coated railing) the Explorer's ST3 hull is still made from BRP's proprietary CM-Tech, which still doesn't respond well to beaching. There's no reinforcement or rubberized keel guard as some speculated.
Although the $16,799 (MSRP) Sea-Doo comes equipped with Sea-Doo's Intelligent Debris Free pump system, that's mainly intended to purge grass and kelp tangled in the intake grate, not to dislodge small rocks and pebbles from the impeller. And it's not too uncommon for rocks to wash into the pump while beached on the shore.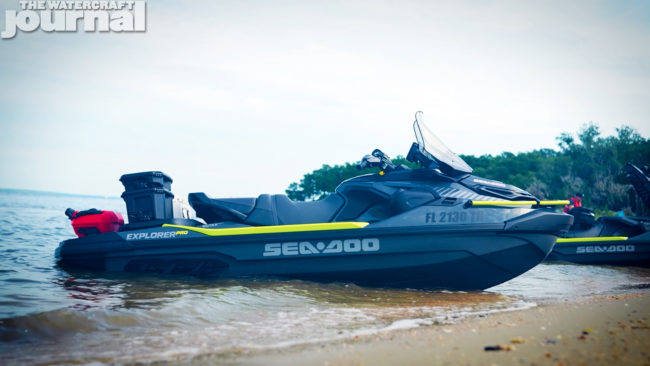 So if all of that wasn't clear, let me reemphasize: Don't beach your skis. Buy an anchor and tie it up in 3-feet of water. There's a reason they put that in the owner's manual. Those pictures they show beaching the Explorer Pro? Yeah, don't do that.

OK so with that out of the way, let's get back to the Explorer Pro 170. At the outset, it's really not all that different from the Fish Pro Sport. Both skis are identical in hull and deck design, ergonomics, and several key features. Both come with a 1630 ACE 3-cylinder producing 170 naturally aspirated horsepower fed by an 18-and-a-half gallon fuel tank.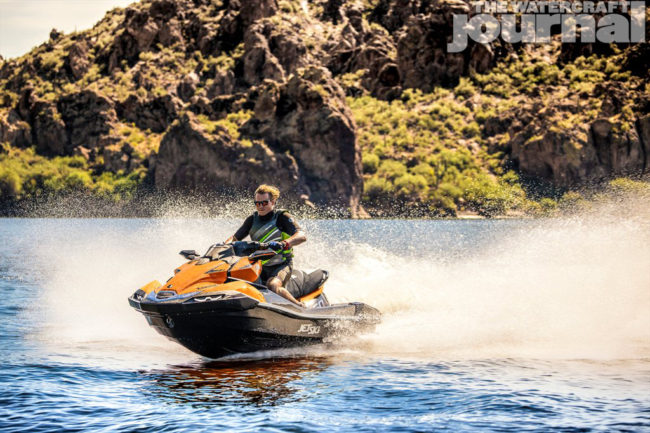 And like the Fish Pro, the Explorer comes with a rear deck extension but equipped with a second set of LinQ attachments. The added 11.5 inches (29 cm) to the back of the watercraft allows for two LinQ accessories instead of the Fish Pro's one. Yet, a third pair of pop-up cleats also permit the traveler to bring a single accessory in the center, permitting for four different arrangements.
Additionally, the Explorer Pro includes a massive hard-mounted platform behind the rear passenger's seat with even more LinQ mounts. This deck gives you three more positions for your LinQ items, or a single spot for the Explorer's gargantuan Explorer Bag – a whopping 100-liter (26.4 gal) watertight storage duffel that can locked down using LinQ attachments, stacked atop other LinQ compatible accessories or carried as a backpack.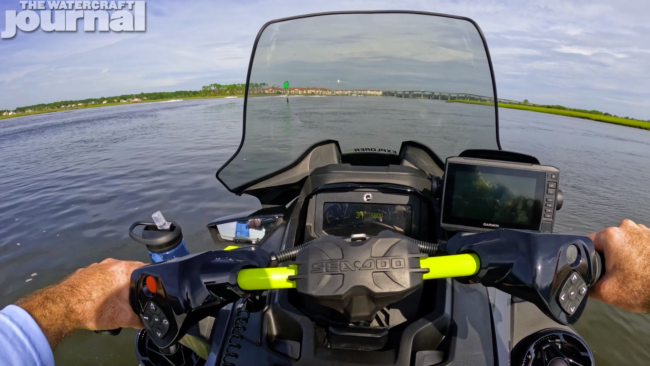 Some final similarities to the Fish Pro Sport include the angled gunwale foot rests, Ergolock knee pads and a Garmin 7-inch touchscreen fish finder, GPS and fish locator. The Garmin chartplotter features an in-hull transducer with mid-CHIRP technology (as well as a token for access to free upgraded regional maps); all really good, functional stuff.
It's where the Explorer diverts from the Fish Pro Sport that I found problems began to rise. Both share the center storage bin totaling 25.3 gallon (96 L) front stowage. When filled, the rear-mounted Explorer Bag exceeds that by a whole other gallon. Strap down another couple of jerry cans of fuel or a large Fish Pro cooler, and you've got an extra couple hundred pounds hanging over the transom.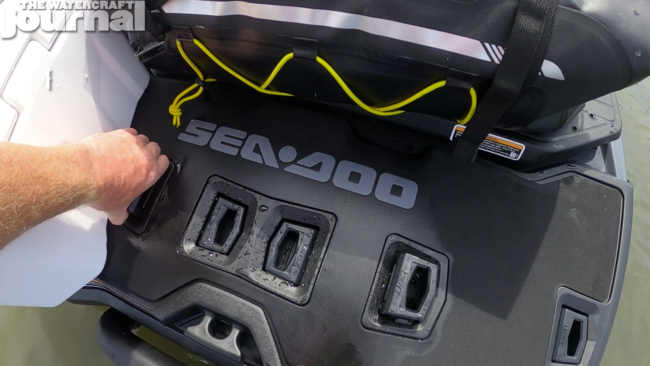 The Explorer also comes standard with Sea-Doo's Tech Package consisting of a full-color split-screen 7.8-inch display that interfaces with your smartphone via Bluetooth or a USB port in the glovebox (but never simultaneously) and is supposed to provide music, weather and navigation through the BRP GO! app.
The dashboard is navigated through a responsive toggle pad on the steering. Prompts guide you through a series of pages to manually input your phone's name, pair it to the dashboard, access the BRP GO! app (permitting for GPS navigation as long as your phone has a strong WiFi signal) and play music (again, only accessible if your music catalog is saved to your phone or you have a WiFi signal out on the water).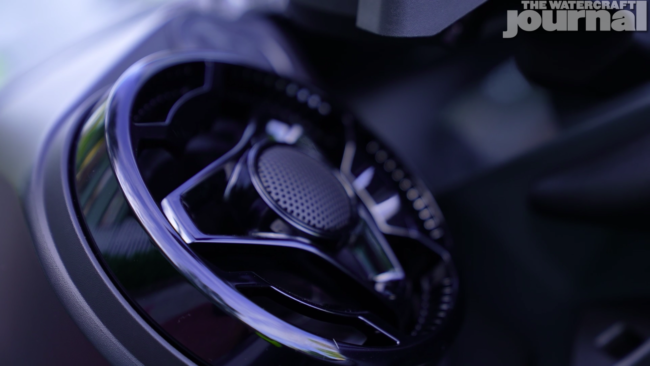 I have documented my travails with BRP GO! and the Tech Package interface extensively here at The Watercraft Journal. Without expounding further, it's been resoundingly negative thus far, which is particularly disheartening as BRP's 100-watt Premium Audio System was easily one of my most recommended additions for years prior to the advent of the cumbersome Tech Package.
Unique to the Explorer Pro, the Premium Sound System is particularly potent thanks in large part to the Touring Windshield, which protects riders against wind, weather and water. At speed, the shield reduces wind noise that music or podcasts come through with crystal clarity, which even as I write this, sounds really good.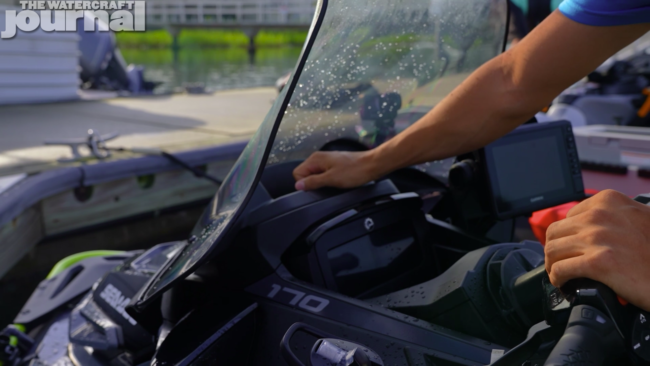 The windshield has a thin rubberized lip around the screen, softening its edges. It also sits on a sliding track, allowing the whole windscreen to "give" a couple of inches when pressure is applied. During my two-day ride, we discovered that sliding the windshield forward to its stop, and pulling up detaches it from its tabs and folds forward, nearly flat on the bow.
Because we were riding through the intracoastal waterways around St. Augustine, Florida, in August, we were sweltering behind the windshield (the small plastic vent did little to direct any air towards you. Instead its purpose is to defog the plastic windscreen). Desperate for a breeze, we all folded the screens down or rode standing up in the open air for much of the ride.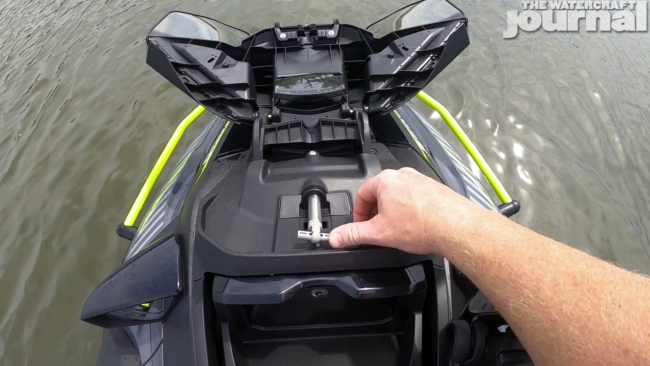 I also noted that the clarity of the screen completely vanishes into a multicolored swirl (similar to a pool of gasoline) when wearing polarized sunglasses. This reduced my visibility to near zero, making it impossible to read the water, which aboard the problematic ST3 hull proved itself yet again, to be dangerous even for an experienced rider like myself.
Thankfully, the Explorer Pro comes with two features which helped offset the completely obstructed view: the densely padded Explorer Pro seat, which raises the rider an inch higher into a more vertical riding posture and the adjustable handlebar riser (the same adjustable steering neck available on the Trixx and RXP-X). Whether sitting back on the raised seat or standing up, I wasn't leaning to reach the bars, allowing me to comfortably see above the obscured windscreen during my two-day ride.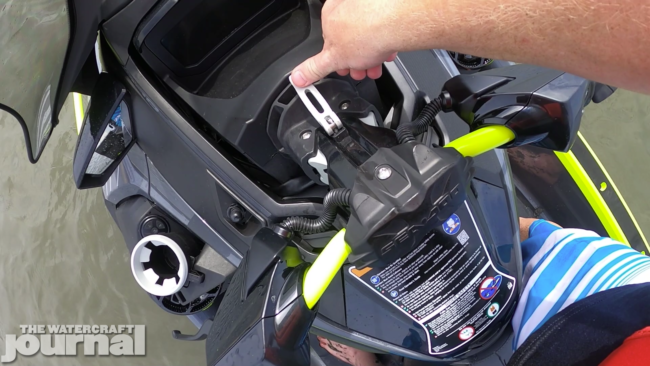 And it was here, peering through an impenetrable windshield, tracking my dogged progress on a massive 7-inch chart plotter, and fretting over my iPhone persistently failing to sync with the digital dashboard, that I realized I was hating my experience on the Explorer Pro 170. Rarely did I look up to soak in the scenery or enjoy where I was. Rather, I was too busy looking at screens to bother to see where I was.
This is not what jet skiing is supposed to be. This is the exact opposite, I felt and I didn't like it.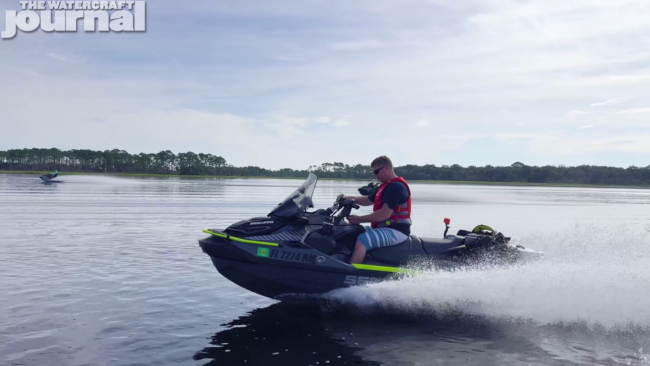 Don't get me wrong, Sea-Doo knew exactly who they were aiming at with this ski and for the most part, they did a great job checking all of the boxes to make sure that these customers were satisfied. It's just that these people do not want to experience anything while on the water. I know because I get their emails, read their comments and review their complaints – and believe you me, there are a lot of complaints.
So what did they get? A joyless machine that cannot traverse the slightest ripple of chop, is horribly imbalanced when appropriately loaded down, and rewards the pilot with a stale, lifeless ride from one destination to another. The Explorer Pro is big, and worse off, it feels big: she's 146.8-inches long (six inches longer than the Ultra 310LX); 49.4-inches wide (2.5-inches wider than the Kawi); and 859-pounds dry (so factor in 155-pounds for fuel, coolant, oil and a battery puts a curb weight closer to 1,014lbs.).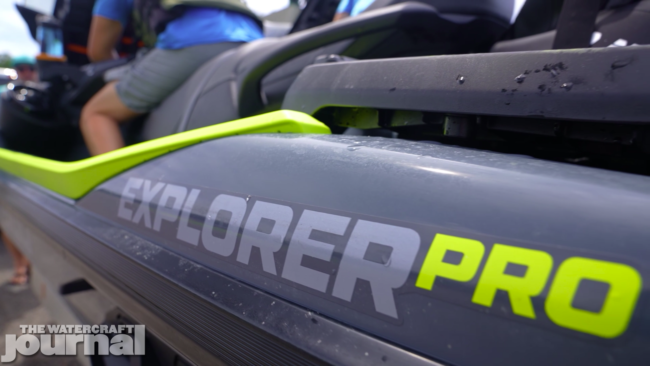 This is important because the Explorer is only rated for a total capacity weight of 600-pounds. When the majority of that weight is distributed behind the rider – through loading hundreds of pounds of cargo and fuel – the balance of the machine is thrown off. Suddenly, the flat rear half of the hull is doing all of the steering, which is not the same as trimming down.
When burdened under load, I found the Explorer Pro significantly underpowered, unmanageable in mild chop and wakes, and nigh dangerously uncontrollable in heavy seas (what I'd consider 3-feet and above). One of our group were thrown forward into the windshield. Others lost cargo or had LinQ attachments break. I personally duck-dived the entire craft – up to my elbows – as we exited into the Atlantic near Amelia Island and lost a GoPro to boot.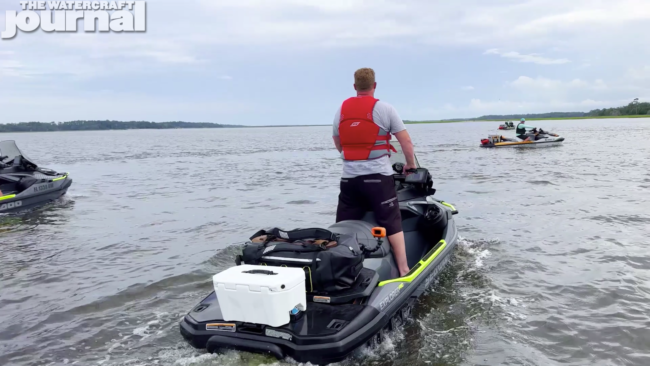 Admittedly, I can see how the Explorer Pro 170 would best serve those riding in cold weather and isolated locations. (Two of the units in our group came equipped with BRP's electric heated hand grips.) But it would be disingenuous for me to suggest that such a purchase be strictly for a few limited months solely – and that's why it's hard to recommend it.
In my procrastination, I've shared a little bit of my displeasure with the 2023 Sea-Doo Explorer Pro 170 during live question-and-answer sessions on YouTube, and to their credit, many have bucked my opinion and gone ahead and purchased one. Thus far, those who've told me such have enjoyed the many features and unique abilities of the Explorer Pro and that's great too.
Like I prefaced, I just don't think this one's for me. Some of you will agree with that sentiment. Others won't. And that's OK too. We don't all have to like the same things.