As a kid, how would've you liked to come home from school with a 108-percent on a test? Well, those are the kind of grades that Yamaha Motor Corp. is bringing home for 2019 – with an impressive 108-percent STD (sales to date) over 2018. Additionally, the "little WaveRunner that could" – the VX Cruiser HO – continues as not only one of Yamaha's top sellers but the single most popular PWC for two years running.
Add to that the newly redesigned FX (both HO and SVHO) literally selling out in several markets – making it Yamaha's best-selling luxury watercraft – and the EX Series continuing to draw in new first-time buyers without cannibalizing the VX Series' sales, aaand both the FX and GP1800R dominating race courses, and you've got the makings of a rock solid year for Yamaha WaveRunners.
So what is there left to do? For 2020, Yamaha is leaving much of its lineup alone save for some seriously retina-scorching colors (we hope you like yellow!), a couple murdered-out stealth bombers, and possibly the most patriotic thing you've seen since Captain America socked Hitler on the jaw. There's also a surprising re-branding of a favorite machine that might surprise you.
Yet, that's not to say that there isn't a bunch of new stuff to sink your teeth into, which we'll discuss first. With both of the competition offering pretty impressive wattage pumping out of factory-equipped speakers hard-mounted to their full-sized runabouts, Yamaha's previous offering left some yearning for more. For 2020, Yamaha's new FX Audio Package produces the same wattage as Kawasaki's Jetsounds (60-watts) while remaining removable, completely waterproof, shock resistant and they even float!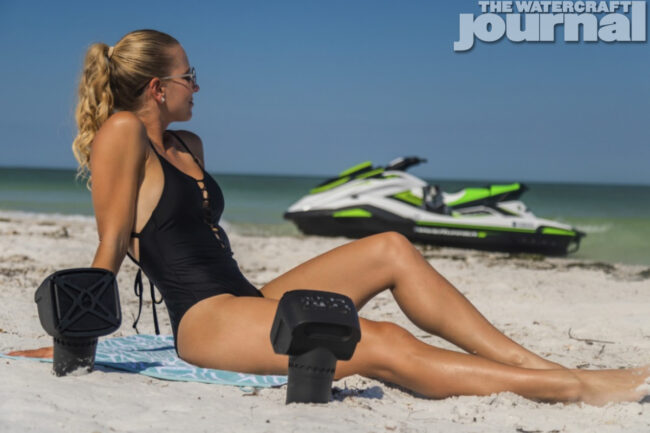 These redesigned Exogear Speakers are made with marine-grade materials, and come as a pair of 30-watt 4-inch woofers and separate tweeters. With an impressive 15-plus hours of battery life, each speaker includes a custom mount for an integrated, wireless installation. The two speakers are EcoConnect paired "out of the box," for stereo listening, streaming music wirelessly via Bluetooth 4.2 from up to 100 feet away. You can even access Siri & Google voice through the EcoTalk button.
Similarly, the EX and VX Audio Package gives Yamaha's Rec Lite and Recreation segments just as much audio enjoyment as the FX. Equally waterproof, shock resistant and buoyant, the redesigned 15-watt (combined 30-watts) compact 2.5-inch speaker has the same 15-plus hours of playtime; solid, marine-grade build quality; and Bluetooth connectivity and EcoTalk and EcoConnect features as the FX. Yet, these fit all 2015-up VX, all GP1800/R and EX models. Plus they include the necessary RAM mounts and necessary hardware for an easy installation. Priced at $349, these will be available this October.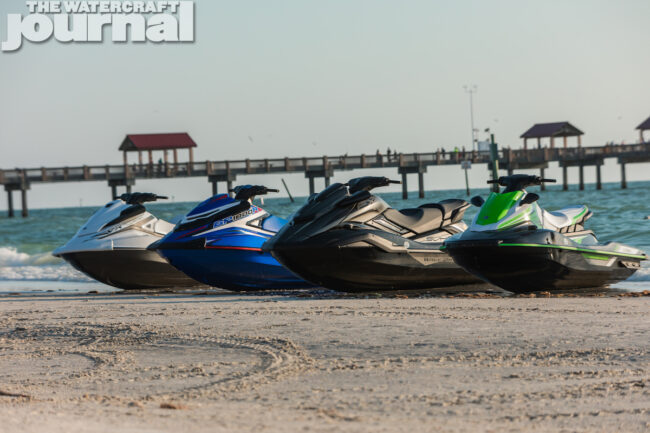 Now, if function is higher on your list than music you'll like the new VX Stern Storage and Cooler. This new semi-rigid case attaches with zero drilling or modification. Featuring two side-mounted loops to hold fishing rods, the VX Stern Storage ($249.99) can be used for fishing, towing extra gear or even riding to an overnight destination. When paired with the Cooler (sold separately at $129), the two work to make your time more enjoyable than ever. The Cooler is zippered and lined with high density insulation, and can hold up to 18 cans (plus ice).
The biggest accessory addition is a trio of storage modules for the EX Series: a Bow Waterproof Storage, a new Hatch Storage and an EX Stern Storage. The first is a large 20.5-liter roll-top dry bag that replaces the shallow bow storage ($75.99); the Hatch Storage is a semi-rigid pod featuring a transparent window allowing you to interact with a smart phone, and stores as much as a tow rope ($54.99). Lastly, the 15-liter EX Stern Storage mounts without any drilling needed; is made from durable, weather-resistant, compression-molded black EVA foam, and permits access to the stern tow eye without removing the bag ($129.99).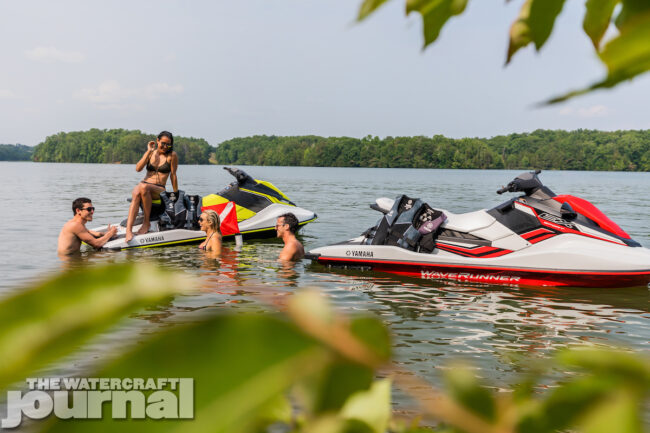 All of these are designed to amplify your experience while riding one of the newly recolored 2020 models – all of which are direct carry-overs from 2019, each given a fresh, incredibly lively new livery. The EX Series continues with a single yellow-and-white base model EX ($6,899), two color options for the EX Sport ($7,899); red-and-white, and black-and-blue; two offers for the EX Deluxe ($8,899), black-and-green, and blue-and-silver; and a yellow-on-blue variation of the super fun EXR ($9,399).
Yamaha's VX Series continues to offer the brand's best value for the mid-sized segment with the rental-friendly VX-C ($8,999) offered in yellow-on-white, with its retail equivalent, the base VX ($9,899) in blue-over-white; the VX Deluxe ($10,699) is available in either yellow-and-navy blue or two tone green-on-black; the VX Cruiser ($10,999) shines with a blue-on-silver and an all-red with white highlights variety; the TR-1 powered VX Limited ($11,399) is gorgeous in a super-clean all-white livery (and matching accessories) with the VX Cruiser HO ($11,799) in either yellow-and-white, or two-toned blue and white.
Sure to excite the more patriotic, the super successful GP1800R ($14,399) comes in a flag-waving red, white and blue outfit with an eye-melting yellow with blue and white highlights variant. Certain to confound some folks was Yamaha's decision to rename the naturally-aspirated sibling to the GP1800R – the VXR – the GP1800R HO for 2020 ($12,299). Now, the formally-known-as-the-VXR comes in either silver with blue and green highlights, or black-and-yellow. And alas, the 2-stroke SuperJet ($8,699) continues unchanged since last year's color update.
Lastly, Yamaha chose to pump up the excitement for the FX lineup with some primary colors. First, gone are all of the white plastic bumpers and more sedate, metallic colors. The naturally-aspired FX HO ($13,699) is now in white and bright green; the Cruiser variants ($14,199) come with either electric blue highlights on silver, or red-and-white. And certain to tickle performance enthusiasts is the Darth Vader-esque, murdered-out all gloss-and-semi-flat-black FX SVHO ($15,699).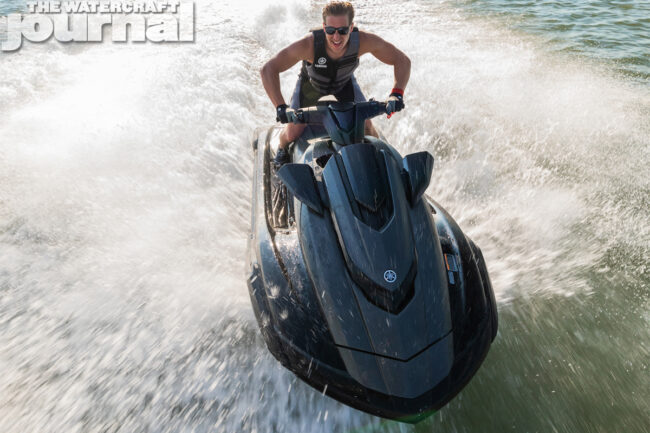 The Cruiser variants of the FX SVHO ($16,399) are available in either red-and-silver, or blue with silver and yellow highlights. Lastly, the brand's top-of-the-line FX SVHO Limited ($17,599) comes in with a stealthy gloss-and-flat black livery with electric blue highlights just to distinguish it from the FX SVHO, also with matching accessories, including the redesigned Exogear speakers, a bow storage cooler bag, a Garmin Striker 4 GPS and transducer, fenders, a new C&G tube kit, and the 12-volt outlet mounted in the waterproof glovebox.
Apart from these color variations and the renaming of the VXR to GP1800R HO, there are no noticeable mechanical changes to speak of. Thus far, the Yamaha lineup has enjoyed incredible success, and after a succession of introducing new and updated models, a swathe of new accessories and entering a whole new market segment, Yamaha has earned a year to let the models (and all of the engineering and design imbued in them) speak for themselves.