This year marked the 9th year that Charleston, WV hosted the Pro Watercross National Championship race. The locals call the event "SportsFEST," which includes the PWC racing, Pro EVP Volleyball and Grappling, all on Magic Island. With a long history like that, there needs to be a local person to spearhead such a task. Enter, Trey Frame of Hidden Trails Motorsports, who has been involved since the very beginning.
Frame told us, "As a racer for many years, I wanted to set this event apart from all other races in the US. The way to do that is to make sure it's the highest payout race in the US. So, for the last 9 years, we've raised local sponsorship and put it all in a 'pot' and added it to the Pro Watercross Tour payout like a bonus purse for this particular event. I believe this year had a $15,000 purse just for this one event. This has worked out really well over the years and I think the racers appreciate the effort."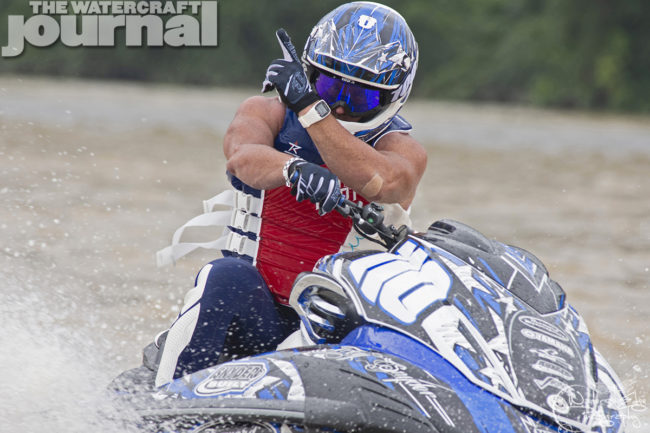 This year, a broken retaining pond plus abundant rain ended racing abruptly on Saturday, right after Moto 1 of the Pro Show. The plan was to get all 3 motos of Pro and Junior classes finished on Saturday, plus one moto of Amateur racing. Unfortunately, AJ Handler (CEO of Pro Watercross) received a call early afternoon from the Fire Department alerting him that a retaining pond had given way. He was told to brace for a 6-8 foot increase in the water level!
Handler told us safety was his number one concern, so they called a riders meeting around 4pm telling the riders we were done for the day. It was obvious to everyone that this was the right call. There was loads of debris going down the river, water was rising so fast it was moving the buoys on the course all over the place, and the starting line and towers were starting to disappear under water.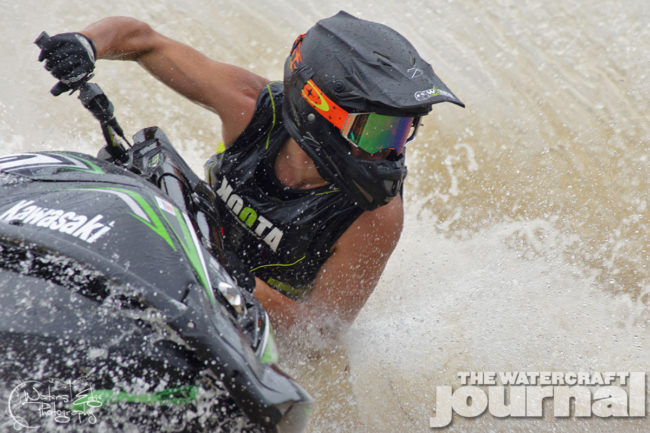 Hats off to the staff of Pro Watercross for getting in all the remaining forty-seven motos completed on Sunday. The race director, Scott Hyke, was on site at 5am Sunday morning assessing the situation to get racing started as soon as possible. Luckily, this wasn't Handler's first rodeo, either. He's been putting on events like this for many years and told us that he's fit in 53 motos in one day before, so he knew it'd be possible to fit all the races in on Sunday. Handler told us they finished all racing by 3pm and is very thankful to his staff for making everything happen swiftly.
In Pro-Am Ski Stock, Jimmy Wilson battled back Callaway Turner and Justin Treder to take the weekend's win as well as earn enough points throughout the culmination of the National Tour to make him the National Champion. While racing the three motos resulted in Dustin Motzouris claiming the weekend in Pro-Am Ski GP over Jimmy Wilson and Mike Klippenstein, the points total for the year resulted in Wilson grabbing a second championship for the GP class. A similar shakeup occurred in the Pro-Am Runabout Box Stock class, and Troy Snyder earned top billing for the weekend but resulted in Brian Baldwin fetching the National Championship.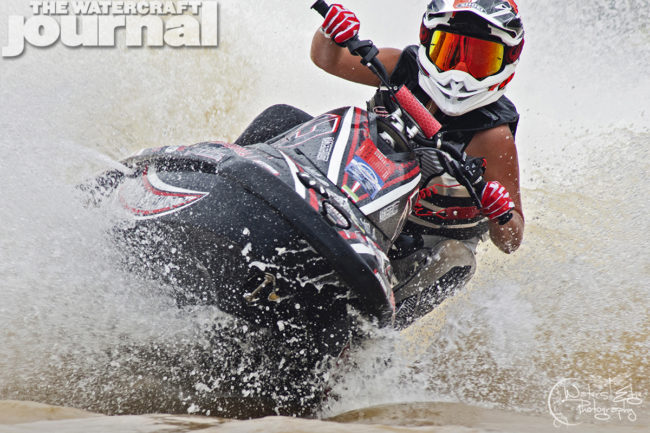 Equally, Baldwin tallied enough points to grab the championship in Pro-Am Runabout GP over the year, while Jeff Dyckowski bested Baldwin and Dylan Osborn in Charleston. For the pros in Sport GP, it was Christian Daly who bested Michael Osborne and Sam Nehme for the podium win, but Nehme who had earned the necessary points to push him above the rest for the National Championship. Yet, it was none other than Ryan Doberstein who swept both the weekend's podium and the National Championship in Pro Freestyle.
The Watercraft Journal asked Trey Frame about the challenges they face at an event like this. He explained, "Obviously this is a unique event, being on a river, and a lot of work goes in to making this happen. Everything from working with Bill Barr with Amherst (the local barge industry) rescheduling their operations around this event and river closures, to working with local sponsors like Rumble Ready Mix for gravel for the launch area and Rodney Loftis who donate labor and equipment to dress up the race launch area. This year we brought in 100 tons of gravel and I was told by several racers it was the best launching they've had. Although there are always potential issues with racing on a river, like weather and this year we had several days of rain which causes the river to have a lot of debris sometimes, but I was glad to see all the racing finished out."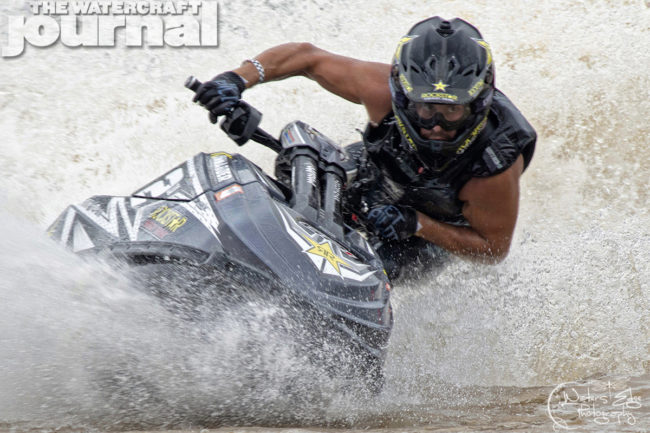 We asked Frame who else needs a special mention for making our Pro Watercross National Championship event happen. He told us, "Obviously we need to thank the City of Charleston for hosting and believing in this event and all the local sponsors who donate either time, equipment or prize money. Samantha Carney has helped me from the beginning and is always there for me to get things done to help showcase this event. As far as recognizing the local sponsors, this event couldn't work without the support of Amherst, Rodney Loftis, Rumble Ready Mix, Sunbelt Rentals, Hidden Trails, Daniels Electric, Inc., J-Class Collision, Bossie Electric, Marty's Tire, The Paint Store, M&L Electric, Retina Consultants, Summit Bank, AOMC.mx and Elco Mechanical.
"We'd also like to thank US Senator Joe Manchin III for stopping by and checking out the action on Sunday. When this event first started 9 years ago, we called it the Governors' Cup. It was named after Joe Manchin III, who has since become a US Senator. Senator Manchin is a huge watersports enthusiast and it was really cool for him to take time out of his busy schedule to stop by and support the event," Frame continued. Next stop, we'll see everyone at Naples, FL to celebrate the Pro Watercross World Championship which starts with Hydroflight and SUPcross on October 26 and finishes with Watercross from Nov 1-4th.
All imagery provided by Waters Edge Photography. Original, unedited versions can be purchased HERE.