We caught up with some riders following the third Round of the Pro Watercross Tour, Presented by Broward Motorsports. The third stop was in Racine, Wisconsin which is about 1.5 hours north of Chicago, IL on the west side of Lake Michigan. Racers such as Jimmy Wilson describe it as "a gorgeous beach with a ton of spectators just out to enjoy the sun and sand. Racine even had an Italian festival going on. We found a couple awesome little restaurants in town over the weekend for breakfast and dinner."
Niki Turner told us, "Racine was a beautiful site for Pro Watercross to come enjoy. I loved having the beach feel without the salty after effects. The city representative was super welcoming and seemed to truly enjoy watching our sport. [There were] fun wave conditions, perfect 70+ degree weather, and an enjoyable atmosphere!"
Pro-Am Ski Stock had some heated battles. The Juniors raced in this class again, with Haden Skellett holeshotting Moto 1. He led for a lap until Jimmy Wilson passed him to take the win. Wilson holeshotted and won Moto 2. Then, on Moto 3, Wilson pulled the holeshot again, but got lost on the start. Sammy Nehme, another Junior, had a great ride in Moto 1. He was running third and held off the rest of the pack until he fell mid race. Overall for the weekend, Wilson took first, Matthew Richuk in second, and Callaway Turner in third in Pro-Am Ski Stock.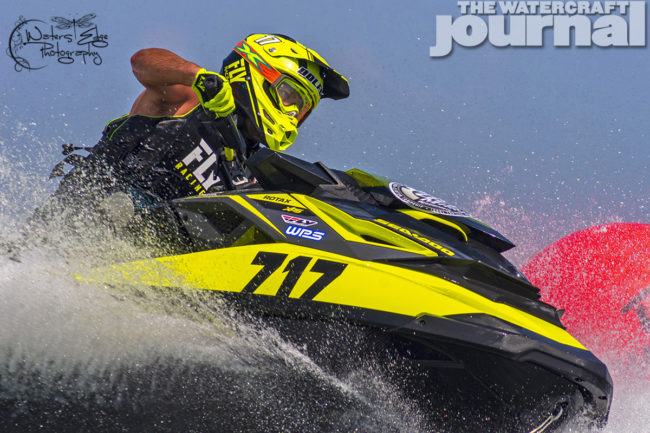 Pro-Am Ski GP was interesting. Craig Warner pulled the holeshot in Moto 1, but he broke just a couple of laps in. Jimmy Wilson won all three motos. Mike "Klipper" Klippenstien was in third both motos, challenging for second in both motos. Klipper finished behind Warner in Moto 2. In Moto 3, Klipper got Warner on the second to last lap.
Callaway Turner has been on fire in the Pro-Am Ski Stock class this season, so we took the opportunity to catch up with him for some questions. Turner told us this was his first time visiting Racine for a race as he was unable to make it there a few years back when Pro Watercross last had a tour stop there. He said, "The site was like being at a freshwater ocean, which was awesome! Weather was sunny and 75. The water was cooler than I'm used to, but not enough to require a wetsuit.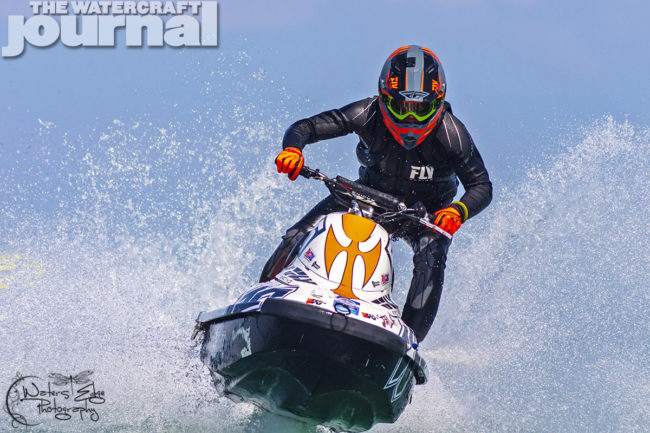 The water conditions were calm and flat on Saturday, which made for some fast racing. Some 1-2 foot wind chop started picking up throughout the day Sunday to make conditions a little more challenging and tiring. I managed to place third for the weekend, consistent with my placement in the first two tour stops down in Florida. We had some awesome competition in the Pro Ski Stock class with 14 riders signed up. This was Jeb Zarzour's [his Hurricane Racing teammate] first time competing in that class as I finally talked him into signing up for it."
Speaking of Jeb Zarzour, we spoke to him as well. Zarzour competes in Pro-Am Ski Stock, Amateur Ski Stock, and even does Freestyle! Zarzour mentioned, "The town of Racine is neat. It has a welcoming feel, kind of like a smaller beach town. It really feels like a beach town and the actual race site was large. It was all sand, for a very long strip. It was almost like being at the ocean, except not salt water!" We asked Zarzour about the conditions, since this was his first time on Lake Michigan. He told us, "The surf on Saturday was pretty flat for about 2/third of the day, but my last moto and most of the last motos that were ran for the day got pretty rough. It built up into about 2-3 foot waves. That was a lot of fun!"
We also got to ask Jeb Zarzour about competing in freestyle on his P&P Performance built and tuned 900cc Helium. He said, "That was the first time I've ever tried doing a flatwater freestyle routine in those kinds of conditions. For me, it was really difficult. You couldn't really see your set-up wake." We then asked him if he was trying to hit the natural waves, or was he trying to make his own setup wake? "I tried doing both of those. It made getting a good clean lip [of the wave] difficult. You could do something like a 180-flip, but throwing a big flip off of one of the Lake Michigan waves was more difficult," Zarzour explained.
We spoke with Gary Burtka about freestyle as well. He told us that he has competed every year there's been PWC racing in Racine since 1995 because it's his home location (living in Chicago, IL). This was his 4th podium finish in Pro Freestyle, ending his run with his signature no-hander-lander backflip.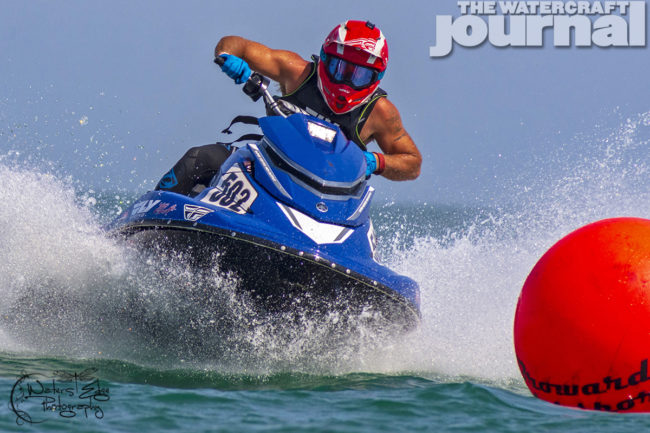 All in all, it sounds like Racine, WI, sounds like a fantastic location for a PWC event to be held. It's capable of throwing all sorts of water conditions to keep the riders on their game, all while providing a beach-like environment without the follow-up maintenance of harsh salt water.
We asked Jeb Zarzour if he'd go back again. He said, "Absolutely!" Even with the long 15-hour drive, we asked? He really liked the site. He just said that it was a bit difficult to start driving back home at 4pm on Sunday because everyone had work on Monday morning. He told us he got back to work at 9:05am on Monday morning! This seems to be a common consensus with many racers. We all travel long distances, with most of us having to be back at work on Monday morning, but if you ask any of us if we'd do it again, most everyone says, "YES!"
All imagery provided by Waters Edge Photography. Original, unedited versions can be purchased HERE.