The sparse late summer breeze rippling the azure blue water inside of the Jupiter Inlet masked what lay just outside of its mouth. The four of us had set in at the Burt Reynolds boat launch on Jupiter Island Park less than an hour before; myself, Sea-Doo's Tim McKercher, Greenhulk.net's Jerry Gaddis, and Micah Simoneaux of Florida Sport Fishing. Admittedly, I had the least amount of experience fishing, but I was plenty comfortable behind the bars of a PWC. Prior to launching, Tim had given us a crash course on the myriad of new features and accessories now standard on Sea-Doo's industry-shaking unit, the 2019 Sea-Doo Fish Pro. Between toggling through the dozens of navigational and tracking pages, Tim glanced at his watch, cut his briefing short, and ordered us into the water.
Idling just out beyond where A1A and US Hwy 1 fork in twain, I fell into formation beside Tim who was directing me to follow in the wake of an exiting center-console fishing boat. Over the din of our Fish Pro's naturally-aspirated 1,494cc 3-clyinder four-strokes and the rising howl of the wind whipping over the Atlantic, Tim leaned in and cautioned, "It's gonna be pretty rough." Almost as if on cue, the swell I was riding bottomed out, plummeting the bow of my elongated 12'3″-foot long Sea-Doo into a dive. Instinctively, I shot to my feet as the ski descended. As quickly as the swell hollowed, my horizon was filled with an oncoming wave.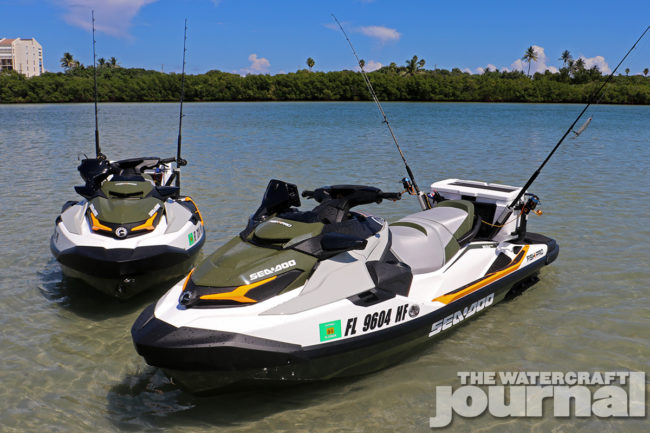 Operating on adrenaline, I viced the heavily laden Fish Pro's throttle in an attempt to crest the wave. No luck. The runabout was instantly swamped, the briny onslaught washing over the bow, engulfing the gauge cluster, handlebars and bursting into salty foam on my chest and arms. My shoulders and head jutting – for a fraction of a second – out of the sea like the bowsprit of an ancient ship rising from its watery grave. And then the Fish Pro erupted upward and returned to plane as if nothing had never happened. Releasing the throttle I quickly whipped around to take tally of my machine, its 856-pounds burdened with what I estimated to be an additional 380-pounds of fishing rods, tools, ice, bait, 18.5-gallons of fuel, and of course, me. Everything, gratefully, was still accounted for.
The massive 13-and-a-half gallon LinQ Fishing Cooler occupied the swim platform behind the two-piece bench seat, attached via a pair of standard LinQ mounts that, when removed, could collapse flat into the deck. The cooler – unique to the Fish Pro, although available through BRP's Accessories Department – touts some serious ingenuity; two threaded drain plugs are located at the rear corners complete with braided stainless tethers, which, I surmised, when removed could function as in and out ports for converting the tank into a live bait well; at the front, a rubberized cargo net is a great place to store a small tackle box, pliers or other tools.
Surrounding the outside of the cooler at the rear of the Sea-Doo Fish Pro are two rows of multi-point mounting brackets, allowing for a variety of rod holder configurations, in which the Fish Pro comes with four as standard equipment. The rod holders are notched to receive a rod's reel, but we found clipping a carabiner tied to the tank served us better in the 4-to-6 foot turbulence we were riding in. Lastly, a recessed, hardened work pad serves as a cutting board when preparing bait or filleting your latest catch. Comparable to the high dollar coolers popular with outdoorsmen today, the LinQ Fishing Cooler is just but one of the features standard on the Fish Pro.
The skies had darkened above quickly and rain quickly whipped our faces. Sea-Doo had equipped us with UV-shielding gaiters and wide-brimmed flop hats. Looking ahead, Tim had already donned his. Traveling a short distance further, he came to an idle, waiting for me to pull aside. "Where's everybody else?" he barked. I shrugged, looking back towards the inlet. The surging waves obscured Jerry and Micah from view. "Should we go back?" Tim queried. I replied that I was happy to continue out if he was certain that conditions would improve. He confirmed that yes, they would. The two other White-and-Night Green Sea-Doo Fish Pro craft came into view, and Tim throttled back up, heading further east into the Atlantic.
True to his word, the skies parted almost providentially, and the seas began to ease to a somewhat milder 2-to-3 foot cross-hatching chop. Looking a bit weary, the others scattered, quickly firing up their Garmin ECHOMAP Plus 62cv Fish Finders, their full-color 6-inch screens instantly communicating to each Fish Pro's in-hull transducer. The Garmin units are mounted via an arm extending out of the right-hand rear view mirror pod, tucking the weatherproof wiring harness out of sight. The Garmin unit is directly comparable to the top-of-the-line navigation units found on vessels double the Fish Pro's starting MSRP of $14,799.
Pages of charts, depth and seafloor mapping are at the ready in full-color display. The Garmin even comes equipped with a fish-finding system using CHIRP technology producing high definition images to view live as it happens below the ST3 hull. Speaking of the ST3, I finally came to understand the method behind the hull's madness. Last year, when first introduced, the peculiar shaping of the outermost chines perplexed me. If observed out of the water, you'll see a literal shelf running the outside length of the hull; a flat running surface breaking in to a hard, near 90-degree angle. For a race-bred watercraft, it was almost antithetical. But now, seeing what BRP had coming for 2019, the surface-tension-producing lip made perfect sense.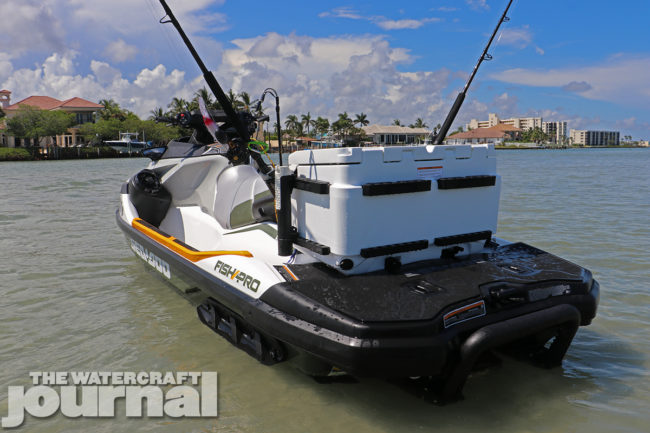 Even as I rocked to-and-fro on the rolling surf, the Sea-Doo Fish Pro was never uneasy. Whether sliding back and forth along the flat padded seat, swinging my weight from one side of the Sea-Doo or the other, the Fish Pro was resounding stable. In fact, I chose to stand much of the time I wasn't either taking pictures or video, or idling aimlessly with the Trolling Mode engaged. Amid the many new features and add-ons, a smart bit of programming slipped into the Sea-Doo's iTC (Intelligent Throttle Control) was the program permitting fishermen to toggle through low speed presets. Incrementally increasing speeds from 2mph to 9mph, Trolling Mode allows the angler to cast his lines and quietly idle wherever his Garmin fish finder directs.
A couple of hours into our outing, Tim and I gravitated to a slightly shallower spot – about 100-feet deep – and switched from trolling ballyhoo to bobbing squid off of the floor. My bait hardly touched the silt before a bite starting unspooling my reel. I swung my feet around, up against the angled, padded foot wedges hard-mounted to the gunwales, and began pulling my catch in. It was a silver-flecked, muddy brown cobia – I couldn't guess more than 8-pounds. Tim idled over, withdrew his Leatherman tool from his pocket, unhooked the fish and handed over to me to hold. A snapshot later and I set the bottom feeder free. I had done what I had set out to do: catch a fish from a Sea-Doo Fish Pro.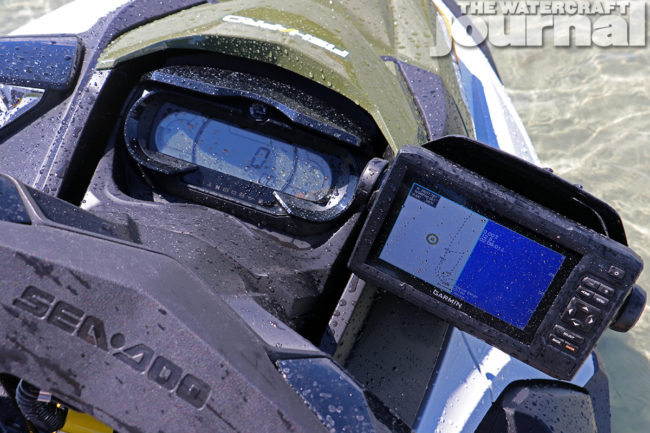 Although not standard equipment, I was lucky enough to be riding a Sea-Doo Fish Pro furnished with the BRP Premium Audio system and the Ergolock knee pads, both of which are available as add-ons when ordering a Fish Pro or as items your Sea-Doo dealer can install prior to purchase. Normally a relentless user of the sound system, I was far too distracted by my Garmin fish finder, toggling through Trolling Mode settings, and just keeping my lines from getting tangled to use it. Yet, were I out just to enjoy a ride, you can bet I'd be blaring some tunes. Two last bits of standard equipment though, are worth mentioning:
First, the deck extension adds an impressive 11.5-inches to the overall length, as well as a second set of LinQ attachment brackets. In our Long Haul video, I suggested carrying a second, smaller cooler for drinks and snacks because, as I had experienced today, my sandwich and bottled water all reeked of bait. Better to keep those separated. Of course, any LinQ accessory can be used; a dry bag, hard case storage or the fuel caddy – although the new standard 18.5-gallon fuel cell shines as a stellar improvement for the Sea-Doo. Without the supercharger, the 1504 Rotax moderately sipped at our fuel supply all day, barely consuming a third of our reserve.
2019 Sea-Doo Fish Pro Review | Long Haul, Ep. 35
With only 155-horsepower on tap, and the conditions being as punishing as they were, I never saw the craft breech higher than 52mph. That of course, doesn't mean it can't, but it'd definitely require losing much of the load it was carrying today. In the video I continually refer to the deck extension as a "hull extension"; this is only partially true, as the piece itself has very little wetted running surface. Yes, it helps in the attitude of the craft, particularly when trimmed high up while traversing brutal open seas like we did, but not enough to tout it as a true "hull extension." Nevertheless, the craft behaves in many ways, world apart from the raucous supercharged 2018 RXT-X 300 on loan to The Watercraft Journal, and the extension is a main contributor to that.
To that end, the 2019 Sea-Doo Fish Pro is exactly, if not completely more so, what I had envisioned for a factory-equipped fishing runabout. The craft's overall balance, voluminous footwells, and ease of use and access of all notable storage and notable features is inspired. The dual-purpose LinQ Fishing Cooler is genius; the partnership with Garmin is equally brilliant. As I write this, the first examples of the Sea-Doo Fish Pro have not only reached the markets in the Southern Hemisphere, but have already been sold, and put to use. While the core PWC enthusiast market (particularly here in the States) have been slow to adopt the sport of watercraft fishing, I am certain when presented to hardcore sport fishing enthusiasts, will be revolutionary.