Summer has come early for personal watercraft buyers in Australia. Sea-Doo and Kawasaki have 2020 models in showrooms while the Yamaha WaveRunner range has made it to warehouses and is awaiting imminent delivery to dealers.
The early arrival gives buyers a choice between a 2020 model or picking up a sharp deal on a 2019 edition. In most cases the model year changeovers are simply a case of new color schemes. However, some examples are all-new models or have had minor but worthwhile changes.
2020 Sea-Doos
The most affordable jet ski on the Australian market, the Sea-Doo Spark, remains unchanged for 2020 except for a minor color makeover and currency-driven price rises.
The Spark two-seater increases by $300 from $7699 to $7999. The Spark Trixx three-seater is up by $1300 from $11,099 to $12,399 but now includes a detachable Bluetooth sound system as standard.
The Sea-Doo Fish Pro keeps the same color scheme as 2019 but gets a power bump from 155 to 170 horsepower. Prices rise by $1300 from $19,199 to $20,499 and the cost of the optional Bluetooth sound system has gone up from $800 to $1000.
The high performance Sea-Doo RXT-X300 gets a bigger fuel tank (from 60 to 70 litres, the same as the Fish Pro) and is available in green (instead of yellow), while the red and black combination carries over from 2019. Price is up by $2300 on the RXT-X300 but now includes the Bluetooth audio system as standard.
The GTR 230 mid-range model gains a 1630cc supercharged engine and is distinguished by a bold black and yellow color scheme for Australia. Price rises from $17,799 to $18,599.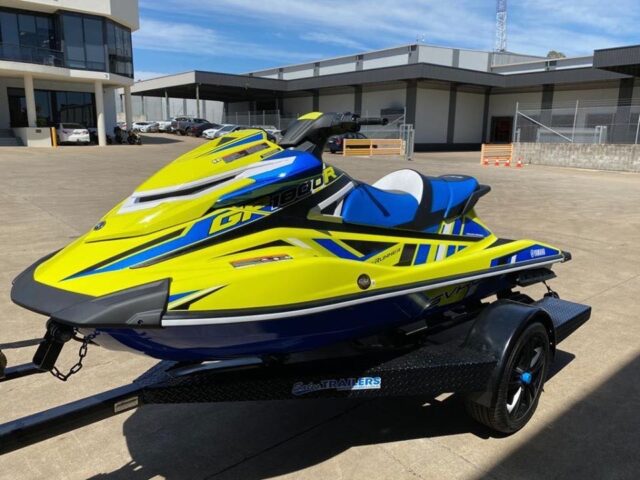 2020 Yamaha WaveRunners
The 2020 Yamaha WaveRunner range is effectively a new range of colors. Prices rise by between $300 and $500 due to the Australian dollar hitting a 10-year low against the US dollar.
The three EX models get new color combinations, starting with the budget-priced EX ($8499, the same price as before).
The FX HO is now white and green and the price has risen to $20,499 while the FX HO Cruiser (with stepped seating and two tie-down cleats) is now silver and blue and costs $21,499, both up $500.
The FX SVHO in "stealth" black with grey highlights costs from $24,799, while the FX SVHO Cruiser (with stepped seating and two tie-down cleats) is now silver and red and costs $25,799, both up $500.
The new flagship FX SVHO Limited finished in black with blue highlights comes with staged seating and four tie-down cleats instead of two: $25,999.
Unlike the US version, the FX SVHO Limited does not come with accessories such as the towing tube, tube inflator and built-in USB port in Australia. For now, the USB port is available as a dealer fit accessory.
The newly named GP1800R SVHO – in its loud yellow color scheme – has risen from $21,999 to $22,499.
2020 Kawasaki JetSkis
The new Kawasaki STX160 is not a direct competitor to the sub-$10,000 Sea-Doo Spark and Yamaha EX but this is Kawasaki's most affordable offering for now. The starting point for the Kawasaki JetSki range will increase from $12,999 to $14,999 for the STX160X and $16,799 for the STX160LX.
The STX hull, sponsons and non-supercharged 1498cc four-cylinder engine are carried over from before but the top deck is completely new, with more storage, a new dash, and a better riding position. The flagship Kawasaki 310 Ultras get new color schemes for 2020 but have begun arriving in stock.