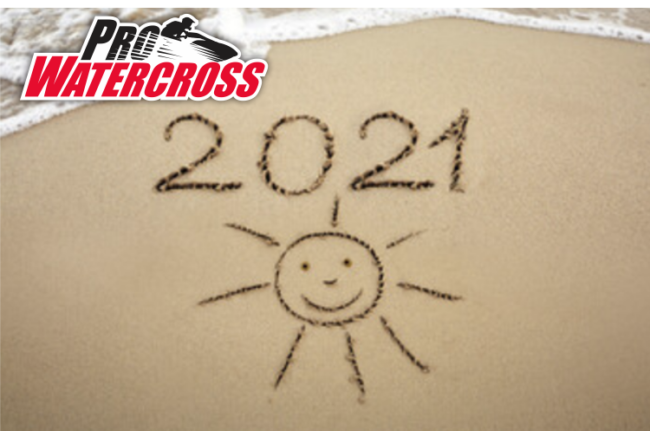 The year 2020 will surely go down in the history books as a year to remember. One that saw humanity and nearly all social events come to a grinding halt for notable portions of the year. Anticipating that 2021 will bring change to this health pandemic, the Pro Watercross has announced their tour and championship dates which will kick off in April 2021 in Jacksonville Beach, Florida. If all goes as planned, these will be the official tour dates below. Continue reading the press release for the full details:
Pro Watercross is excited to announce our partnership with all of our host cities for the 2021 race season, bringing great change and advancements to the tour and world championship!
Jacksonville Beach, Florida will kick off the 2021 Tour on April 17 & 18, bringing a new and exciting venue to celebrate the start of a new year! Located in the heart of Jacksonville Beach, the race will be a two-day festival with music and entertainment at Seawalk Pavilion, taking over the beach for a great party to get the tour started. With several ocean-side hotels, and numerous nearby restaurants and breweries, you are not going to want to go anywhere else, until you are ready to head back home!
The tour moves on to include three additional surf venues in St Augustine, Florida, the oldest city in America, Panama City Beach, Florida at Sharky's Beachfront Restaurant and South Padre Island, Texas… giving birth to the Pro Watercross Surf Championship, which will consist of a tour within the tour for competitors who just love surf racing… the Surf Championship will be comprised of the first four rounds of the tour and competitors must attend the final stop in South Padre Island, TX, to be crowned the Pro Watercross Surf Champion!
The Tour moves to Tugaloo State Park in Lavonia, GA on Lake Hartwell – home of the Belly Buster Rec Ride… dubbed as the riders' favorite venue and hosts a killer BBQ and lots of great racing!
Racine, Wisconsin's North Beach set on beautiful Lake Michigan are next on the Tour – North Beach is one of the select lakeshore beaches in the United States to be certified a Blue Wave Clean Beach. Racine offers lots to do within the city and surrounding area, including lots of downtown restaurants, and we cannot forget to mention what Wisconsin is best known for… the beer, brats, and cheese curds…
Rounding out the Tour and bringing us down to the Bayou is Lake Charles, Louisiana – North Beach in Lake Charles features white sandy beaches with plenty of parking, making it a racer-friendly location with an abundance of history, rich architecture and numerous hotels and casinos along with authentic eating establishments.
Pro Watercross races to Naples, Florida at the beginning of November (#RaceToNaples) which brings the best of the best in watercross, SupXross and other great powered watersports to Naples, Florida for the 2021 Pro Watercross World Championships. CBS Sports will spotlight pro racing on Saturdays of each event weekend and the decision has been made to focus on the three most notable classes in 2021: Pro-Am Ski GP, Pro-Am Runabout Box Stock, and Sport Stock.
2021 PRO WATERCROSS NATIONAL TOUR
April 17-18, 2021 | Jacksonville Florida
May 1-2, 2021 | Saint Augustine Florida
May 8-9, 2021 | Panama City Beach Florida
June 5-6, 2021 | South Padre Island Texas
June 26-27, 2021 | Hartwell Georgia
July 24-25, 2021 | Racine Wisconsin
August 28-29, 2021 | Lake Charles Louisiana
2021 PRO WATERCROSS WORLD CHAMPIONSHIP
November 3-7, 2021 Naples Florida
The 2021 Pro Watercross race season will be better than ever and is already shaping up to be a world class year!
Make sure you join Pro Watercross this fall in Naples, Florida, October 29 – November 1 (#RaceToNaples), we have an exciting line-up of racing and CBS Sports Spectacular filming on Saturday, October 31 for the Pro classes… Check us out on Facebook, Instagram and YouTube or visit us at www.ProWatercross.org for more information!