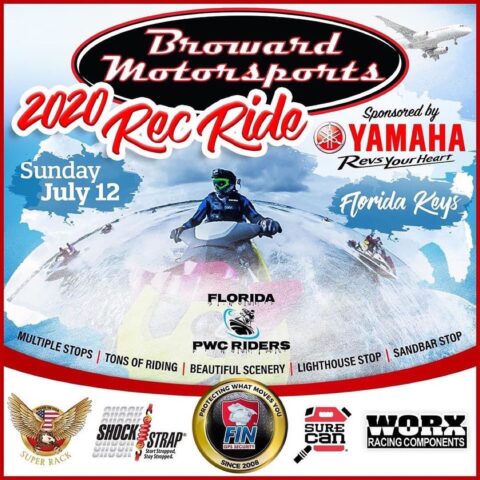 COVID-19 has had a major impact on the United States which has left us to shelter in our homes and help slow the spread of this virus. While the virus may seem to be slowing down, Broward Motorsports has announced that they have moved the date of their Rec Ride from May 31st to July 12th, 2020. While everyone at BMS was excited for this trip, BMS wants to ensure that while everyone has a great time, everyone needs to stay safe.
BMS believes that by July 12th, everyone who has signed up for the ride will be able to enjoy the ride together. Riders will be able to launch from three different boat launches in Key Largo, Florida. This way, the boat launches will not be too crowded, and you can launch at the closest one to you. BMS asks that you arrive 1.5 to 2 hours before 10am to make sure that you can launch and be ready to go by 10:00am. After everyone has launched and it ready to go, you will travel through the Florida Keys with your final destination being Alligator Reef Lighthouse. Here you will be able to explore this beautiful area and have the chance to snorkel!
If this is your first group ride or need a refresher on what to bring, BMS has outlined a list on one of their recent Facebook post, check it out here. While many of you may be upset or dying to get out of your house, BMS wants to make sure that everyone will be safe. They look forward to seeing everyone on July 12Th!