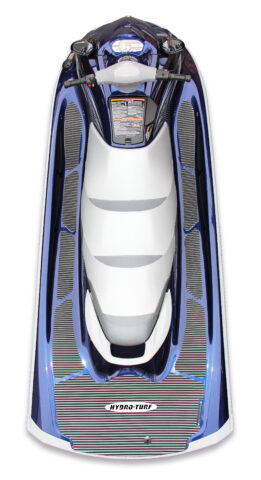 One of Broward Motorsports goals is to provide their customers with the best products at the best prices. They are able to do this by working with the best companies in the industry and have a great website that shows you parts specific to your PWC.
Broward Motorsports is happy to announce that they are offering Hydro-Turf PWC Traction Mats for 2017+ Yamaha GP1800 and 2015+ Yamaha VR/VS models. Customers can choose between two designs of cuts: groove and diamond cut.
They can also select from a wide array of colors, starting from the traditional black to colors across the rainbow. Besides your basic "R-O-Y-G-B-I-V" colors, they have many different versions of camo, marble and two tone.
Hydro-Turf has become one of the best traction mat companies in the industry through their continuous innovation and quality workmanship. Their mats are extremely comfortable to stand on without shoes but provide you with plenty of grip to stay in control.
One of the advantages of buying a Hydro-Turf PWC mat that is specific to your PWC is that they come with precut sections and 3M Peel & Stick adhesive. This ensures a proper fit during installation and guarantee that will stay glued down to your PWC.
So, whether you are looking to replace your old traction mats or wanting to spice things up this spring, head over to Broward Motorsports and get your traction mat delivered right to your door!