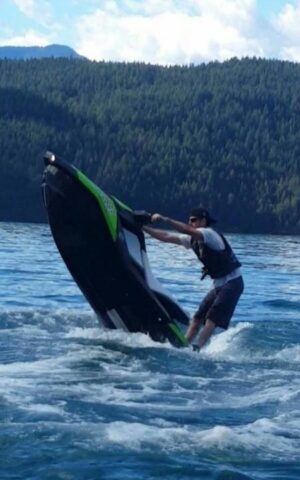 Are you tired of seeing your friends on their new Spark Trixx pulling stunts while you ride around on your regular old Spark? Maybe you are looking to add some spark to your 2014-2016 Sea-Doo Spark.
Well now you can convert to a Trixx with the extended VTS ramp kit from PWC Muscle. This new version of the product now allows you to fully match the variable trim angle of the Trixx models so you can pop those water wheelies with ease.
In order to install this bracket kit, you need to already have the VTS kit installed or purchase the VTS kit along with the brackets. In addition, there is a small modification to the venturi nozzle.
However, if you do not wish to modify your existing nozzle, PWC Muscle offers a nozzle that matches the design of the 2017 and up Sparks.
They are currently running a special price of one hundred ninety-nine dollars for the brackets alone.   With an easy five step installation process, they will have you stunting your well-used Spark in no time so head over to PWC Muscle to pick up your kit.