A blog written by Kimber Shaye begins with she and her husband musing about how cool it would be to know the depth of the open water when riding their 2016 Yamaha VX Deluxe WaveRunner. It was all fun and games until they ran aground in a lagoon, which was typically 2-3 feet deep. Thus the hunt for a depth finder began.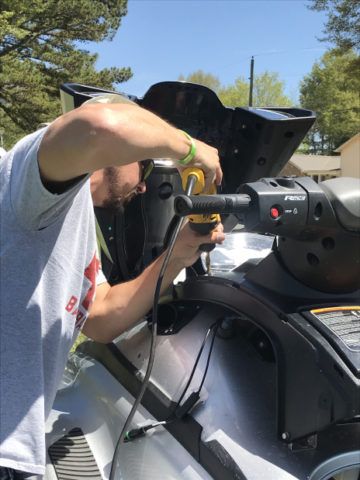 Following weeks of research, they settled on the Raymarine Dragonfly 4 Pro. It is the perfect size for PWC and has all the bells and whistles. The included mount isn't suitable, so an aftermarket RAM Mount Marine Electronics attachment is recommended by self taught marine mechanic, Nick (the bloggers brother).
He picked up more than 10 years worth of knowledge through owning competitive bass boats and outfitting them with fish finders and transducers. Naturally, Nick helps install the depth finder; a job that takes time and patience. It also requires drilling a few small holes in your machine.
The team decides an in hull mount method is best for installing the transducer. As for routing the small cables, they wanted the least invasive method possible so they utilized going through the existing steering column. By doing so, they were able to avoid drilling into the WaveRunner's hull. Once the wires were routed and everything was good to go, it was time to attach the mount for the Dragonfly Pro.
The mount has a small base, making it easy to find a good position on the WaveRunner and is built to withstand rough waters and vibrations of smaller watercraft. Installation only required drilling two holes, which had no impact on the water tight areas due to the WaveRunners' design. Once the job was complete, the WaveRunner was put back together and the couple took it out the next day and they didn't run aground.