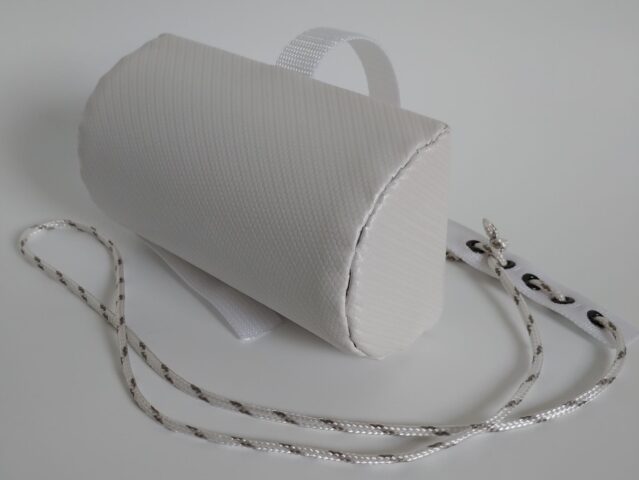 Picture this, it's springtime and you and your buddies have just docked up to grab a quick bite to eat. All is going well until a boat comes by and its wake sends your PWC crashing into the dock. Nobody wants that, but don't worry. There is a solution for you, no matter what kind of PWC you have. Dock rash is in the past, the future is the new Makeport Marine PWC Fender. These fenders are compact but provide plenty of protection for your PWC.
The UPW200 is Makeport Marines newest fender (set of 2) that is made with closed cell foam wrapped in UV resistant vinyl. This means that the foam inside the fender will not rot or mold, making sure that it will look brand new every time you use it and has no lingering smell. With its rounded design, it offers more protection compared to other fenders. These fenders are very compact with measurements coming out as 7"x4"x2.5" respectively. Whether you have a large storage compartment or small, these will fit up front in almost every model of PWC.
Installing these fenders takes very little time and ensures protection. Each fender comes with a durable strap and rope so that you can make a quick adjustment and a hook on the bottom to ensure the fender is snug against the side rail. If you own a Sea-Doo model with the speaker and adjustable handlebars, you can simply hang the rope around the speaker casing.
With a price of C$44.99 or $33.87 these are a must have if you tie your PWC up on a dock. While the two colors currently offered are black and white, there will be a custom color feature in the new future allowing you to color match with your PWC's color. With spring and summer quickly approaching now is the time to make sure you have everything you need for your first ride.
Makeport Marines offers a 30-day risk-free warranty. By providing a great product at a very reasonable price, they want to make sure you are happy with your purchase. Feel free to contact them at sales@makeportmarine.com for any questions!