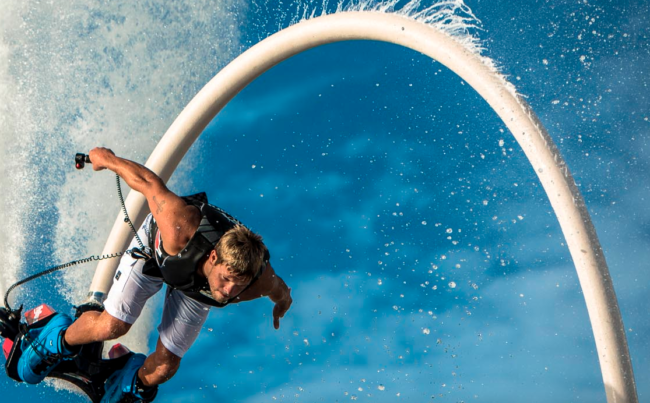 With the introduction of Flyboards in 2012, this new sport has become very popular. Rental companies are renting them out to their customers and people are buying them for their own collection. The amount of Flyboard sales has been growing drastically.
Zapata Industries is proud to announce that Pro Watercross and HydroFlight will be managing this year's Flyboard World Cup Championship in Naples, Florida. This event will have tons of spectators watching the best 52 competitors who represent 16 different countries. This Championship is an invitation-only event so you are sure to see new tricks executed perfectly. Along with this three-day competition, the prize money for the Pro Rider Category is; First: $5,000, Second: $3,000, and Third: $2,000. The prize money for the Female and Veterans Category is; First: $1,500, Second: $1,000, and Third $500. These riders will be judged on 4 categories during their ride: Diversity, Technicality, Energy and Showmanship.
If you love flyboarding this is a must-see event, boasting the best riders in the world it will surely make you want to go try one out. Unlike other watercraft races, this competition will be a Zapata Flyboard sponsored only event. With their new patent assembly, the strength of this company will only grow larger. This company is backed behind Frank Zapata, who was a world champion jet ski racer who first started out inventing his own aftermarket product to create some of the world's fastest jet skis ever. In 2012 Zapata introduced to the world the legendary Flyboard. In 2016 Zapata achieved his goal of creating the safest, lightest, most reliable, and least expensive with the unveiling of the Flyboard Air.