The 2019 Thai Airways International Jet Ski World Cup Grand Prix – or King's Cup – was home to a full line of "firsts" – for the international event that has been a part of PWC racing history for 23 years now. This year's King's Cup, tagged by promoters as "exciting, nail biting and groundbreaking," lived up to the hype, with a record number of international racers (200) joining the 75 Thai riders in a record number of classes (20) for four days of racing, viewed live for the first time with livestream and television broadcasting.
There were plenty of dramatic, hard-fought battles and a few walk-away decisive wins as well as some upsetting mechanical failures that sidelined some deserving racers. There were also some radical comeback racing, such as Raphael Maruin's Moto 4 charge from sixth place to overtake Jeremy Poret, and Lucy Gadsby's recovery from a struggling start to her bid for the championship, to a place on the top podium step, besting fierce competitors Emma-Nellie Ortendahl and Tera Laho. Another history-making first was Thai racer Orraphan Teerapatpanich's triumph. Teerapatpanich, the only female in the all-male Pro-Am Runabout Open class – nailed down the overall win to walk away World Champion.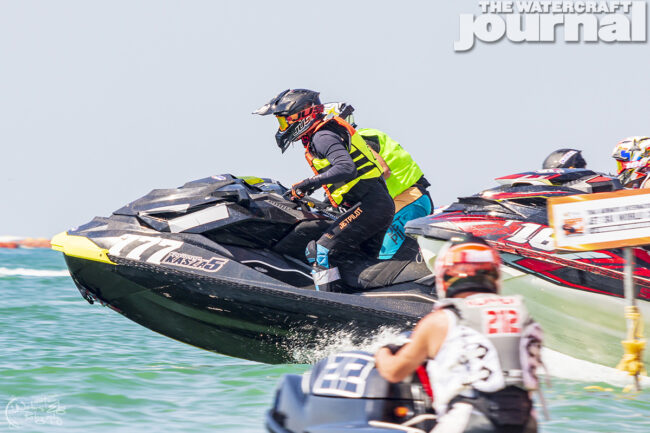 "It's a dream, it really is truly a dream – a bucket list dream – to be here," said announcer Dawn Dawson, who took to the announcing tower at Jomtien Beach, Pattaya, Thailand, for the first time this year, making her the first female announcer for the King's Cup.
"There are certain races and events that I think everybody aspires to, and no question, World Finals in Havasu is one of them, because that is, in a lot of ways, sacred ground, and in a lot of ways, in our hearts, the birthplace. But there is something just so incredible about the Thai Airways International Jet Ski World Cup."
Dawson, who took a few minutes to chat with The Watercraft Journal during a break in in Saturday's championship races, explained that there are only two events in the world that the King has allowed his name to be associated with, the first being soccer – the most popular sport in the world.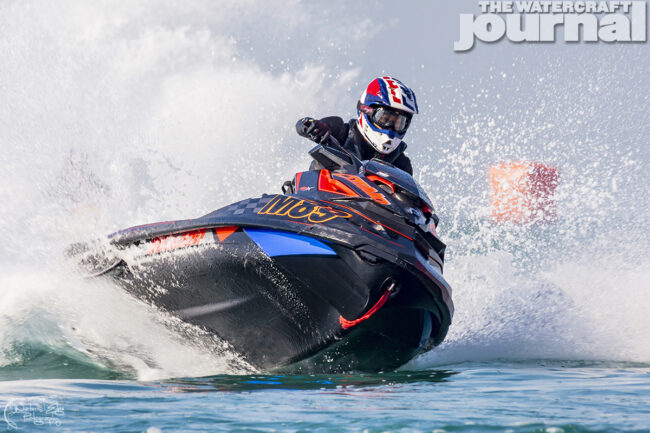 "And then you have this tiny niche called 'jet ski racing' as the second," Dawson said. " So there is that mystique, and add in everything they have done to make this a top caliber event, to me, that made it a crown jewel. Add in the fact that we are here for the Triple Crown, for our first year of the Triple Crown, and the big money, and some of the top caliber racers in the world, and I've been getting chill bumps all week."
Despite the prestige and thrill of working the World Cup race, Dawson said that each race she announces carries the potential for that "chill bumps" thrill.
"It'S about being witness to moments that you've never seen, moments that bring tears to your eyes, moments where you see an athlete's greatest achievement or even the worst thing that could ever happen to them – like when Lee (Stone) lost his title at World Finals, that was a 'moment,' it brought me to tears. Those are the inspiring moments. It doesn't matter where you are."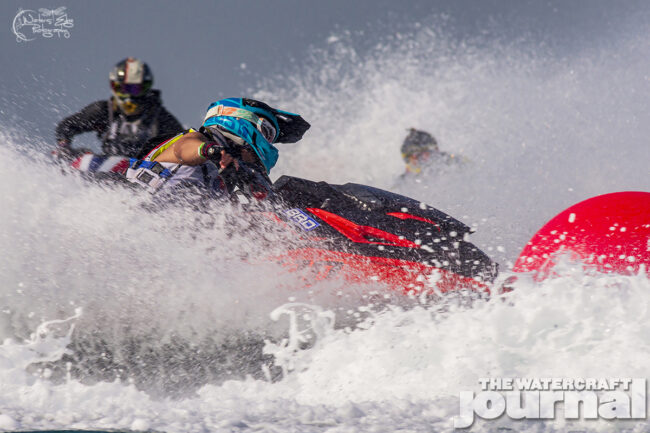 High on her list of "moments" at the King's Cup were Orraphan's win in the first moto of the Pro-Am Runabout Open class.
"I love watching her, I knew she was good," Dawson said. "Lucy Gadsby was another one. I really expected Ema (Nellie Ortendahl) to get around her. Emma is a force of nature and to see this young girl, I actually thought Lucy she was 17 – she's 14 – on the track is amazing. But one of my favorites was watching Dustin and Deven Farthing. I remember Dustin holding for Deven for the first time on the National Tour. I remember Dustin's interview, and saying he was more nervous than his kid for that race."
Aside from the skill level of the racers at King's Cup, and the technological advances in the skis, a number of factors – including improved support technology, better organization, and first-rate staffing – highlight the fact that watercross, as a sport, is maturing, Dawson said.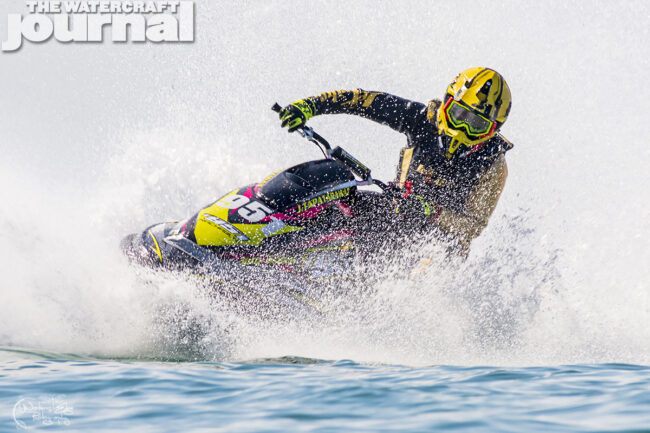 "We're growing up. What used to be a beach party and what used to be a really fun national tour, has now got a global presence," she said. "We made the Asian Games in 2018. That is the second largest sporting event globally, it is a sporting event recognized by the International Olympic Committee, and jet ski racing is involved… that is a huge accomplishment."
For Dawson, these accomplishments and the increasing excellence of events such as the Havasu and Thailand races, hold promise for the future of the sport.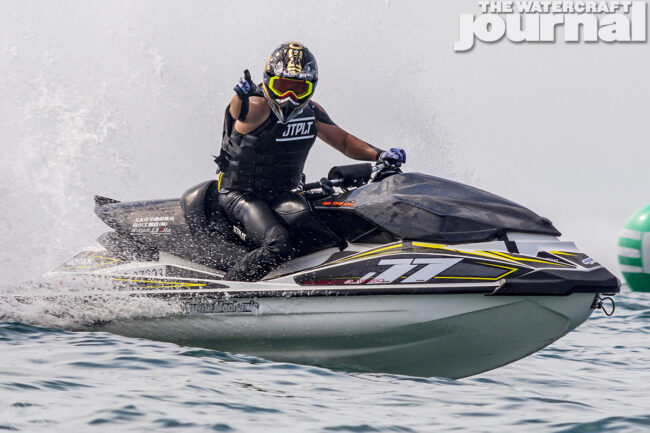 "I look for big TV coverage down the road. I think the fact that Larry Rippenkroeger invested in us, a gentleman that came from a freestyle background, and he's given back by putting a lot of money into a movie, I think that is going to give us massive visibility. I think the other big thing, which I have a soft spot for, is, we now have a real proving ground for juniors, and that is going to be one of our biggest areas to support is these junior riders…"
Standardization and even further improvements in race support technology, such as photo finishes and global tracking, will play a large part in the advancement of the sport, Dawson said, but added that personal support for the sport – from racers, fans, families, promoters, staff and more, is what makes a difference.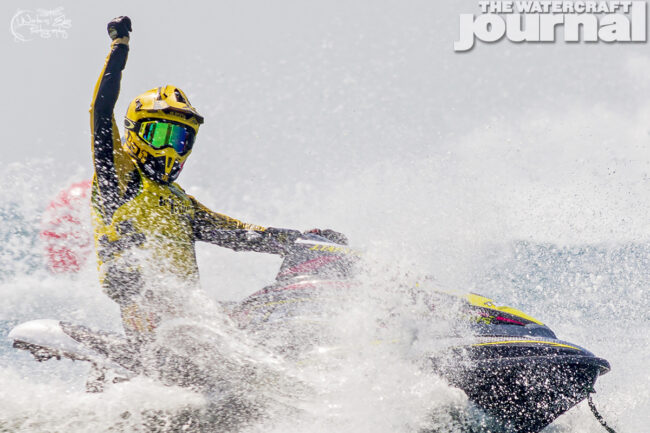 "I want to say two things. I want to say, first off, to all of the people that have been here for the last two decades, through thick and thin, economic bad times and economic good times, and yet you stuck it out, thank you for doing that and being a part of our family and bringing your kids into our family… and I also want to say thank you for believing in us and our sport and for pushing us to raise the bar. And don't stop!"
As it was aptly put by race promoters, "At the 2019 Thai Airways International Jet Ski World Cup Grand Prix, an ocean of dreams was built on a huge stage full of possibilities. In a city that craves excitement, with a race community that thirsts for glory, it was no wonder that this race produced historic and once-in-a-lifetime moments."
2019 Thai Airways International Jet Ski World Cup Grand Prix Champions
Jeremy Poret – France – Pro Ski Grand Prix • Dustin Farthing – USA – Pro Sport GP • Permphon Teerapatpanich – Thailand – Pro Runabout 1100 Open • Marcus Jorgensen – Denmark – Pro Runabout GP • Taiji Yamamoto – Japan – Pro Freestyle • Jean-Bruno Pastorello – France – Pro-Am Endurance Open • Benjamin Scharff – France – Pro-Am Ski Stock • Ou Moeut Saly – Cambodia – Pro-Am Ski Superstock • Orraphan Teerapatpanich – Thailand – Pro-Am Runabout Open • Troy Snyder – USA – Pro-Am Runabout Stock • Lucy Gadsby – UK – Pro-Am Women Ski Limited • Liu Yi Cheng – China – Expert Veterans Runabout Limited • Abdalla Alhammadi – UAE – Expert Ski Limited • Piarrat Srikongruk – Thailand – Expert Runabout 1100 Limited • Liu Yi Cheng – China – Expert Runabout Limited • Yuichiro Takada – Japan – AquaBoard (Flyboard) • Tanawin Molee – Thailand – Novice Ski Stock • Piarrat Srikongruk – Thailand – Novice Runabout 1100 Stock • Thanutchai Pimcharoen – Thailand – Novice Runabout Stock • Suparuek Dansathaportn -Thailand – Junior 13-15 Ski Stock