The 2022 IJSBA World Finals, as always, showcased the best the sport has to offer – not only in terms of the fast boats and fine-tuned instincts of the champions, but in the grit, determination and passion of every first-time novice, every never-say-die veteran and every perennial challenger. A common theme of conversations throughout the pits and Vendor Alley was the apparent upswing in interest and attendance after the past several COVID-impacted years.
According to IJSBA statistics, slightly more than 400 riders from 30-plus countries made the journey to Lake Havasu City despite hyper-inflated gas prices and weather-delayed air transportation. In typical fashion, a large number of racers nosed up to the band in multiple classes as those 400-plus racers accounted for nearly 750 class entries over six days of world-class racing.
"This marks a return to IJSBA's pre-pandemic numbers with many classes having full lines with several having qualifiers," IJSBA announced, "The pits were completely full. Parking reached a high not seen since 2016." Behind the band was not the only place a resurgence was noted. Numbers were significantly up for other World Finals benchmarks, also.
Another key point for the 2022 World Finals, according to IJSBA Executive Director Scott Frasier, was the four-day live streaming effort. "The WGP-1 series partnership helped ensure that persons abroad were able to enjoy the event.  The life stream reached 271,100 views and this wasn't the final number," Frasier reported on Tuesday following the event. "This amazing footage and professional live coverage have never before been delivered to the World Finals."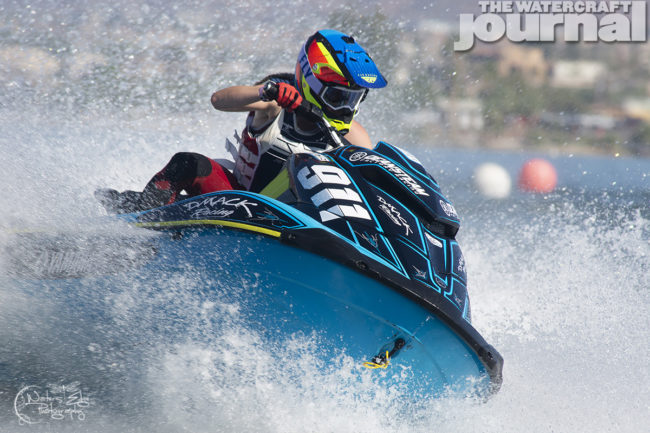 Despite the encouraging numbers, this year's World Finals was not smooth sailing, with the week being a technical, logistical and emotional rollercoaster for many event staff, racers, crew members and spectators. An unexpected storm early in Finals week was the first in a line of unfortunate events, with high winds and torrential rain wreaking havoc in the pits and delaying practice schedules.
Several non-race related medical emergencies in the pits caused equally unexpected delays in racing due to on-site ambulance response to those incidents, which meant waiting for replacement ambulance service to be put in place (as required by both insurance, and common sense).
The deepest low came early on Saturday as the first moto of the Pro Ski GP got underway. Nearly 20 of the most skilled, experienced and well-known racers in the industry filled the lineup. Add to that the popularity of the log jump, and spectators were glued to the race course as racers battled for position throughout the first lap. Then tragedy struck as the two front-runners collided, catapulting both riders from their skis.
While the collision itself did not appear to be severe at the outset, the bunched-up nature of the racers – exceedingly typical during the first laps of a highly-contested race packed with top-level racers – led to horrific consequences. Tyron Moztouris was struck by several skis, including a blow that cracked his helmet. Motzouris was transported to the Las Vegas for emergency medical treatment, with his family, including brother and fellow racer, Dustin Motzouris by his side.
"Thanks for all the thoughts and prayers. Tyron is stable and having a good day […] but it's a long long road ahead, truthfully the doctors don't know what will happen or to what level Tyron can recover, I know him so I don't put limitations on him, but I am aware this is a marathon not a sprint and you mentally have to be ready for the grind ahead. We are ready for this and determined to have the best out come possible. Thank you for all the messages and prayers, this has made all the difference," stated Dustin in a Facebook post.
"Overall, and from an event perspective, 2022 was a great year of racing except for Tyron Motzouris getting hurt on Saturday morning. The Pro GP Ski excitement was really high this year, with a solid international field and mixed-in local Lake Havasu talent; but of course everything changed with Tyron's crash," Bill Scott at Works H20Designs told The Watercraft Journal. "In that regard, along with everyone in the community, we are praying and thinking of the Motz family and Tyron's recovery."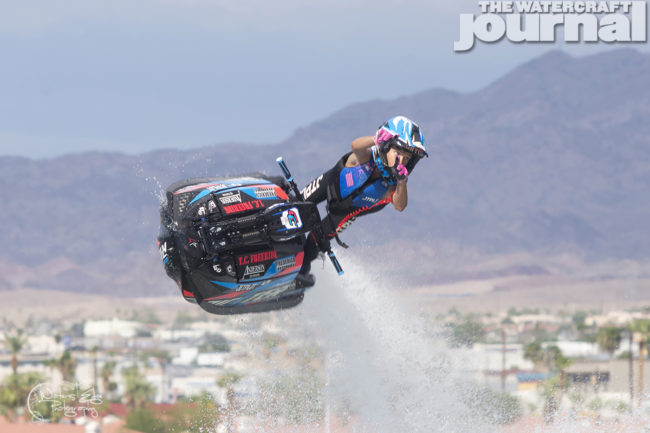 Delays in racing, caused by the on and off-course medical emergencies, prompted Frasier to cancel two motos on Sunday, which brought about some concern and criticism from racers, which Frasier responded to in a IJSBA website post, explaining his decision making process and requesting for input from racers on future policies to avoid similar situations:
"As the IJSBA Executive Director, I would like to personally make some direct statements about the decision on Sunday to end racing two motos early.  This was my decision and I understand some people are disappointed.  I will accept the criticism levied by those who disagree while standing by the decision as the right one to make. IJSBA will open up a review process to invite competitors to formally weigh in this topic and help set ground for future policies," Frasier wrote.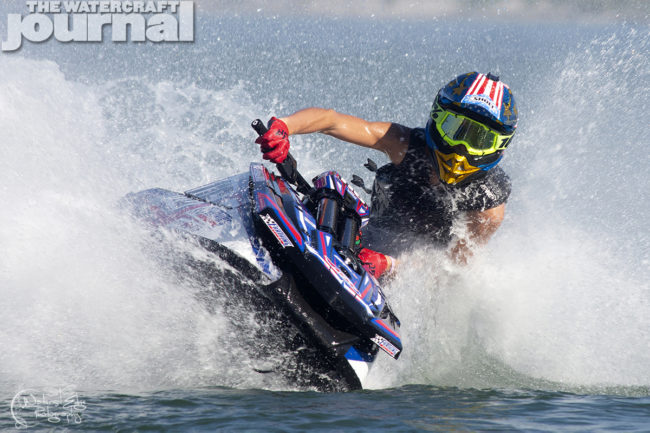 "Please think through the talking points so we can work out all the potential for positive change when we come together and discuss them. Most of all, please keep Tyron in your hearts and thoughts. If there really is any kind of spiritual energy that exists we definitely want to send it his way. With your guidance IJSBA will continue to deliver you the very best of our ability."
During the first day of racing, Tucson, Arizona's Dave Zipperian nailed down the first podium spot in a packed Amateur Veteran Ski Stock class, while fan favorite Johnny Smith locked down the Blaster GP championship despite a rough second moto. Tory Snyder overcame a disappointing Moto 1 with a win in Motos 2 and 3 to claim to Amateur Runabout 1100 Limited championship.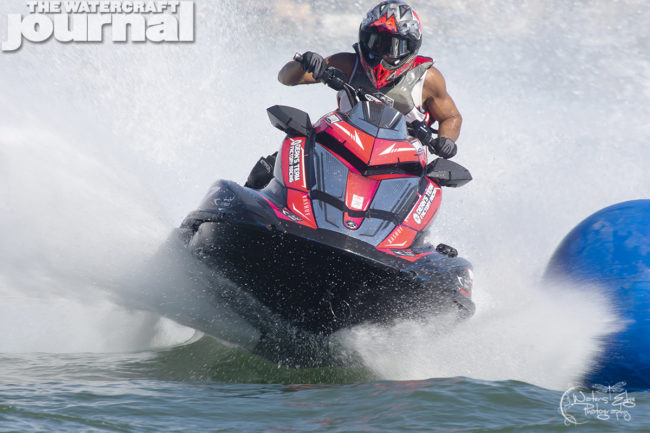 Returning for Day 2, Snyder once again snagged a top podium spot, this time in a talent-packed lineup of 18. Jake Zier claimed the silver, and Christopher Landis took the bronze. The Amateur Runabout 1100 stock class was dominated by Thailand with the top 4 spots locked down by Thai racers. Master Ski GP was a battle between more than a dozen veteran racers. Despite Mike Klippenstein's wins in Motos 2 and 3, a rough Moto 1 allowed David Cabrera to walk away as 2022 class champion with solid performances in all 3 motos.
The third day of racing saw Sebastian Girello indeed, "go fast" claiming the top podium spot in Amateur Ski GP over second and third place Thai finishers, Tanaid Molee and Tanawin Molee. In Junior Ski Lites 10-12, Havasu natives Britton Reinhar (1) and Ty Smith took top spots, while fellow Lake Havasu City youths also took spots 5, 6, 7, 12 and 16 out of the 19-racer lineup.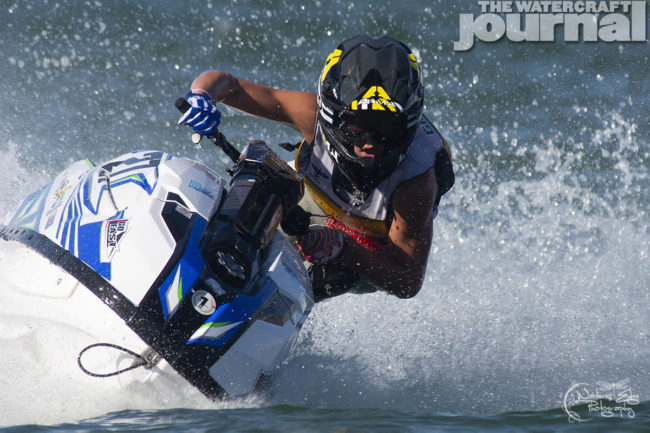 The Junior Ski Lites 13-15 class was also packed with young Havasu talent, but none were able to outmaneuver Jayden Richeardson (1) of Australia or Lauri Ander-Hubert (2) of Estonia. In Master Ski Stock, Mike Klippenstein again nailed down a win in Motos 2 and 3, but this time, his second place finish in Moto 1 was enough to take home the championship ahead of Dufaud Phillipe (2) and David Zipperian (3).
On Friday, Thailand was able to take the top two spots in Pro-Am Runabout 1100 Stock as well as the Top 4 spots in Pro Runabout 1100 Open. In Amateur freestyle, Michigan competitor Jack Ziegler walked away with the championship out of a field of 10 followed by Brody Shakely of Havasu (2) and Parker Scholand (3).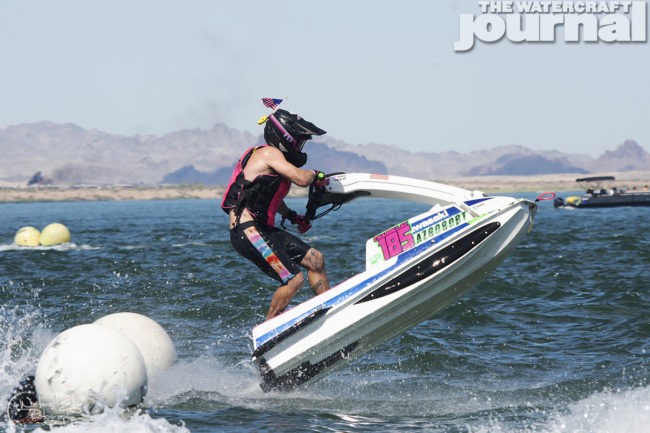 During Saturday and Sunday's racing, in a class filled with familiar names and fast skis, Nuttakorn Pupakdee of Thailand secured the win with Abdullah Alfadhel taking the second spot and Permpon Teerapatpanich taking third. But many eyes were on the battle for 4th and 5th where Deven Farthing managed to rank one spot ahead of his father, Dustin Farthing.
In Pro-Am Women's Ski Stock, Sweden's Emma-Nellie Ortendahl managed to edge out UK's Lucy Gadsby for the championship, while in Amateur Women's Runabout 1100 Stock, Thailand again ran the top 3 spots with Sasina Phiwngam (1), Chanapa Phollamai (2) and Orphan Teerapatpanich (3) overcoming an amazing race and crowd inspiration, Sophie Francis (4).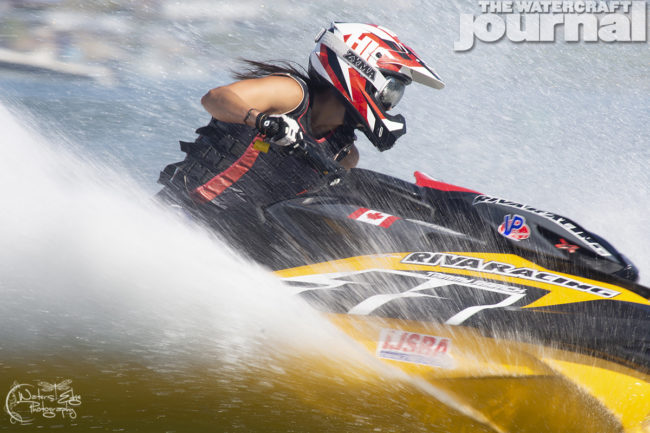 In Pro Sport GP, Georgia's Deven Farthing turned the tables, topping Thailand racers Wuttipong Suwanthongkhao (2) and Supak Settura (3). In the Pro-Am Endurance Runabout class, France's Jean Bruno Pastorello locked down the championship ahead of Aqsa Aswar (2) and Theerapong Pimpawat (3). Full results from all classes can be found at www.ijsba.com.  Visit www.watersedgephoto.online for more photos from the 2022 IJSBA World Finals.