April 28th and 29th, 2017 marked the first Rounds 1 and 2 of the IJSBA-sanctioned Water X powered by Jettrim. Rounds 1 and 2 were held at Vance Creek Park in Elma, Washington. It was reported that the water temperature was a brisk 55 degrees, and the high for both days was 54 degrees with intermittent showers, or as some would report, downpours at times. This is what the Northwest riders will tell you, "makes them a little tougher than the rest." These conditions were "just another day" on the water for most Northwest riders.
Vance Creek Pond is known to be considerably smaller than most race sites. When you put a full line of stand-ups, or runabouts on the line, and the band snaps, the small pond very quickly can produce some pretty good size waves. It makes for great racing and even better spectating at times! Blake Corning designed a course for these races that was a runabout course as some riders said, very wide open, a faster track, and held just a few tight corners or switchbacks. With Blake's long-time history of working the World Finals, he has bonded a tight group of workers that are highly skilled and capable of producing the safest of courses and races, and the caliber of a World Finals track. Blake brought in John Dewar and Matt Rennie to assist him, both who are also world finals staff. John and Matt both helped drag out the course, and veteran racers, Rob Jordan and Rich Bankuti served as course marshals for the weekend. Many Northwest riders were excited to see and share their weekend with Rob and Rich.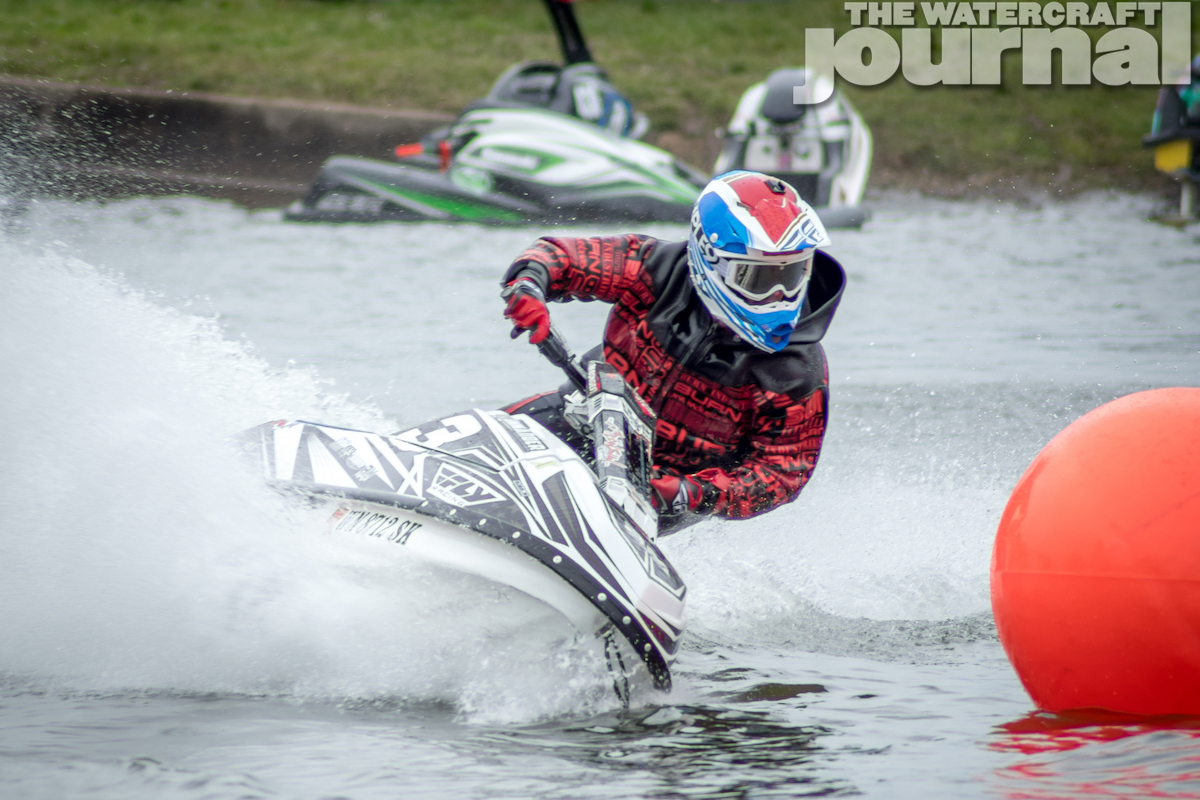 As most Saturday races would start, it was a common scene to see everyone suiting up in their wetsuits or as much full gear as they had! Tech was happening, skis were being fueled, engines were being fired, and while the temperature was cold, there was plenty of warmth among this close group of Northwest racers. Many hugs were shared, many handshakes were exchanged, new people were met, the music was playing, and Blake led a riders meeting or orientation for new racers. Shortly thereafter, it was go time!
First race of Saturday morning was Pro-AM GP. Taking the checkered flag was David Redinger, on his RM Racing Ski, and as always that race was fast and furious! The overall for the weekend was taken by Pete Zernik who surprised everyone coming up from Northern California! The second class of that morning was the Veteran's, where Ian Benson, (who also helped flag throughout the weekend) took the win; and yet again, the Northwest was hit with another surprise when Chuck Evans, (who came up with his wife, Jodie Evans from the Reno area), took the overall in that class for the first place win! Next up was 2-stroke Limited. This class is also full of some talented racers! On Saturday, Carson Hughes placed first in this class, followed up by another first place on Sunday, leading him to the overall first place for the weekend.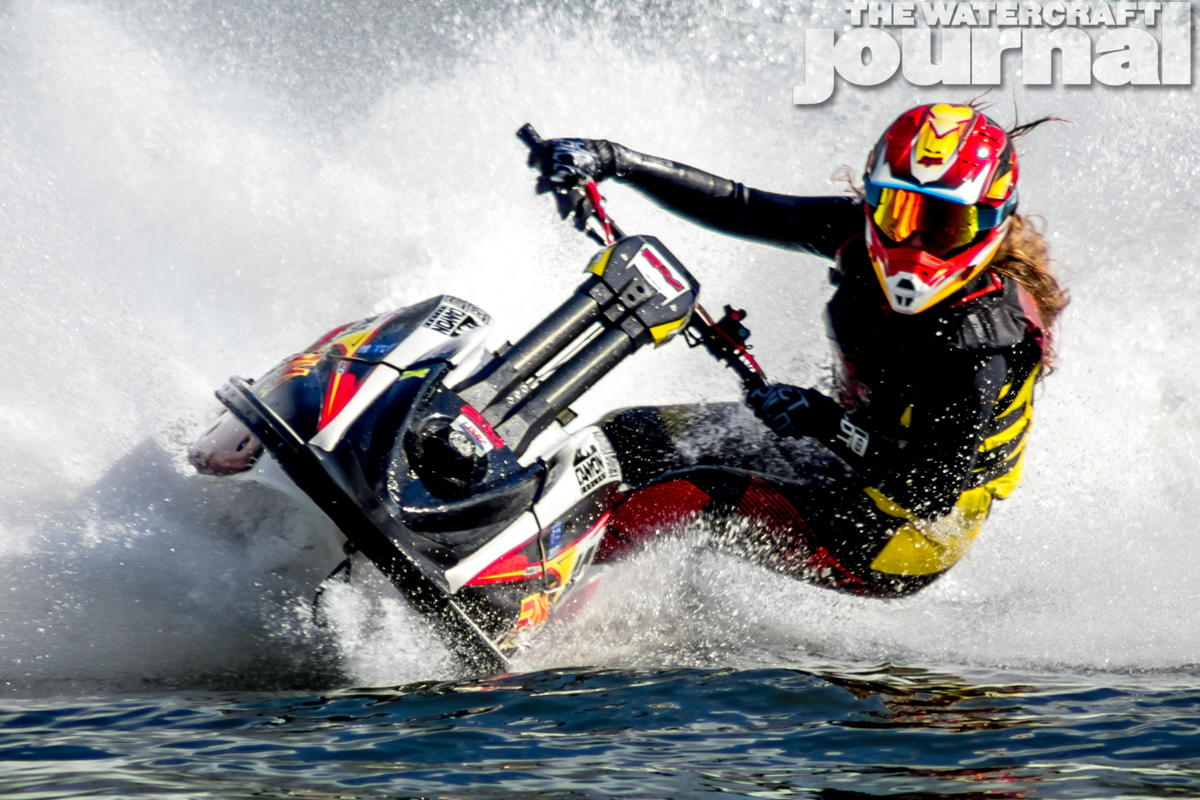 The next class to run was the new SX-R 1500. This was the first race in the Northwest to see the new Kawasaki SX-R compete. It was fun to watch and the new SX-R 1500 handles well on a buoy course and was impressive! Taking first in this class on Saturday was Wade Durbin, and after an exciting cat and mouse chase between Dan Lindgren and Kim McKay on Sunday, and both Dan and Kim holding 121 points. Dan beat Kim on her Motosport Hillsboro SX-R taking the overall first place. After all that excitement, next class up was amateur ski open. This checkered flag was swept away by Carson Hughes, on Saturday, and then the over-all in this class for the weekend went to Gabe Hooper on his RM Racing ski. That's a few overalls for RM Racing! Rumor has it RM swapped an engine in the parking lot in a timed 12 minutes, and it looked like nothing more than doctors in surgery! Good things are happening on the home-front for RM Racing, watch out for their crew!
Novice Ski Lites/Stock class was the next class to sit behind that red band ready to snap and Trevor Brown was ready for it! He took the first place in this class on Saturday, with Trinity Klecker on her RM Racing/Pro-Caliber ski, taking the overall win in this class for the weekend. Following the Novice Ski Lites/Stock class was the Juniors 10-12 Lites/Stock class. These juniors are always fun to watch and eager to learn! Taking first on Saturday in this class was Ty McKay on his Motosport Hillsboro ski, with a few more firsts taking the overall from his best buddy Cole McIntyre. These guys have a blast on and off the track!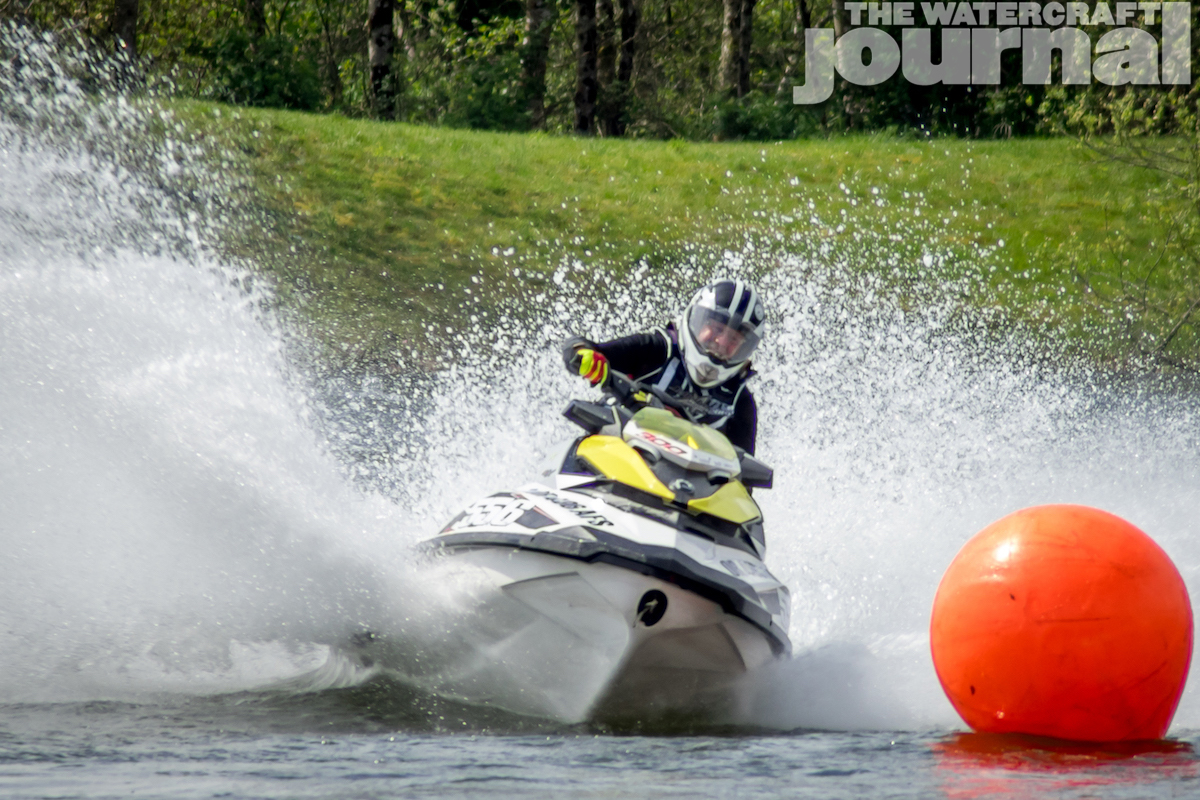 In the Juniors 13-15 Lites/Stock class, Nathan Lesh took a quick first place on Saturday, but gave it away to Trinity Klecker on her RM Racing/Pro-Caliber ski for the overall win for the weekend in that class. Next up was, Pro-Am Ski Lites/Stock class, where David Redinger cleaned house yet again on his RM Racing ski. However, the overall in this class went to Klete Kinser for the weekend. Next up was Novice Ski Limited, Carson Hughes took yet again another first place on Saturday in this class, but Marcus Boyle took the overall win for the weekend in this class.
For the Vintage 550 Ski class, Seth McNeil took top honors in this class, taking first on Saturday and Sunday for the over-all win for the weekend. In the Women's Ski Limited class Jodie Evans (from Reno) could have taught a class! Looking sharp as ever, Jodie took first on Saturday and Sunday, for an overall first place for the weekend! In Women's Ski Lites class, Julie Holmquist took first on Saturday, however Trinity Klecker on her RM Racing/Pro Caliber Ski took yet another overall win for the weekend! In the Beginner class, Trevor Brown took first place on Saturday, with Nathan Lesh taking the overall for the weekend.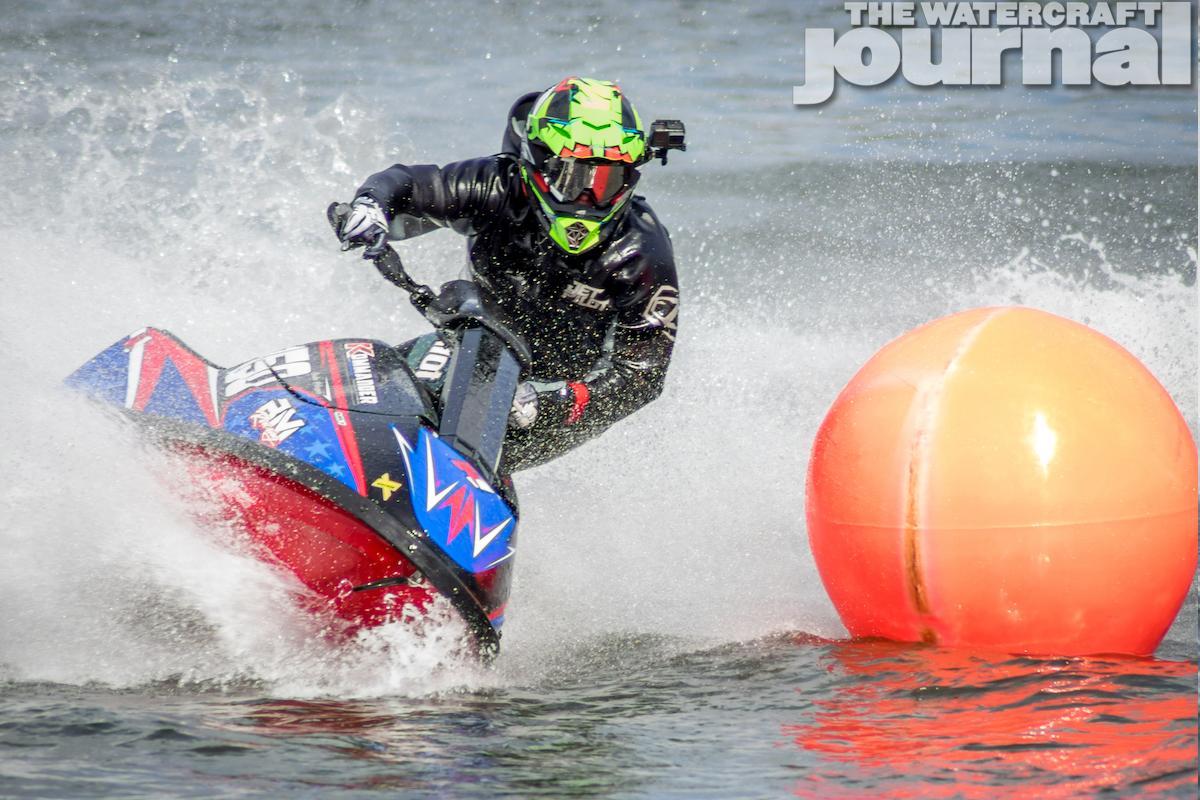 The Runabout class was a very fun, fast class to watch this weekend with lots of excitement! There was a brand new rider from Canada, Eddy Edwards who came out, a long time veteran, Mike Reynolds that came back, and a new female racer, Melanie Mayberry, who is coached by her boyfriend, Greg Moyer. To recap this class, on Saturday, veteran racer, Mike Reynolds took first place, with Eddy Edwards the new rider out of Canada stealing the overall for the weekend, with Bill Cox on his Motosport Hillsboro RXP-X right behind him! Look for more excitement to come out of these runabout racers!
All in all, it was a great weekend! Old and new friends made, racers first time on the track for the 2017 season, and the sun even peaked through a few times! Then with much help from many riders and an amazing staff, a lot of gear was packed up and trailered to head down to Oregon. This Northwest group can look forward to the next race that will be held at Regatta Park on Devils Lake, in Lincoln City, Oregon. There are exciting things happening there as well! It's rumored there will be a ski school taking place late afternoon, Friday, May 19, with racing starting promptly, Saturday, and Sunday, May 20th and 21st.
All images courtesy of Patricia Fiske Photography and original copies can be purchased HERE.