What would you do if you had at your command a team of highly trained engine tuners, technicians, fabricators, electronics specialists and machinists all dedicated to developing every part necessary and calibrating every spectrum of performance to ensure that your personal watercraft was performing at its highest peak?
If you holed these guys up in their own 6,000-square-foot facility equipped with every tool, machine and material needed to accomplish their goal, how do you think they'd do? If you're thinking you'd be the most dominant force in PWC racing, you'd be right – and you'd also be the head of RIVA Racing's Development Team.
Since launching in 1992 – under the banner of the Factory Yamaha race team – RIVA Racing division of RIVA Motorsports has occupied the same off-campus 6,047 square-foot facility. When RIVA was first tasked with running the Factory Yamaha race team, they have maintained dedicated staff of employees – comprising the Performance Parts Team – since 1992.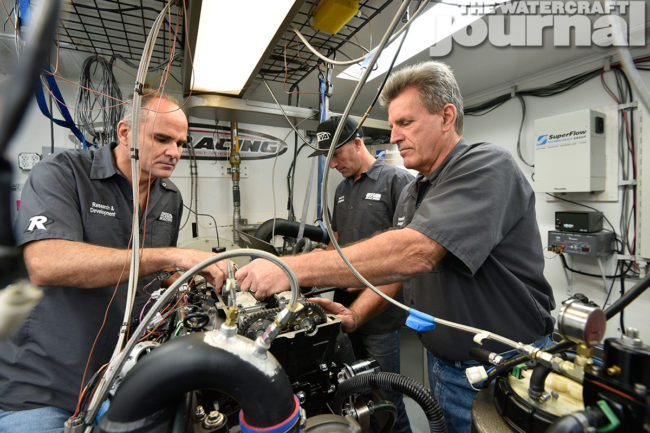 At that time, an unmarked off-site facility, separate from RIVA Motorsports' Pompano Beach, FL. headquarters, has served as RIVA Racing's "skunkworks." The building's location is both secure and confidential, with its own stand alone security to protect both all of the equipment and watercraft inside.
Beneath its roof is more than most shops could ask for. Three major rooms occupy the building, separated into a manufacturing/machine shop, with welding stations, fabrication tables, drill presses, mills, a lathe and tube bender – all put to use for developing rough-hewn prototypes that are trial fit and matched to brand-new watercraft stored in the room adjacent.
The larger room serves as the build floor, where each of the RIVA Edition watercraft (25 hand-built FZRs in 2016 and now the new GP1800R for 2017), as well as other prototype craft are assembled, as well as a prop table, and equipment for electronic testing are found.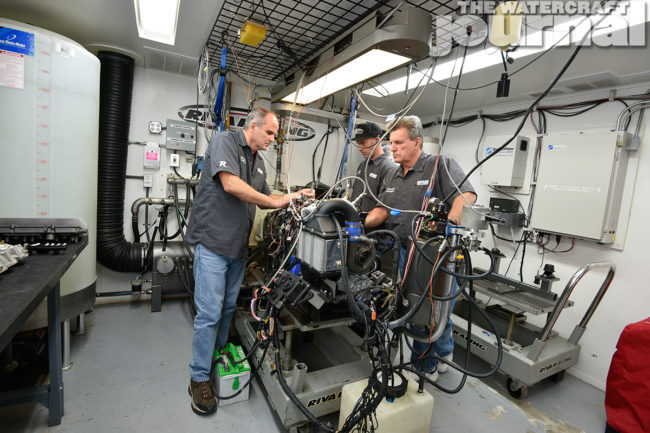 Next to it is RIVA's state of the art engine dyno, fed by temperature-controlled air and cooled by a separately temperature-controlled water reservoir. The Borghi Eddy Currant Magnetic Brake Dyno works in tandem with Superflow data gathering acquisition software, providing RIVA's Development Team all of the pertinent information to make adjustments to their electronic tunes and hardware.
Next to the engine dyno is a clean room for engine prep. Yet, all of this serves as preliminary preparation for the final battery of testing held at RIVA's private test lake. Located a scant 5 minutes away, the fresh water lake facility features a private launch ramp and dock currently under renovation. When complete, the waterfront facility will feature permanent cabanas, benches and lounge chairs, a full BBQ kitchenette and separate bathrooms.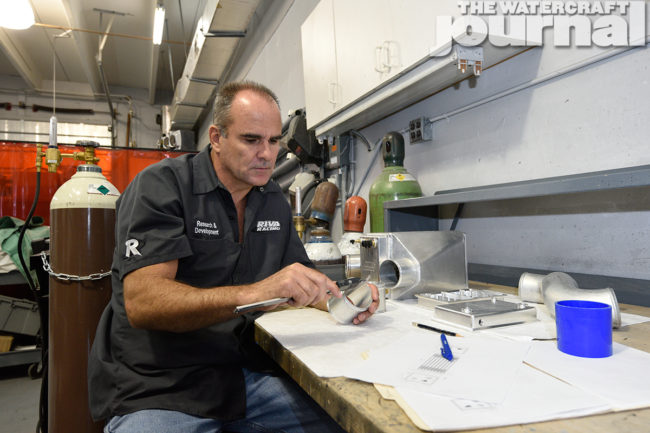 Yet, all of this would be moot without the team to operate it. Bruce Clarkson's participation with the team dates back to 1994 when he moved from South Africa to Florida for the Factory Yamaha effort; as the senior member has earned the position of senior development specialist.
Described as a "jack of all trades," by team leader Dave Bamdas, Bruce handles all of the design and fabrication of RIVA's intakes and exhaust systems, fuel prototyping systems, as well as the brand's top-of-the-line steering systems. As head over the machine shop, Bruce is a talented welder, fabricator, machinist. Bruce also works closely with RIVA's vendors, overseeing quality control, which fits his perfectionist work ethic.
The newest member of the RIVA Development team is Jesus Garcia, having joined the ranks mid-summer of this year. Jesus' experience with EFI tuning placed him immediately over RIVA's engine management development, specifically the MapTunerX, as well as the ViPec ECU in a lesser extent.
Skilled with on water tuning, Jesus' talents in setting up pumps, impellers, and ECU tuning has elevated RIVA's level of deliverable performance and even broadened RIVA's appeal to European racers, as well as those within the USA. Jesus is regularly seen on the beach and in the pits at local races, working with all racers regardless of their participation with RIVA Racing. Jesus' commitment to offering superior track support has been just one of the benefits of his addition.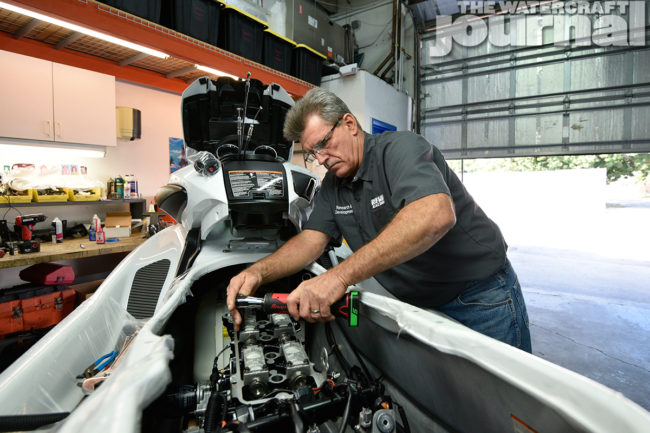 The last two members of the RIVA Development team – Mark Nystrom and Dave Bamdas – are just as important. With over 20 years with RIVA under his belt, Mark is the team's engine specialist, providing valuable mechanical insight regarding development of engine internals, namely aftermarket pistons, rods, cams, valve kits, and coding systems. In addition to overseeing the entire dyno facility, Mark is also the leader of all special builds projects (RIVA Edition GPR, FZR) as well as the team's head technician, and designer of parts too.
Overseeing all of this madness is Dave Bamdas himself, who serves as the team's leader, providing projects their direction, ideas, priorities as the department reports to back on their progress and input.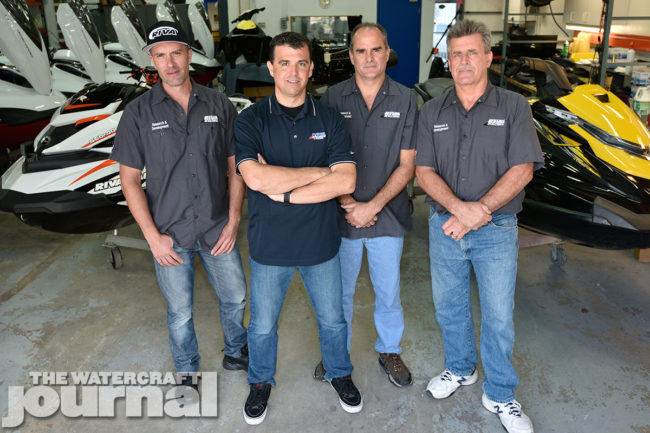 In all, the process wherein a new part is proposed, designed, prototyped, tested and developed happens both in a short amount of time as well as with a surprisingly small collection of like-minded individuals. At the time of this story, the RIVA Development Team is currently working on several performance stages of the Yamaha GP1800 as well as assembling models to be sold as their RIVA Edition GP1800R units, as well as developing product for the soon-to-be-released Kawasaki SX-R.
"RIVA is dedicated to the new ski," Bamdas explained to The Watercraft Journal. "We have a long history and rich background in building standup performance." With 2017 just over the horizon, we're certain the RIVA Development Team are hard at work getting a full catalog of products ready for the new year.