If you haven't already heard, Sea-Doo's gone fishing. And we mean that literally. Yes, personal watercraft fishing has a massive worldwide audience – outside of the United States, that is. It's a topic we at The Watercraft Journal have been belaboring for quite some time to any and everyone who will listen; we even managed to catch the ear of BRP's own Corporate Director, Communications and Investor Relations, Pascal Bosse over a greasy cheeseburger at a Tennessee lakeside grill back in August of 2015. A few followup emails later and a bit of a nudge in the form of an April Fool's Joke, and here we are. So with Sunday night's reveal of the all-new 2019 Fish Pro, all we have to say is: You're welcome.
OK, OK; all kidding aside, the revelation of the new ST3-based Fish Pro raises some questions regarding Sea-Doo's intended trajectory for both the industry as a whole and the brand itself. A brief portion of last night's presentation was focused on Canada's "BRP Marine Division," which recently was birthed from the acquisition of Manitou Pontoon as well as Alumacraft (both meant to emphasize Evinrude engines); and while a separate division unto itself, it was paralleled by the expansion of Sea-Doo's line of personal watercraft. The 2019 Fish Pro looks to single-handedly segue the PWC maker into the multi-billion dollar world of recreational fishing, and features all of the right tools, features and equipment to successfully do so. And with an entry price of $14,799, it's almost a sure thing.
Hailed as the "first and only true personal watercraft (PWC) built specifically from the factory for fishing," the Fish Pro begins with the aforementioned ST3 hull and deck made from BRP's proprietary CM-Tech material. Prior to listing the new features, the craft's wide and mile-deep footwells provide the fisherman plenty of room to maneuver around, and extended side strakes give the craft phenomenal balance and stability while at a standstill already. Add to that the addition of a 13.5 gallon LinQ Fishing Cooler (with a lid-mounted cutting board and 4 rod holders), a massive 6-inch Garmin EchoMap Plus 62cv Navigation and Fish Finder, and an extended rear platform adding 11.5-inches of length and a second LinQ mounting system.
But wait! There's more! The Fish Pro is equipped with a larger 18.5-gallon fuel cell (the only ST3-based Sea-Doo equipped with this larger tank for 2019, FYI), a flat-based stiffly-padded bench seat, new angled gunwale footrests for leverage and comfort, and an all-new "Trolling Mode" available through the "Slow Mode" setting on the platform's new 7.6-inch digital display. The new screen features an automatically dimming backlight that ensures high visibility in any light. Painted in a very Brass Pro Shop-esque White and Night Green, the craft is very subdued in its livery, almost militaristic.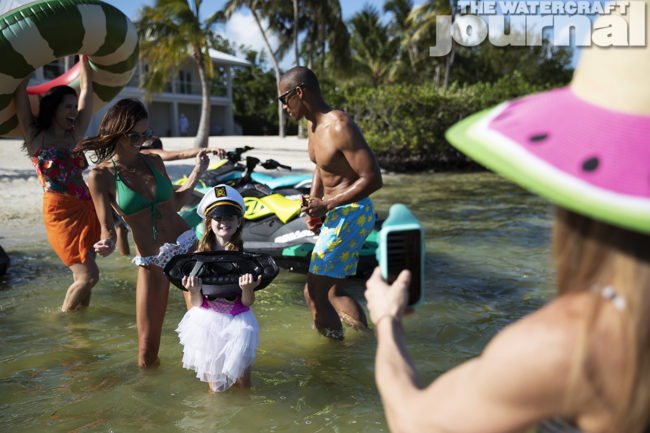 "Recreational fishing is one of the top practiced activities in the world," said Bernard Guy, BRP Senior Vice-President, Global Product Strategy. "And while it grows in popularity, more and more people are discovering the benefits of fishing from a PWC. The Fish Pro is a perfect choice, combining the capability they need with the versatility to be used as a recreational watercraft." Powered by Sea-Doo's naturally-aspirated 1,494cc 3-cylinder Rotax 1503 plant, the Fish Pro produces a fuel-friendly 155-horsepower. And yes, the Garmin transponder is mounted deed inside of the hull, not mounted outside.
While we're talking about new lifestyle accessories, it bears noting that Sea-Doo also announced a new Bluetooth-compatible audio system for the Spark. The completely portable, 50-watt audio system is "fully-submersible and removable, and can be used on and off the watercraft. Speakers are front-mounted and positioned toward driver for maximum sound clarity, and there is a convenient control pad on the speaker for volume and song adjustment." Powered by a rechargeable lithium battery offing up to 24 hours of use, the new sound system will work on all Sparks – regardless of model or year – with the use of a quick attachment support base.
Moreover, Sea-Doo upped the ante with it's accessory line with the availability of larger, more padded "Comfort Seats," Wind Deflectors for the hand grips (more on those in a second), and side mirrors all for the Sparks. Color choices for the Spark include Licorice and Mango; Vanilla and Blueberry; and Pineapple and Candy Blue. For Trixx, Chili Pepper and Orange Crush return with Jalapeño and Pear being added.
The aforementioned Fishing Cooler features a drain plug and handles, a heavy-duty storage pocket, lid with recessed work/cutting surface, quick attach rod holders (sold separately), trolling slots, and an easy latch lid. Further additions to the accessory Linq lineup include the new LinQ Sport Bag; a 4.2-gallon capacity bag featuring a rigid bottom and a semi-rigid top. According to Sea-Doo, "a Marinized LinQ Hardware Kit protect the LinQ Bag from the erosive and corrosive effects of the harsh marine environment. It can be installed on top of the LinQ Fuel Caddy"; and the huge LinQ Box; a 5-gallon rigid-sided box built for durability that's weather-resistant and has a sealed and lockable cover.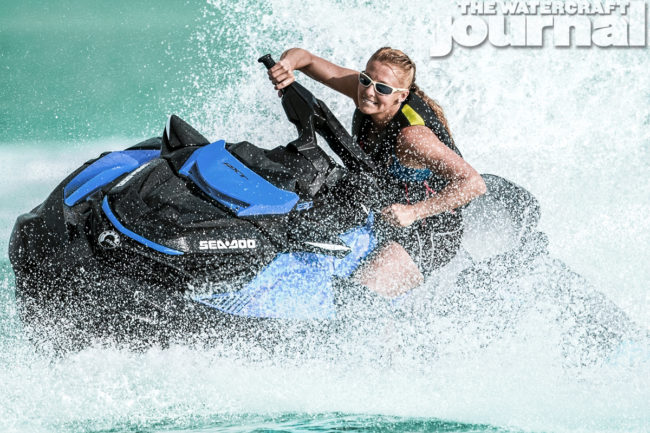 So how about the rest of the lineup? Well, we're glad you asked: First and foremost, that gorgeous and super-innovative digital dashboard is now found on all ST3-based runabouts (RXT 230, RXT-X 300, GTX 155/230, GTX Limited 230/300, Wake Pro), as well as the RXP-X 300 and GTR-X 230. But don't think that the GTI lineup is left out in the cold, either. For 2019, Sea-Doo has managed to retain its fiberglass hulls for the GTI 130/155 models as well as include the Linq accessory mounts. The base GTI 90 and 130 models are available in White and Krypton Green, while the SE-equipped 130 and 155 GTIs are available in Black and Krypton Green or Beach Blue Metallic and Lava Grey. Fuel capacity, storage and other features remain the same as last year's lineup. Oh yeah, and the GTI Limited 155 is kaput.
For the GTX lineup, the color options are direct carryovers, the non-Limited GTXs return in Beach Blue Metallic and Lava Grey; while the Limited-equipped models remain in Equestrian Brown and Liquid Grey Metallic. Several images have shown the previously mentioned Wind Guards on the Limited models, but we haven't seen whether these are standard equipment or added accessories. Equally, the two Wake models (155 and Pro) return in the same Teal Blue Metallic and Lava Red colorizations with no changes save for the addition of the LCD digital screen (to the Wake Pro only). The final Sea-Doos to not receive a new color option for 2019 are the 230-horsepower GTR and RXT, which return in Octane Blue and Black.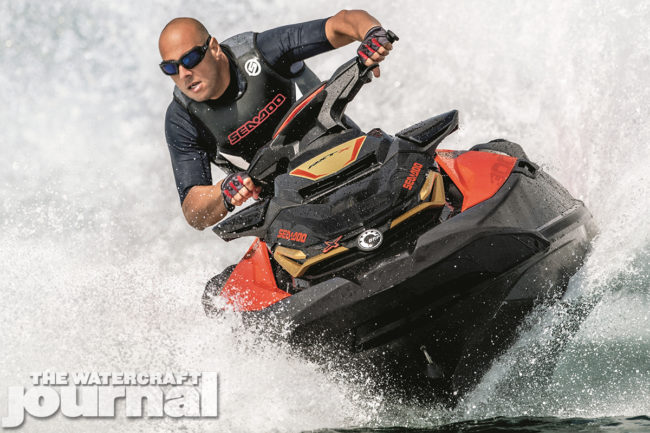 The remaining units yet to be mentioned are the GTR-X 230, RXP-X 300, and RXT-X 300. Both the GTR-X 230 and RXP-X 300 receive the new digital dash, Linq mounts, and an exciting Liquid Metal and Neon Yellow coating for the GTR-X. Changes for the RXT-X 300 are minimal: the 7.6-inch digital gauge display and (in addition to last year's Neon Yellow and Lava Grey) a premium Eclipse Black and Lava Red with bronze highlights. The same second color option is also available for the RXP-X (whose standard coloring is Neon Yellow and Black). Interestingly, this new second colorization will set you back an extra $300. So if you're dead set on your 2019 Sea-Doo looking like Ming The Merciless from Planet Mongo, you're gonna be ponying up a few hundred bucks.
In all, the 2019 Sea-Doo reveal demonstrated where the company is pointing its bow on the horizon. In the same fashion that Sea-Doo blazed a trail for personal watercraft tow sports with its Wake models and all the innovations that came about through that, the Fish Pro has all of the trappings of a similar pioneer. For the rest of the lineup, it's clear that Sea-Doo isn't interested in upending the table when so many of their machines are either still completely new or, for the most part, working great as-is. While this article is being penned The Watercraft Journal has been alerted that whole new batch of images will be coming in shortly, so expect to see more pictures being added to the gallery below as well as future content personally handling the new Fish Pro coming soon.