It's times like these that we at The Watercraft Journal live for. Despite having what many would believe to be all of possible leaked details and inside knowledge prior to the 2022 reveal, Kawasaki Motor Corp. still managed to blow our socks off – and then some – with this new crop of exciting new watercraft. The brand which many online commentors claimed had "gone stale" is charging hard into 2022 with a trio of supercharged JetSkis that rival even the best offerings from Sea-Doo and Yamaha.
…and no, that's not hyperbole. In an earlier video, we had quoted a competitor's product development manager as he stated that consumer polling indicated a overwhelming shift in customer demand for "luxury" versus outright "stripped-down performance." Clearly, this same paradigm shift has been observed by Kawasaki as well, because the 2022 lineup pushes the boundaries of technological incorporation and rider engagement not just for them, but for the whole industry.
Above left: Wearing the ever-familiar Ebony/Lime Green livery is the 2022 Ultra 310LX-S with an MSRP of $18,199, which rounds out the two luxury tiered JetSkis. Above right: Although nowhere nearly as equipped, the Ultra 310X (sold in Ebony/Turquoise) comes standard with more features and accessories than some higher-tiered competitors, priced with an MSRP of $17,199.
For 2022, the Ultra 310 lineup consists of three models: the Ultra 310X (in Ebony/Turquoise with an MSRP of $17,199), 310LX-S (Ebony/Lime Green at an MSRP of $18,199), and the 310LX (Ebony/Gold with an MSRP of $19,199). Beginning with the features shared by each of these, the Ultra 310s retain its industry-leading 22.5-degree deadrise, rough water/open ocean-mastering true Deep-V hull design hewn from durable FMC fiberglass with a newly reinforced bow. Above the bondline is an entirely redesigned deck:
Kawasaki has lowered the overall deck height by 1.38-inches and narrowed the new bi-folding two-piece, three-person seat by an impressive 3.15-inches at the knee, allowing riders a more natural seating position as well as more clearance for stand-up riding. In addition to the redesigned shape, every seat is sculpted from a newly revised formula of urethane foam providing deeper hip support and improved jolt and vibration absorption from the advanced padding.
Above: Seating for the 310LX and 310LX-S is a whole new experience, as every saddle is over 3-inches more narrow (at the knees), sculpted from a new urethane foam formula for better support and comfort, and features the two-piece folding track (for the back seat) first debuted on the 2020 STX models.
Above: Amazingly, Kawasaki engineered all of the luxury features on the LX to be readily and easily added to the Ultra 310X and LX-S through its Genuine Accessories catalog.
Large inverted coves at the driver's knees bloom into colored fairings that open. Opening upwards on gullwing-style hinges, the new fairing compartments hold a combined 10.6-gallons of storage, the right-side including a half-gallon sized watertight box for your phone or wallet, and in the case of the LX, a pair of USB ports. Fore of these compartments is the 32.8-gallon bow storage. A molded-in open access pocket adds another 2.8-liters (0.7 gallons) of "wet" storage – ideal for a dock line.
All of this adds up to 44.5-gallons of storage, quite a bit shy of the previous model's 60-gallons, yet all of which far more accessible. Kawasaki did note that the 2022 models will carry 21.1-gallons of fuel, which is half a gallon more than previous. A larger, more open-access engine compartment eliminates the previous models' removable tub once found beneath rear passenger seat reducing the overall storage further.
Above left: Glove box 2.0! All of Kawasaki's Ultra 310 JetSkis now feature dual glove boxes, now accessed through gullwing-style doors beneath the fairings. Providing 10.5-gallons of storage alone, these incredibly easy-to-access compartments do not require doubling over the handlebars or reaching deep inside of a center bucket to reach a bottle of sunscreen. Above right: All Ultras include a water-tight phone/wallet case, which in the case of the Ultra 310LX includes dual USB ports (which can be added on later as an accessory on the 310X and 310LX-S).
The footwells are wider and deeper, gifting riders more leg room and foot placement. At the toe are built-in cleats for easy docking; and above are enlarged mirrors. The LX receives painted mirror covers and LX-S sports gloss black covers. The aggressive styling of the hood, fairings and flared fenders draw heavily from Kawasaki's Z line of motorcycles, even brandishing the prestigious Kawasaki River Mark, normally reserved for specific motorcycles and high-end vehicles.
Forward of the River Mark-embossed hood is a redesigned front bumper with built-in Quattro KSD (Kawasaki Splash Deflectors) water disbursement channels. The rear bumper is slightly raised, making it harder for water to wash up on the deck when banking into a turn. At the center console are dual molded-in cupholders located between the new full color, digital TFT dashboard and the redesigned five-way adjustable tilt handlebars.
Above: No, your eyes do NOT deceive you. The Ultra 310 models now can include forward-facing LED running lights embossed into the high-banking splash deflectors. While standard equipment on the Ultra 310LX-S and 310LX, they can be optioned on the 310X as well.
The new 7-inch wide TFT display offers multiple display modes, jog-dial control, Bluetooth connectivity, and various entertainment features. Riders can select from three different display modes and toggle between a black or white screen background. And while the screen brightness will adjust automatically based on outside light, it can also be adjusted manually to your liking.
In addition to displaying on-the-fly information, the screen's multitude of functions include a GPS-based speedometer, tachometer, fuel gauge, drive mode, boost pressure, clock, power mode, compass, trim, Bluetooth indicator, phone call & mail indicator, cruise control, and a selectable display bar below that can be set to show a trip meter, total & trip time, oil & engine temperature, battery voltage, intake air temperature, diagnostic code, external air temperature and external water temperature.
Above: The glare-resistant 7-inch TFT full-color screen offers a flood of on-the-fly data as well as two banks of "idiot lights" that read off activity and warning lights.
If that wasn't enough, what Kawasaki calls an "economical riding indicator" will also appear to indicate ideal fuel consumption to help the rider maximize the 310's fuel efficiency. Surrounding the screen are a variety of indicator LEDs that provide easy, at-a-glance information to the rider including a GPS signal, low fuel alarm, engine, oil, battery, engine coolant temperature, immobilizer, master warning, trim, and reverse.
Fixed between the twin release tabs for the fairing storage doors (where you'd expect the glove box) is the Kawasaki's waterproof jog-dial knob and confirmation buttons that toggled through the various screens and features on the TFT digital dashboard. This control knob is well within reach and easy to navigate, even while underway – pushing the boundaries of infotainment on the water to the next level.
Above left: Standard on the 310LX flagship and sold as an accessory for the others is the Meter Shield to deflect spray and reduce wind resistance. Above right: Standard on all Ultra 310 models are built-in cleats for easy tie-down and docking.
The aforementioned tilt handlebars are capped with pistol grip-style handgrips. Both control pods have been heavily revised with new buttons and layout. A new throttle lever has a lighter pull caused reduced fatigue. Below that is the long-anticipated Kawasaki Smart Reverse with Deceleration (KSRD) thumb trigger. The new reverse assist option is activated "when a thumb switch on the right handlebar is pushed which enables the thrust to be controlled with one hand," according to Kawasaki.
As one would expect, depressing the thumb trigger overrides the throttle, deploying the reverse gate and slows to the Ultra 310 to a standstill. Upon releasing the trigger, the drive mode returns to neutral. If continued to be depressed, the drive mode will engage reverse, and the JetSki will begin reversing until the trigger is released. The fluid motion between the thumb and trigger finger is different but not unnatural particularly for those accustomed to operating quads and motorcycles.
Above left: The long overdue on-water braking system replaces the left-hand lever reverse bucket; now riders can decelerate and easily deploy reverse with the natural pressure of a thumb trigger. Above right: Creating an on-water brake required bolstering up the reverse bucket and the brackets itself. A new bucket with side portals was molded, as well as a redesigned ride plate with a cast-in slope to raise the bow and features two prominent skegs for truer tracking in chop.
Equally, when the thumb switch is fully depressed, the up and down trim buttons "can be used to increase or decrease the engine RPM to adjust thrust, allowing for more precise control when maneuvering the watercraft in tight spots, such as docking." Once the reverse trigger is released, the drive mode automatically returns to neutral.
Fixed above the trim toggles is a Mode button, allowing riders to choose from four power modes including Full, Middle, Low and SLO (Smart Learning Operation). Full mode accesses all of the potency of the industry's leading horsepower output. Middle mode reduces the engine output to 80% of the Ultra full potential as Low mode is merely 60% of full power. As a precaution, the engine starts in Middle mode every time and the SLO mode is only achieved by using the secondary SLO key.
Above: Standard equipment for all 2022 Ultra 310LX-S and LX models is a wide angle backup camera that can be activated while under operation to back off of trailers or out of slips, as well as view behind while towing a raft or wakeboarder – all visible on the TFT screen in full color and high definition.
Two more digital features offer the rider ultimate control of their Ultra 310: the new Kawasaki Launch Control Mode (KLCM), offering two modes for optimal acceleration – Single and Repeat; and Kawasaki's One-Touch 5mph mode. The first – KLCM – automatically adjusts the trim for optimal acceleration. "In single mode, once set, the KLCM is only active for the first acceleration period, whereas in repeat mode, the KLCM is active each time the rider accelerates from a slow speed."
The One-Touch 5mph Mode is activated by a single button on the right handlebar when idling and deactivated when the throttle is applied. The cruise control buttons adjust upwards (or down) three levels for a little more speed (or to slow down) while operating in a no-wake zone. Finally, a new Multi-Mount System features multi-mount Bars built into the handlebars that allow for accessories, like GPS, phone, or camera mounts, to be added with ease.
Above: Although final dimensions were not ready at the time of this writing, the new splash deflecting front and rear bumpers will definitely add to the Ultra's overall length. Add the Ultra Deck on, and you've got a rather considerably-sized machine. Overall height is dramatically lower, over 3-inches per our estimates! Final weights will also be telling.
All three Ultra 310 models return with the same 1,498cc inline four-cylinder DOHC pressing out a true 310-horsepower from its roots-type Eaton Twin Vortices Series (TVS) supercharger generating a staggering 16.7psi at peak RPM. Revised in 2017, the Ultra's pistons feature a V-groove at the second ring for greater oil retention. Dual under-piston oiling jets are fed by a dry sump oil tank built directly into the baffled and partitioned crankcase.
Dual cooling circuits feed fresh ambient water through the enlarged coolant passages in the engine as well as pump through the intercooler, condensing the compressed intake charge prior to passing through the throttle body. The Ultra's oil cooler circulates oil between two cooling jackets, mitigating heat soak and excessive internal engine operating temperatures. This allows the 160mm axial-flow, single stage jet pump to spin its 3-blade, stainless steel impeller enough to produce 1,890lbs. of thrust.
Above left: The 310LX-S and 310LX both include the seamlessly integrated Ultra Deck, a rear platform that extends the transom nearly 8-inches. This deck extension includes molded-in reboarding grips and deep-set tracks allowing for an endless variety of accessory attachments and arrangements without feeling clunky or a tacked-on afterthought. Above right: Rich teak-style traction mats on the 310LX carry from the footwells all the way to the tail of the deck.
Although the sponsons and intake grate carry over unchanged, the eagle-eyed observer will note that the ride plate has been recast in aluminum, featuring thicker bosses for the deployable reverse bucket, no doubt to withstand the dynamic forces that braking from full speed will play upon the plate. Closer inspection reveals an angled relief cut into the plate, raising the bow and reducing spray. Equally, sharp skegs flanking each side will give the Ultra greater straight-line tracking.
While all of the above features and details are found on all of the 2022 Ultra 310 series of JetSkis, the Ultra 310LX-S and 310LX temps the more luxurious-minded rider many more offerings. Both come equipped with a smoothly integrated Ultra Deck, an extended rear platform that increases the swim deck an additional 7.9-inches. An angled folding swim step tucks neatly up under the Ultra Deck, which also includes two Multi-Mount Bars to receive a whole new catalog of accessories.
Above left: Among the dozens of other accessories, Kawasaki offers a soft-sided cooler with stitched-in rod holders that mounts flush to the Ultra Deck and rear. Above right: For those wanting to strap down camping gear, extra fuel or anything else, these eyelets allow for full freedom in securing your cargo wherever you go.
These slide mounts provide accessible tie-down points to mount any number of Kawasaki's new rear deck Genuine Accessories, including a stern bag, soft cooler, dry duffel bag, easy-access storage bag, dry bag, Vacu-Hold Jet Ski cover, rear rack and tie down. At first blush, the Ultra Deck is easily the best-integrated deck extension offered in today's market; so much so that many won't notice that the LX-S and LX even have an extended platform until reading this paragraph.
Additionally, both the Ultra 310LX-S and LX come equipped with a rearview camera. Yes, you read that right, a rearview camera, which can be monitored on the TFT screen when docking or towing. Per Kawasaki, it provides "an impressive view range at 155° horizontally and 115° vertically (± 5°), allowing the operator to feel comfortable about what's behind them." Oh yeah, and both the LX-S and LX come with LED accent running lights built into the front bumper. Yeah, headlights.
Above: Kawasaki Genuine Accessories offers a catalog of new cargo options for your Ultra Deck without being cumbersome or unwieldy. These soft-sided bags and coolers offer plenty of options for the day-tripper. 
Pushing what Kawasaki (and frankly, the industry) can offer in the way of luxury personal watercraft, the Ultra 310LX takes PWC seating to a whole new level with the industry's first 3-position ERGO-FIT adjustable seat. The three-tiered seat sits on a sliding track that can be set between three seating positions, spanning 2.75 and 1.4-inches apart.
Wrapped in black and brown UV-resistant materials with high-contrast white stitchwork, the LXury seat absorbs less heat between rides thanks to its special heat-resistant material. A final bit of form-meeting-function is the 310LX's addition of a wind-deflecting meter visor. Aftermarket testing has shown the benefits of meter visors on drag and even increasing speed so this is a neat addition.
Above left: The Ultra Deck also features an elongated swim step that folds neatly up under the extended platform for easy reboarding. Above right: Kawasaki adorned each of these new Ultras with its revered River Mark emblem, a sign of a new higher level of machine.
Finally, the Ultra 310LX takes onboard sound systems to a new level with the new Jetsound 4s, becoming the first standard-equipment 4-speaker integrated audio system featuring with jog-dial control and Bluetooth connectivity on a personal watercraft. The jog-dial controller is found on the left of the 7" TFT display and not far to reach.
The Jetsound 4s system raises the audio bar with 200 watts via two channel amps, and a quartet of speakers – the lower two rated at 60W x 2 and the upper two flanking the dashboard ranked at 35W x 2. And the Jetsound 4s system is fully compatible with most all smartphone devices, as well as other Bluetooth compatible-players. And all audio data is viewable on the display.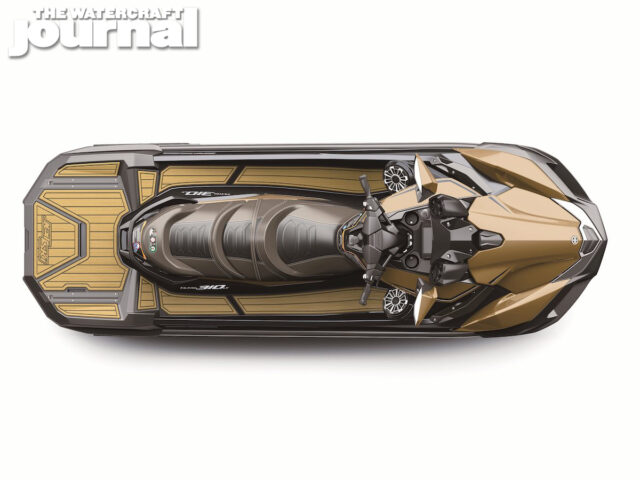 And for those curious, all of the standard accessories for the Ultra 310LX – including the Ultra Deck, rearview camera, accent lights, Jetsound 4s audio system, Ergo-Fit LXury Seat, and meter visor – can be fitted to the Ultra 310X and Ultra 310 LX-S models, although we presume the cost of individually purchasing and installing each of these items will exceed the MSRP of the 310LX unit itself.
Alas, what Kawasaki has managed to do was wholly elevate the bar when it comes to what the consumer can expect from a personal watercraft – regardless of the brand. Truly we're looking at a whole new tier of fully-loaded, feature-heavy PWC that will cause some serious consternation among the more indecisive of customers. If top tier audio, safety, storage, fuel capacity, innovation, ergonomics, comfort, rough water handling and knock-you-on-your-back horsepower are on your wish list, we contend that Kawasaki is now the king of the hill once again. And it's good to be the king.