It's the moment racers and enthusiasts have waited for all winter: the first race of the 2022 season. Mechanics and privateers have spent months prepping machines to be top-notch competitive. Riders have spent hours training at their local tracks. They've all gathered at the same venue to line up behind the starting gate with their rivals.
The card goes up, and engines are revved. Families and fans scream and cheer in the background, but the racers are oblivious to the noise around them. They stare straight ahead through a fresh pair of goggles, eyeing the first turn hundreds of yards in front of them, waiting for the slightest movement of that gate…
You'd think this was written while sitting trackside at Angel Stadium at A1, right? Wrong! Let us introduce you to the "H1" round of this season's jet ski racing!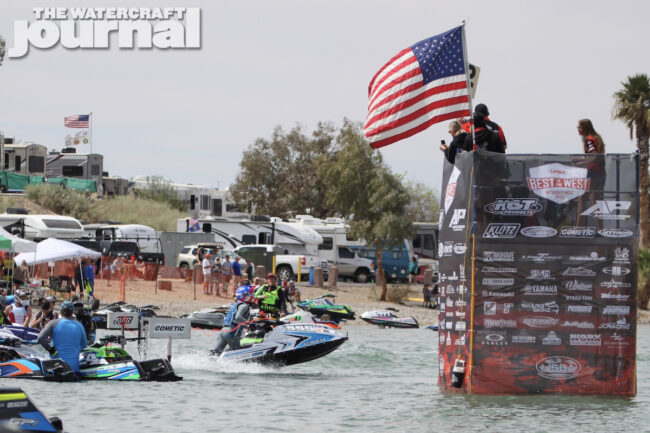 The completely revamped Jet Jam Racing staff, and with the help of RPM's Ross Wallach, officially kicked off their race tour at Crazy Horse Campground in Lake Havasu two weekends ago. Similar to the three rounds of Supercross held in Anaheim, the JetJam racing tour will also feature three rounds held in Havasu this season.
Race director, Monte Hughes was slightly hesitant about combining the series at first. He stated, "Ross contacted me to join together and create an 11 round, 6 weekend race series with him. At first I was a little concerned about how we could do this and still maintain both of our sponsor's requests. But after all of the good feedback we got once we publicly announced the combined series, I knew then that I had made the right decision."
Monte and his staff seemed to have thought of everything when planning this event, "The parking was a little difficult at first, but I was able to have the Lake Havasu City Police Explorers come and help us out with that. In return, I gave them a large donation to their program, which helps officers mentor these young adults in preparing for a career in Law Enforcement. I also secured a limo for shuttle service from Brady Courson with All Things Rental to help get racers and spectators into the event."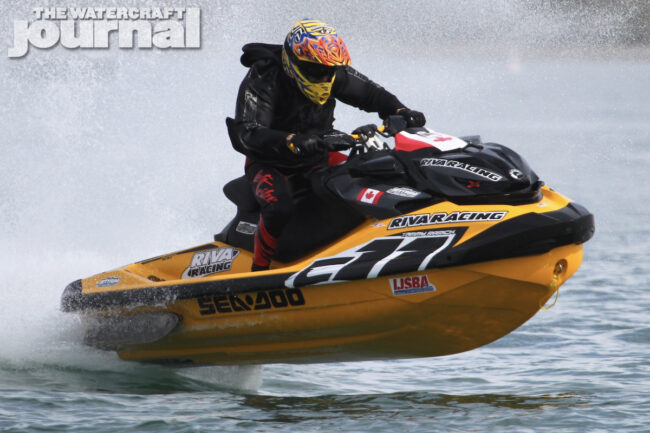 "This event was one of the largest turnouts that I had ever seen," Monte continued. "We had around 120 racers with 170 entries. And the racing was very exciting to watch! We had a lot of compliments on the right-handed course that Todd "Sarge" Young set up, including a log jump." The staff also was able to engineer an "air-band" system, which operated off compressed air that triggered the starting bands to snap.
Racers seemed to be extremely happy to be racing again, and their success was evident on the podium at Sunday's award ceremony. One notable racer was Reese Giese (#141), who competed in Women's Lites, Women's 1500, and 4-Stroke Lites and won a staggering 10 out of 12 motos.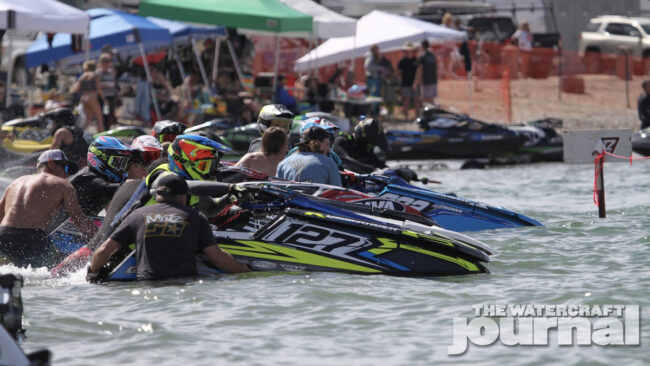 "The most fun class this weekend was probably the 4-Stroke Lites on the new Yamaha SuperJet," Reese told The Watercraft Journal. "And I really enjoyed racing at Crazy Horse because not only is it where World Finals is held, but the water on this side of the island is super rough, and it makes for some fun and interesting racing!"
Another prominent racer, Tom Aiken (#00) made the long haul all the way from Australia to compete in Pro/Am Ski GP due to a lot of racing being cancelled back home. "With it being my first time racing in America and first time racing overseas in the Pro Ski GP class, it was pretty awesome to line up next to top riders and be a part of a big event! I had planned to come and test the new Bullett V5 and Rusty Gewecke was awesome to let me race that weekend."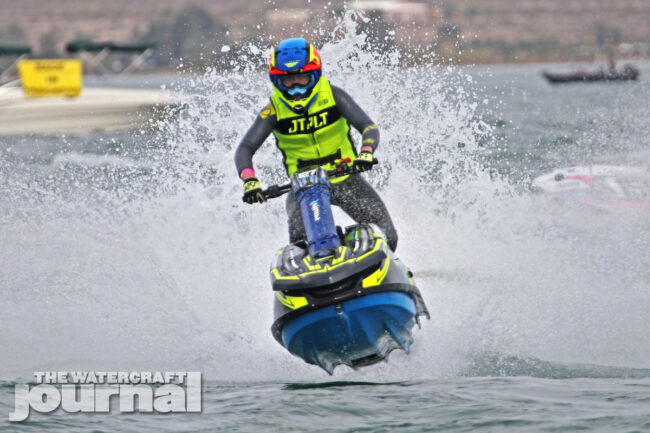 Another stunning display of racing came from none other than Coy Curtis (#155), who raced in Vintage 550, Am Ski Lites, and Am Ski GP. Coy, who picked up his Kommander GP1 five days before the race, was seen flying down the back straight and through the rough conditions while never lifting off the throttle.
Father, Taylor Curtis and ski builder, Dustin Motzouris stood on the beach and watched and couldn't help but laugh in astonishment. "I had the most fun on my GP1 on the last moto," Coy stated. "It was super rough and my GP1 handled it really well!" Overall, racers and families were extremely satisfied with Jet Jam's H1 turnout. And with a full race tour of 11 rounds, one can only assume that it will be an exciting and successful year for Jet Jam!