The 2021 Pro Watercross National Tour is technically over; the next race on August 28-29 in Lake Charles, LA, is billed as the Championship round, the culmination of the season's six tour stops. With double points at stake, and event champions to be named, and season-wide tour-point standing champions to be crowned, the anticipation is bound to ramp up between now and late August.
Racine, the furthest north of the Pro Watercross tour stops, is a great race site, and normally a fairly well-attended, popular stop on the tour. This year, however, despite a decent turnout, bolstered by a good showing from local and regional racers, there were some missing faces – many of whom are tour champion contenders, if not points-leaders in their classes.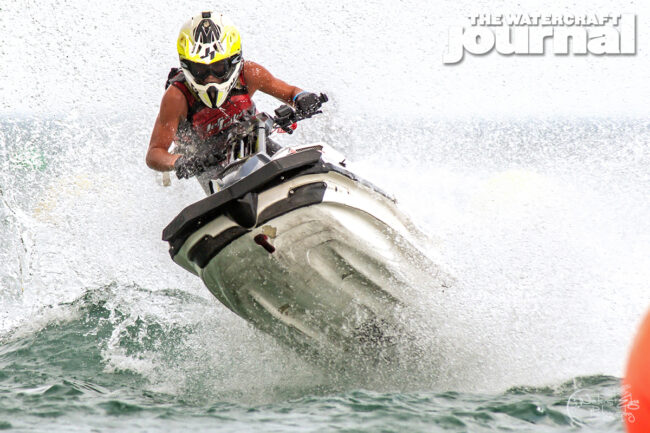 Despite the notable absences, though, the Racine weekend provided plenty of race intensity, some condition switch-ups that kept things interesting for spectators and racers alike, and some strong showings from some of the newer names to the game.
The Pro-Am Ski GP class staked down the largest lineup of the weekend, with nine racers set behind the band, despite the absence of three of the four points-holders in the class. Headed into Round six, Deven Farthing led the pack with 208 points, a lead he held onto with a third-place overall finish at Racine (2, 6, 2) to bring his tour points to 319. However, following the Hartwell race, Matthew Richuk as close on Farthing's heals with 199 point, followed by Jimmy Wilson with 187.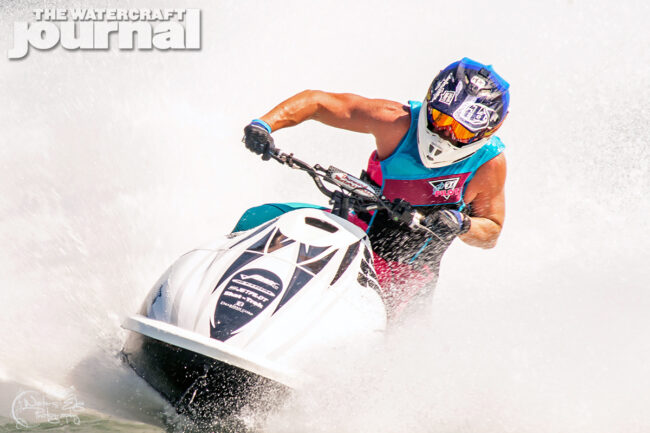 Neither Richuk or Wilson attended the Racine tour stop, and Camden Powell, who now holds 206 points following his 6, 7, 3 weekend at Racine. Richuk held onto their place in the tour points chase, and much of the attention that was focused on the competition between Richuk and tour veteran Jimmy Wilson at Hartwell shifted to the battle at Racine between Mike Klippenstien (3, 2, 4) and his young protege, Ryder Wildeboer (1, 1, 1) With Double points on the line in Lake Charles, the Pro-AM Ski GP 2021 Champion is far from settled.
Pro-Am Runabout Box Stock was another class that put up some tough racing, with some great racing by both Arnold Martinez, who took the overall top podium spot for the weekend, and Brad Bohat, who landed on the second podium step even after two first-place finishes with a rough Moto 2.
However, all three of the top tour points holders were absent at Racine, with Troy and Tory Snyder, as well as Seth Nama, missing from the lineup. Season-long tour point standings heading into the National Championship, however, remain unchanged from the post-Hartwell trio of Tory Snyder (300), Troy Snyder (260) and Seth Nama (140) due to both Bohat and Martinez having missed out on most of the 2021 tour stops.
In Pro-Am Ski Stock, all three of the weekend's motos posted up matching results, with Ryder Wildeboer (1, 1, 1) taking the weekend's top spot, Jeb Zarzour (2, 2, 2) taking second, and Alex Anderson (3, 3, 3) taking the third spot. Headed into the National Championship, sporadic and low turnout for the class leaves Tour Points leader Zarzour with only 113, followed by Wildeboer and Richuk tied at 60 points.
Sport Stock was again one of the most attention-grabbing classes, and none of the top tour point holders were missing from the lineup. The weekend's racing ended with Jake Zier (5, 1, 1) taking the top podium spot, Sammy Nehme (1, 2, 4) taking second), and Talan Farthing (3, 4, 2) sneaking past his brother, Deven (4, 3, 3), to take the third podium spot. Tour points in the class stand at Deven Farthing, 319; Sammy Nehme, 215; Talan Farthing, 203.
For complete results from Racine, and up-to-date tour points standings, visit prowatercross.org. Visit www.watersedgephoto.online for additional race images from Racine and prior tour stops.