Warning: These products from Unlimited PWC will give your Kawasaki Ultra JetSki a high-end custom look unlike anything on the water today. We take viewers step-by-step through the entire installation of each component- providing a real-life look at each part before and after they are installed on our JetSki.
The Watercraft Journal partnered with Unlimited PWC and JD's WaterWorld to equip the latest generation Kawasaki Ultra 310 LX-S with Unlimited's full catalog of billet aluminum components. This build includes their cam cover, flush ports, ball drain valves, type VI exhaust tip, oil cap, and bypass nozzle. We also feature Unlimited's premium green/black brick-pattern laser-cut traction mats compatible with the new Kawasaki Ultra Deck.
We first installed the green and black laser-cut brick pattern traction mats. After removing the factory mats, we clean away any remaining adhesive from the deck, and then peel-and-stick our new mats in place. These Unlimited mats feature a pressure-sensitive 3M double-coated laminating adhesive which has excellent wrinkle resistance, durability, and adhesion.
These visually-stunning mats have virtually identical dimensions to the stock mats providing a perfect fit. A 3D laser-cut design coupled with two-layer construction provides exceptional grip when wet and reduces surface tension, allowing water to flow off quickly.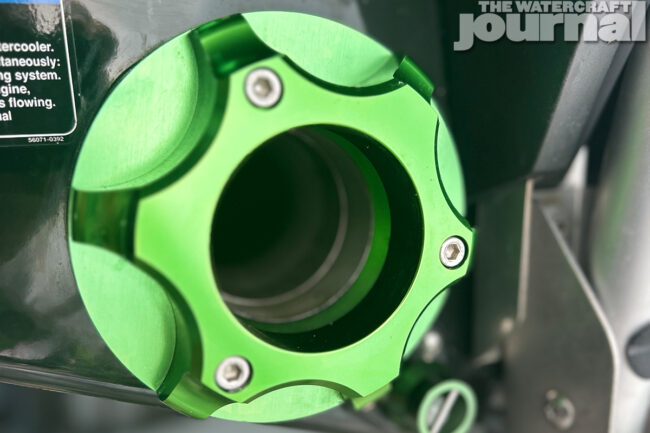 Next, we work on the Type VI exhaust tip. The 3-piece structure of this free-flow style tip features machined aluminum with excellent strength and corrosion resistance. The components fit seamlessly over the factory exhaust flange at the rear of the JetSki and install in about 5 minutes.
After we remove the stock exhaust tip, we clean the base plate with a scotch-brite pad and apply some marine grease to the surface where the Unlimited base plate will attach to the ski. A few Allen bolts later, and our Type VI Exhaust Tip is fully installed.
Now, we shift focus to the billet flush fittings that will be installed right above the exhaust tip. The stock flush ports are made of a resin material, and are completely utilitarian in nature. Unlimited's green billet flush fittings feature durable threads that won't strip out or crack, and offer the same durability and corrosion resistance as the Unlimited Type VI Exhaust Tip.
Installing the flush fittings is straightforward, requiring the flush hoses on both the intercooler and exhaust to be disconnected. Once those hoses are free, the flush ports can be unscrewed and pulled out of the ski. A bit of force is needed to unseat the silicone put in place by the factory.
Neoprene/Rubber gaskets used on the stock flush ports must be retained, or genuine replacement gaskets can be purchased from your Kawasaki parts counter. 100% RTV Silicone was used as well, to ensure a water-tight seal. Unlimited also sent us a green billet threaded flush fitting, designed to accommodate commercially available quick-connect garden hose adapters.
The Unlimited PWC billet cam cover has been featured on The Watercraft Journal before, but never like this! This solid-aluminum cover is a work of art! Featuring a simplified breather assembly to reduce weight and facilitate air flow, this cover is precision milled to provide a perfect fit on all Kawasaki 4-stroke marine engines.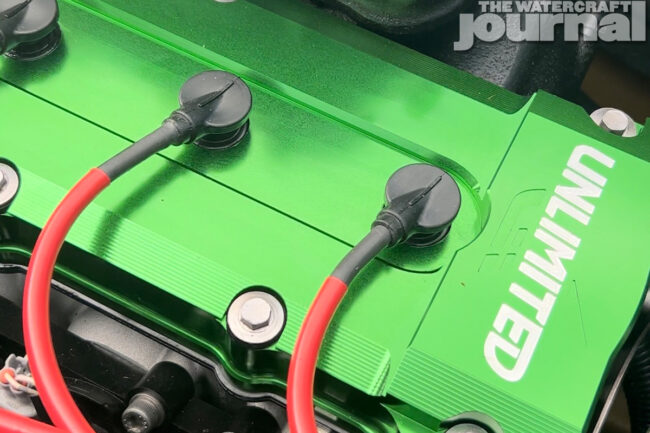 When installing this component on the Ultra 310, the upper exhaust pipe assembly must be unbolted and removed from the ski. This process will require a torque wrench, as well as a new OEM pipe-to-manifold gasket that can be purchased from your Kawasaki parts counter.
There are four O-rings/gaskets that must be re-used from the factory cam/valve cover. These gaskets seal the spark-plug tubes in the head from oil that is being slung around under the valve cover. If these are in poor condition, you may obtain new ones from Kawasaki.
To accompany our new green billet cam cover, Unlimited also sent their Billet oil fill cap in black. The cap installs the same way as the stock cap. The Unlimited part requires an o-ring to be installed which can be re-used from the old cap if it is in new condition, sourced from Kawasaki, or a generic o-ring can be utilized. This cap provides an easy way to dress up any Kawasaki 1,498cc JetSki engine, while keeping contaminates and water out of the oil fill port.
We round off our build with the Unlimited green billet water bypass nozzle. This nozzle fits perfectly in the hole for the stock rubber nozzle, and provides a subtle, yet visually appealing upgrade.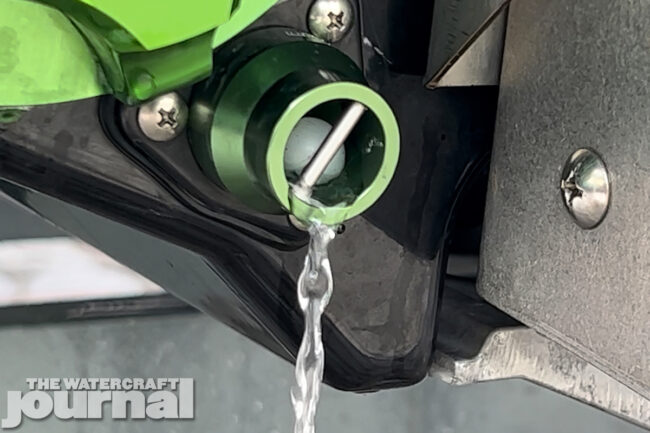 The billet bypass nozzle can accommodate the Ultra 310 stock water bypass-plumbing with only a few miscellaneous components we acquired from our local hardware store. The port features a 3/8 male barb fitting and 45 degree water exit angle.
Finally, we install the Unlimited PWC quick-drain ball valve system. These billet ball-valves are color-matched and feature a tapered body with a plastic ball that allows water from your bilge to exit while the ski is underway, while preventing water from entering.
Every model in the Kawasaki Ultra line is equipped with a venturi-style bilge pump stock from the factory. If water enters the bilge, however, this pump is usually not able to remove all of it due to the location of the pickup. These ball drain valves allow all water in the bilge to exit through the lowest point of the hull.
These drains install in the same way your normal drain plug would install, and are recommended for day-use only. These are not designed for skis that are moored, or will be in the water for a long period without moving.
Stay tuned for the next part of the series, "Take your Kawasaki Ultra's Handling to the Next Level with Unlimited PWC," which will feature Unlimited's green Full Billet X-Sponsons, and their silver Low-Down fixed handlebar riser complete with billet green Middle Handlebars.
It will also feature a grey Unlimited handlebar pad, black Logo Lock Grips with custom color-matched green billet lock rings, and black Type II billet Grip Ends. Unlimited has also provided us with a custom immobilizer key relocation bracket designed specifically for the latest generation Ultra 160/310 models. Visit Unlimited PWC to check out these products, as well as Unlimited's full catalog of parts and components for Kawasaki, Yamaha, and Sea-Doo personal watercraft.
https://youtu.be/0uu7PNwowT4