On a beautiful Southern California summer morning, 21 racers met in Long Beach, CA for the 2016 running of the Long Beach to Catalina (LB2CAT), the longest continual, and most prestigious offshore endurance race in the United States. Racers came as far as Australia and Canada to try and conquer the channel with its confused ocean state. The talk in the pits focused on whether Craig Warner could win his 7th title or whether Mike Klippenstein, Christian D'Agostin, or Mark Gerner could dethrone him.
Klippenstein told The Watercraft Journal, "Well, after having the fastest boat three years in a row and breaking [each year] cause of minor things… I was pretty hungry to break the Kawi streak and had lots of time to think about what it will take to pull a win off this year. I had a game plan based on past year's learnings and stuck to it: History shows the smartest, consistent rider with a reliable, well-prepped race boat will and should usually win. You have to stay on the boat, stay on course, conserve fuel, conserve your equipment, and be smart to win this. The plan was to stay on pace at low boost, and [hit] full boost…on the home stretch."
The riders lined up and Ross Wallach of RPM Racing dropped the flag at 9:30 AM, wving on as the field headed out the breakwater of Queensgate. The ocean conditions were less then perfect with blind glass, big 3-to-5-foot swells, and confused chop creating chaos for all. Brittany Marker, the only woman racing the event, explained, "This race was probably the hardest for me yet. The channel brought a lot of blind glass in low light conditions, so it was quite the challenge when you couldn't tell what was right in front of you. I only had my more aggressive sponsons on, so I got tossed around quite a bit out there."
The front runners out of the gate were defending champion Craig Warner, Mike Klippenstien, Christian D'Agostin, and Mark Gerner all checking out from the rest of the field early on. Both Warner and Gerner piloted turbocharged Kawasakis while Klipper and Australian D'Agostin rode SVHO-powered Yamaha FX's. By the turn boat Warner and Gerner were out with mechanical failures. D'Agostin led the field for most of the way back with Klipenstein close behind. As D'Agostin began to secure the lead on Klippenstein, until his Yamaha ran out of fuel in the last half mile. Klippenstien took full advantage, pulling ahead for the win.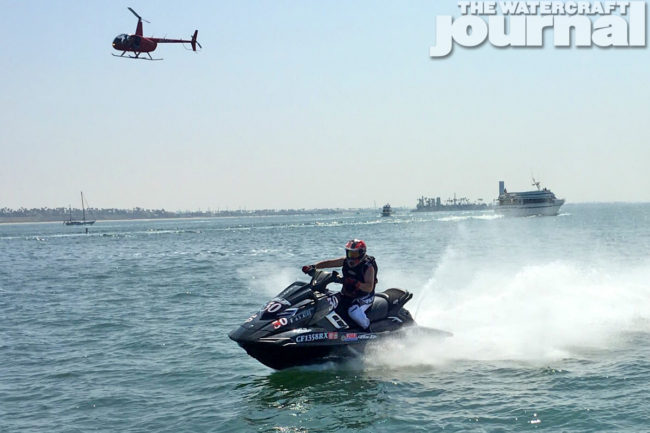 D'Agostin managed to nurse the SVHO past the checkered flag for second, with SoCal local Paul Pham, also aboard a Yamaha, clearing third. "This was a huge win for Yamaha," Klippenstein beamed. "They haven't won this race in many, many years. It really goes to show what all the R&D the guys at Yamaha have been doing year after year trying to make their product better and not just changing a few minor things." This win positions Klippenstien for the triple crown championship as he won the Dana Point-to-Oceanside two months earlier. Klipper smiled, concluding, "This win will be memorable for many years" as he spend a portion of the banquet chatting up multi-time champion Billy Womack, a personal hero of his.
Marker, who came in tenth place, achieved several goals: "My personal goal was to make the Top 10 and I did just that. I'm really happy with how I rode and will continue to push myself to be among the top and try to always give the boys a run for their money!" In all, a scant 15 riders finished the race (of a total 21) after battling the channel, including first-timer Daniel Cox racing in Manufacturer Stock, and last year's Naturally Aspirated champion Ryan Ellefson putting his N/A Yamaha VXR to it limits in 4-stroke Stock. While several had mechanical failures, none were unwelcome at the after party/awards ceremony. Marker concluded, "That's what makes this sport so special… It really is a great community of people and there are always a lot of laughs at the finish line!"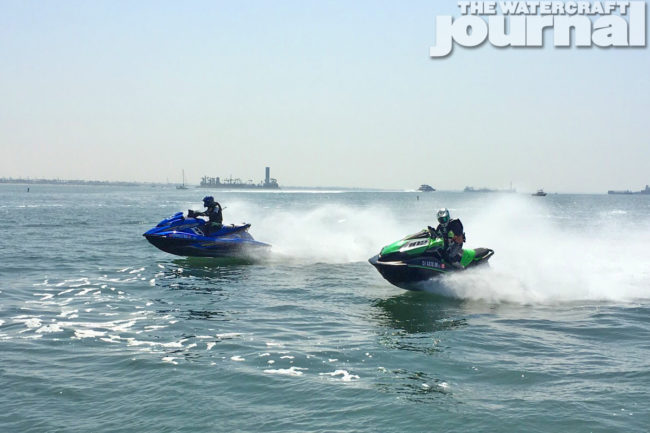 2016 Long Beach-to-Catalina Offshore Championship Overall Results:
1. Mike Klippenstein, 2. Christian D'Agostin, 3. Paul Pham, 4. Bill Scott, 5. Daniel Cox, 6. Santiago Kuan, 7. Ryan Ellefson, 8. Charlie Martinez, 9. Jonathan Mangan, 10. Brittany Marker, 11. Charles Anderson, 12. Johnny Custom, 13. Anthony Radetic, 14. Akira Tanaka, 15. Frank Gavit; DNF: Craig Warner, Mark Gerner, Jason Gigliotti, Dave "Pirate" Tew, Jeff Lane, Tom Cruz