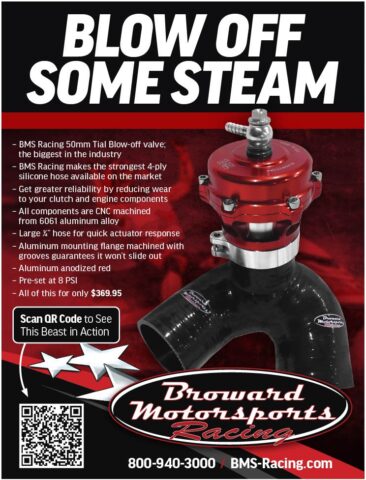 Are you ready to take your Yamaha SVHO or SHO-powered WaveRunner to the next level this summer?
If you're looking to increase your WaveRunner's performance or reliability, then the TiAL Blow-Off Valve Kit from Broward Motorsports Racing is a must have.
This beautifully crafted 50mm BOV kit not only allows you to increase performance but will also improve reliability to your supercharger clutch and other engine components.
The biggest valve in the industry, this thing is sure to vent all your unwanted boost pressure during off-throttle situations.
As you get back on the throttle, you can ensure there will be no interference against all components within the intake tract.
Features of this quality-built system include:
Strongest 4-ply silicone hose available on the market
Reduced wear to clutch and engine components
All components CNC machined from 6061 aluminum alloy
Large ¼" hose for quick actuator response
Aluminum mounting flange with machined grooves precisely fixes location
Aluminum anodized red
Pre-set at 8 PSI
Act now to save $20 on this unit. Also, if you use discount code "BMS10" you will receive an additional 10% off at checkout and as always, pricing for this will qualify your order for free shipping.