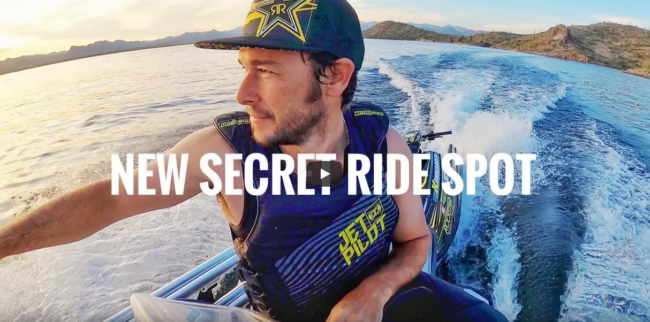 Watch Kommander Industries, co-owner Dustin Motzouris and his brother Tyron as they get underway on their PWC in search of a spot to do some bad ass race training. When they find the nearly ideal location, they set their course buoys and get busy lighting the course on fire!
Though the guys had to contend with placing the buoys in deep water, they crushed the course and had an awesome day of simulated race training on their stand-up skis. Motzouris towed his powerful Yamaha GP1 behind a WaveRunner while filming.
Dustin Motzouris (or Motz as he's known) has raced for 25 years and doesn't appear to be slowing down, especially on his Kommander Industries Yamaha GP1. The machine is a powerhouse of speed and is known for its stability at high speeds. It's easy to maneuver at race speeds, thanks to the ingenious hull design.

The hull was visualized in a real world setting and then brought to life in a virtual CAD environment. Using the latest CAD technology, the team was able to create the perfect hull for optimal strength, fit, and performance.
The hull was shaped in such a way that it will lock in when cornering and riders would exert less energy during racing, which makes for faster laps for a longer period of time. Contact Kommander Industries for your custom GP1 build. The shop is located in Phoenix, AZ, where the multi-world champion Motz resides. He is itching to race again and looks forward to when it's given the greenlight.
For now, he'll continue training on his rocketship GP1 and developing more stand-up skis.