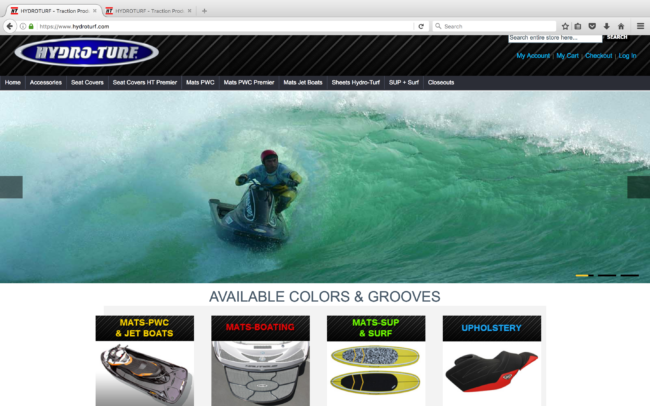 With everybody walking around with a miniature high-speed computer in their hip pocket, today more than ever, it's important to be relevant and digitally active. Obviously, you can't dip a toe into the personal watercraft industry without knowing who Hydro-Turf is and what they do. But, for a long, long time, Hydro-Turf's website has just been lacking.
Well now, the industry giant of traction mats, seat covers and so, so much more has recently released a completely redesigned website. Some key new features include: A more visually appealing method if purchasing our products. When specific mat kit variations are selected, there is now a featured thumbnail photo of the specific color option selected for clarification; new options for standard seat cover colorways. This makes ordering standard seat covers much easier. The custom seat cover options are also still available and are much easier to use.
Additionally, a new category of sheets specifically for boating applications is now available. This includes our new Wide Groove (Teak Look) and several new colors such as Dark Brown, Brown Camo, 2-Tone Grey on Black, and Gator Camo. Boating sheets are offered in different sheet sizes that cater to the larger surfaces and have been formulated to have more UV protection as well. And as a bonus, most currently available Hats and T-shirts are now featured and only cost $10!
The Watercraft Journal got to talk to Hydro-Turf's president Arno Olbricht, "After years of work with web developers working with our extensive combination of great products. We're excited to finally release the new Hydro-Turf website with a fresh new look and a modern, user friendly layout."