By mid-afternoon, Lake Havasu was churning like a bathtub. The IJSBA World Finals were chewing through their final motos for the day, and the noise carried over the water like a siren's song. Add to it the boat traffic and racers performing final tuning on their racecraft, and we were hard pressed to find escape from the din. Finally finding a quiet stretch of beach, we set up our camera, stowed our gear bag, lifevest and other non-essentials, and readied to grab our video footage reviewing the 2018 Sea-Doo RXT 230. It would be our third such review in as many days, and we were on a roll. Thinking all was well and good, we hit "record" and POP!, our microphone went out. Searching the cosmos for inspiration, we fired up our trusty iPhone and began recording all over again, keeping the phone close enough to record our voice. Sure, the quality was pretty poor, but at least you could hear us speak.
If that, of all things, was the worst that happened during our week-long testing session with Sea-Doo's all new ST³-based full-sized runabouts, then we were in good shape. Replacing the popular-yet-9-year-old S³ platform, the ST³ incorporates much of the outgoing DNA with a large splice of RXP-X's T³ hull for good measure. What that did, effectively, was create a 135.9-inch long, 49.4-inch wide runabout that weighs in at 805-pounds (that's 45 less than the current RXP-X 300, by the way), but handles nearly as sharply and as intuitively as the sportier relative. The added one-and-a-half inches of width over the previous RXT is found on the new hull's outermost edges, providing a virtual shelf that the craft balances on. This gives the rider significant stability both while at speed and maneuvering around the craft while at rest.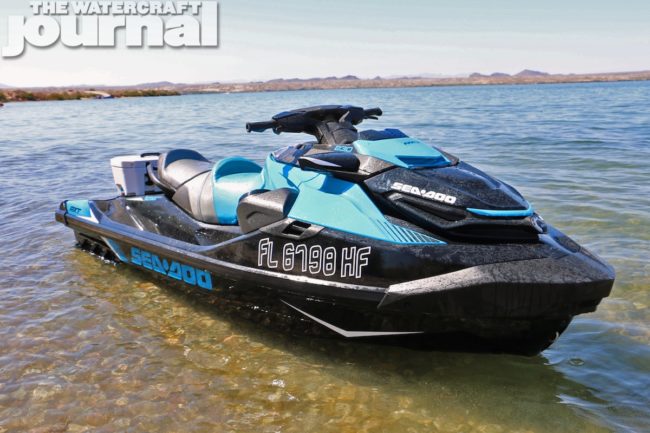 Both the new ST³ hull and deck are made using Sea-Doo's CM-Tech (Closed Mold Technology). This not only alters how Sea-Doo makes its watercraft, but also permits for better automotive-grade paint finishes (the current RXT 230 looks striking in its glossy Black and Octane Blue livery), as well as eliminating the irritating fibrous texture on the inside of the engine compartment – leaving only a smooth, somewhat chalky surface in its stead. While the use of CM-Tech does manage to shave a little bit of weight, Sea-Doo Watercraft Global Product Manager James Heintz explained, "Most of the weight savings is attributed to the new sectioned two-piece seat. Gone is the big, heavy single-piece seat [that pivoted on a gas strut-powered hinge], replaced with this lighter two-piece seat that can be removed for single-person riding, or for lounging on the rear platform." Moreover, the new seat sits the rider and passenger deeper into the ski, 1.5-inches for the driver, and 3-inches for the rear passenger.
Motioning to the redesigned rear deck, Heintz focused our attention back to the transom – there was a lot to break down: First, the new deck is huge, 366-square-inches huge, to be exact. It's also flat, only ever-so-slightly sloped downward, and terminates in a plastic molded-in tow eye hook and cleat combination. Fore of it is Sea-Doo's new LinQ system. Pilfered from BRP's Can-Am and Ski-Doo categories, the LinQ system allows for the attachment and securing of a triad of accessories: a 4-gallon fuel can; a semi-rigid, 5.5-gallon storage bag; or a 4.2-gallon ice chest. (Each sold separately through Sea-Doo's accessory line.) Moreover, the storage bag can attach atop the fuel caddy (nothing goes on top of the cooler). Each item is mounted to the deck via two pop-up attachment blocks that also can be snapped down for a flat surface. Equally, there is a provision for the telescoping Wake tower (previously only found on Wake 155 and Wake 230 models) for better towing of skiers and tubes.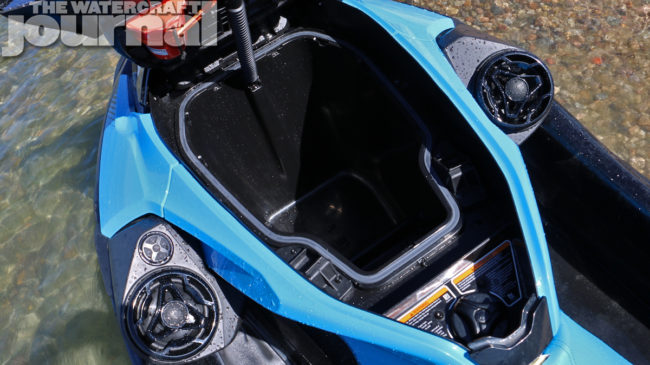 Both the ski tower screw-cap portal and LinQ system are integrated into a long panel, which also features the attachment points for the sectional seat. When removed (via 13 torx head screws), beneath the panel reveals a massive access window into the cavernous engine compartment. There the 1,494cc four-stroke, 3-cylinder ACE 1500 is readily available for service. The new-for-2017 powerplant also has some minor upgrades including a simplified CLCS (Closed Loop Cooling System), a more thermally-efficient ride plate, a larger oil cooler, and a sacrificial anode in the intercooler are all new for 2018. Of course, performing minor services like oil changes do not require the removal of the panel, just the driver's seat. Even at a lesser 230-horsepower, the RXT had little trouble reaching its 300-horsepower big brother's top speed of 68.6mph. Other than the X-Steering system, angled foot wedges, racy sponsons and three-bills power rating, the lesser RXT 230 is nearly on par with the $15,699 RXT-X 300 – at least in regards to performance and sheer thrills.
Forward of the engine compartment is possibly Sea-Doo's most polarizing addition to the ST³ yet, its Direct Access Front Storage, a giant 27-gallon single basin located directly beneath the cockpit's control panel. This integrates the 5-position tilt steering (which features completely redesigned toggle pads allowing for scrolling through the VTS settings, Sport and Eco modes, and setting and adjusting Cruise settings); the analog-and-LCD digital dashboard; two heavy-duty hood release locks; and a smaller, secondary glove box (that won't fit any gloves) all into one hinged piece. Inside of the glovebox is a watertight, padded cell phone case. Admittedly, it's pretty small, good enough for say a set of keys and a second lanyard. As we've reiterated in other reviews, the new ST³ is down considerably in storage (from 42.8 to 27-gallons) from last year, but the centralizing into a single bin does eliminate the need to double up over the handle bars to extract something from the front bucket.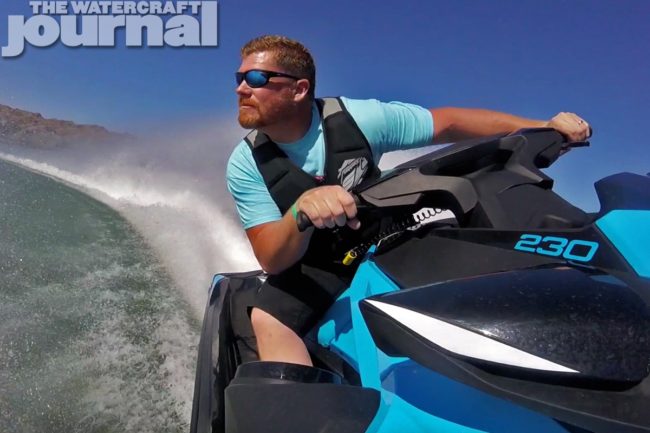 Although not standard equipment, all ST³-based machines can be equipped with Sea-Doo's 100-watt BRP Premium Audio sound system. Consisting of two 50-watt pressure washer-safe, all-weather speakers with an external playback control pad located above the left speaker (allowing the rider to toggle through their phone's song list while at speed or simply lounging around). It is also the world's first Bluetooth-controlled PWC audio system. And for those looking to be the life of the party at the sandbar, dock or beach, a sensor kills the sound after an hour or low battery signal, whichever comes first, when operated with the engine off. From the factory, it's a $700 option, but if you choose to have it installed by your dealer at a later date, the price goes up a few hundred bucks. Frankly, we loved it so much, we encourage all of you to order it right then and there.
At anything over half throttle and over anything over a foot of water, you're gonna get wet. Even at neutral trim, we were getting pretty hosed as we rode face-first into the wind, clipping through the white caps now breaking over the lake. Gratefully, despite our shower, the RXT 230 darted across the chop undaunted. No bobbing or darting left and right; it just cut a laser-straight path in whatever direction I pointed it. Months later, while rushing across a particularly rough Tampa Bay during a second test session, we really pushed the ST³ hard, as 4-to-5 foot breakers hollowed out into deep-bottomed pockets. We buried the nose of the ski nearly a dozen times, trying to find a comfortable through-line. The ST³ stayed hooked, pressing hard, its centrifugal supercharger shrieking. It was water that broke handlebars and hoods off in offshore races, and the 230-horse Sea-Doo was bearing it all. We were impressed for sure.
In big surf, the low-slung sculpt of the RXT feels incredibly low, even with the steering adjusted all the way up. That's also because Sea-Doo lowered and expanded the footwells considerably for the ST³, placing the rider's center of gravity deeper into the machine. This allows for better balance for sure, but took a little getting used to. With all of that being understood, the ST³ is unequivocally the best rough-water runabout that Sea-Doo has made. Lesser machines would've given up the ghost, or worse, the rider in equal conditions. This time, our confidence was high that even at our given speed, both man and machine would return home safe. Best of all, our effects remained dry (albeit tossed about) inside of the large storage bin. Priced at $13,799, the RXT 230 is just under $2,000 cheaper than its T-X 300 for reasons mentioned earlier. For those not insisting on the biggest, baddest machine in Sea-Doo's quiver, the 2018 RXT 230 is a willing and eager soldier ready to do battle.