In a perfect instance of putting the cart before the horse, The Watercraft Journal managed to publish its full-length review of RIVA Racing's Pro-Series Sponsons for the 2018 Sea-Doo RXT-X 300 long before getting around to publishing our installation guide (which is what you're reading right now). We begin with a conundrum; that Sea-Doo engineers weirdly decided to make the sponsons for the RXT-X 300 entirely unique to the rest of the ST3 lineup.
That's right, the RXT 230, GTX 230, GTX Limited 230 and 300, and even the Wake Pro 230 all share the same one-piece plastic molded sponsons, while the RXT-X is entirely unique. Of course, the sponsons on the RXT-X are just as much a one-piece, plastic-molded sponson as the others, but has an entirely different bolt pattern and unique design all to itself.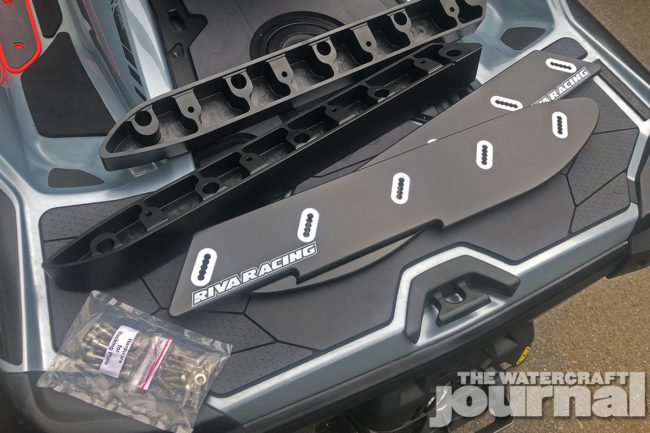 Above: The RIVA Pro-Series Sponsons are made out of a proprietary DuPont Delrin resin that makes them both incredibly strong and lightweight. The backing plates are marked "Left" and "Right" as they are not interchangeable. Both the backing plates and sponson blades include CNC'ed machine aluminum inserts to keep the sponsons attached firmly and corrosion-free. The kit also includes the hardware necessary to make the installation.
Above left: The factory mounting shoulder bolts require a six-point Torx bit, but we found a US standard 7/32-inch bit has enough contact to bite and loosen these. Above center: The factory sponson features a very mild blade both in angle and depth. Above right: Prior to any installation, we cleaned off our mounting surface of any residual silicone and grime.
That in and of itself, was a source of frustration for RIVA Racing who was looking to solve the handling woes of the entire ST3 in one fail swoop, but alas, life likes to throw curveballs. The result was a two-piece, 5-way adjustable sponson design with a forward-stepped blade that aggressively tracks even while sluicing through chop or making neck-snapping hairpin turns.
Our opinion is that the 2018 Sea-Doo RXT-X 300 is incomplete without RIVA's Pro-Series Sponsons. Nearly all of the previous handling quibbles we've encountered with the new ST3 hull are resolved with the addition of these. Priced at $499.95, they aren't what you'd call cheap, but they will make a significant improvement to how your 2018 Sea-Doo RXT-X 300 maneuvers when the water gets rough. And that alone is worth the purchase.
Above left: Because of the CNC machined surface, the backing plate doesn't require gobs of silicone like sponson installations of the past. Rather, we used small beads of Permatex's black, waterproof "Right Stuff" sealant around each of the bolt holes. Above right: Next, just align your bolt holes before threading in the bolts. Right Stuff cures in just over a minute, so don't dillydally this step.
Above left: The only two sockets needed are a 5MM and 6MM Torx drive; the 5MM for the 10 8×25 MM button head screws for the sponson blades, and the 8 8×50 MM button head screws for the backing plates. Above center: Once you've done enough work under a car, applying blue Loc-Tite to threads one-handed becomes pretty easy. Plus, it's a neat trick to show off at parties. (The ladies love it.) Above right: While these need to be tight, do not "gorilla" them down or use an electric socket wrench – you can crack the hull or worse. We recommend one half-turn past "snug."
This article documents an incredibly easy-to-follow guide to installing your new RIVA Pro-Series Sponsons. These steps follow the instructions published by RIVA Racing itself, but includes a few "pro tips" and suggestions for how to set and tune your ski. Obviously, what works for us might not work for you, but we've found certain settings work better than others. You can adjust according to your riding style, environment and preference.
Above left: RIVA's Pro-Series Sponson features 5-levels of adjustment, from an almost non-existent blade with minimal bite to a super-aggressive full-length blade. Above center: The 10 screws for the blades do not require Loc-Tite, and should be installed in an alternating pattern: 3, 1, 5, 2, 4, tightening incrementally for a flush, even surface. Above right: Having ridden a RXT-X 300 previously with the same Pro-Series Sponsons, we went with the middle-of-the-road #3 setting to begin with.
Above left: While our initial testing at RIVA's test lake left us speechless, we found that the #3 position wasn't enough to keep the tail of our Sea-Doo planted in our local lake's chop – so we bumped it one down to #4. The stepped design of the blades provide the ST3 hull significantly more "lead" into a turn, rather than suddenly biting hard and snapping into a corner, unexpectantly. The RIVA sponsons offer far more predictability, which was something this ski lacked from the outset. Above right: Our ideal setting for our 2018 RXT-X 300 is 3-notches above zero on the VTS with the Pro-Series Sponsons on the #4 position. This places enough trim attitude forward on the ST3's nose, where it likes to be, while keeping a long enough blade in back to keep the tail from breaking loose while cornering hard or turning in chop. These literally transform the overall handling of the RXT-X in nearly every aspect, and dramatically increase our total enjoyment of this machine. Seriously, if you've got a 2018 RXT-X 300, buy these. Do it now.