Long before there was such a thing as an interstate highway system or even the transcontinental railroad, there was the Tennessee River. And there, nestled between between the Appalachian Mountains and the Cumberland Plateau sits Chattanooga, Tennessee.
Once a home to the Muscogee and Cherokee Indians, Chattanooga was born from the 1816 settlement of Ross' Landing that is, before becoming the central transportation hub for the Southern United States. It's centralized location on the Tennessee River places it nearly equidistant from its neighboring cities, Knoxville (some 134 miles northeast) and Nashville (slightly over 100 miles to the northwest), as well as being 118 miles north of Atlanta, and 147 miles northeast of Birmingham, Alabama.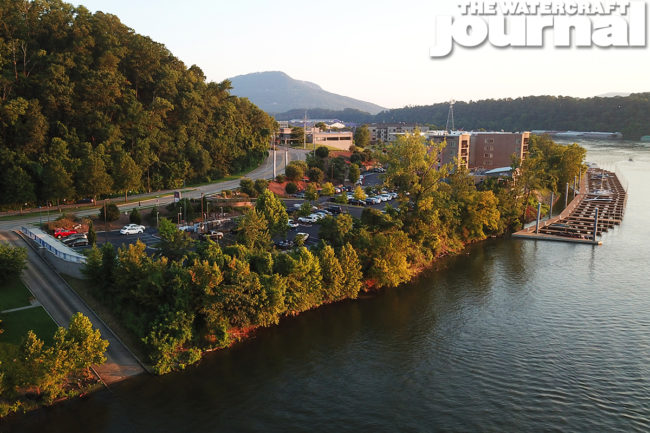 That made it a logical candidate to become the adjoining hub for several key Southern railroad lines, earning it the name of "the city where cotton meets corn." A decade later, Chattanooga would become a hotly contested prize to keep during the American Civil War, as the Union Army battled Southern Confederates over the industrial artery. Chattanooga and the surrounding territory was the location of some half dozen major battles, with ownership of the city trading hands several times.
Today, Chattanooga still retains its place as a major hub of industry and commerce, as well as a welcome spot for site-seers, tourists, and vacationers. It's fixture along the shores of the Tennessee River also makes it an ideal stop for boaters and jet skiers journeying along the historic waterway.
For our little "vacay," we were joined with Tim McKercher of Sea-Doo to stop and soak in some of the hidden beauty of this American treasure; to check out the local flavor, put on our "tourist hat" and rack up a few hundred miles on a pair of supercharged 2018 Sea-Doos – we aboard our long-term test RXT-X 300 and Tim riding a 230-horsepower GTX.
Our first of three days in the River City began with a jaunt north to the Tennessee Riverpark to launch our Sea-Doos early that morning. The beautifully manicured park stretches along the waterfront, dotted with jogging trails and well-kept gardens. With absolutely zero boat traffic to share the water with, the river was astonishingly smooth – clear enough to make out the lettering on the sides of buildings in the reflections as we passed.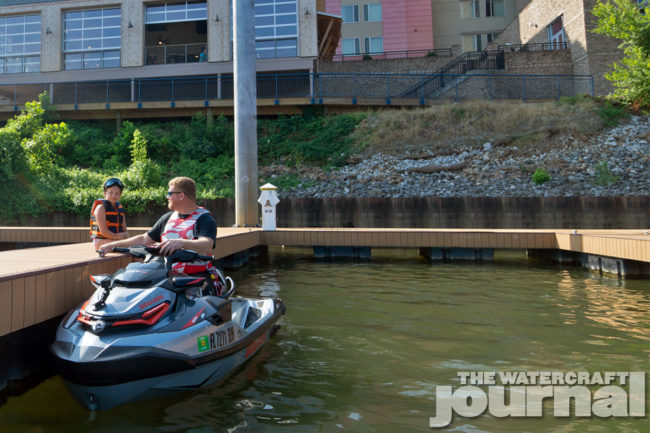 It took mere minutes before approaching Chattanooga's towering waterfront. The downtown area is a blend of historic and futuristic, with the tall angular peaks of the glass-topped Aquarium looming high above while ancient smoke-stacked paddle boats sat parked nearby. The Hunter Museum of American Art is a smooth-sided contemporary edifice of glass and stone perched high on a cliff face overlooking the river. Facing the downtown promenade from across the historic Walnut Street Bridge is the North Shore district filled with locally-owned boutique stores and restaurants.
We continued our journey west, passing our shorefront hotel, Marriot's Springhill Suites. Featuring its own dock and mooring services, as well as the fantastic Scottie's On The River restaurant, it happily served as our home away from home for the few days we were here. Passing below the shadow of Chattanooga's historic Martin Luther King District and around Moccasin Bend, we peeled right around Williams Island and entered into Cash Canyon – a lush green gulch blanketed with maple, sycamore and oak trees.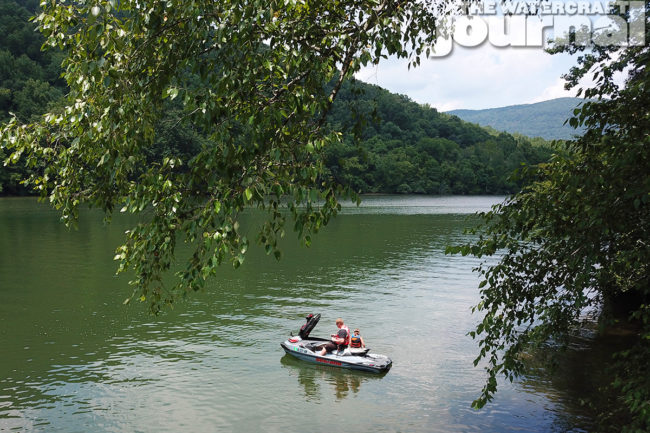 We eyed over a half dozen white-tailed deer sipping the river before spiriting away, frightened by the fast-moving Sea-Doos. These craft are nearly perfect for rides like these. Sea-Doo is absolutely unmatched in its attention to rider comfort and its ergonomic cockpit is unlike any watercraft on the market. The saddle is low, with pinched coves at the knees, allowing the rider to cruise casually, without the strain on ones hips like other brands.
We consistently employed the BRP Premium Sound System, listening to our favorite tunes communicated via Bluetooth to my phone locked away in the RXT-X's waterproof glovebox. We took our ride into Nickajack Lake, to the Hales Bar Marina, for fuel and refreshments. The site is the former location of nation's first hydroelectric dam (now long since dismantled and abandoned). Today, the spot serves as a riverfront resort, welcoming visitors to rent a floating cabin and enjoy a worry-free weekend on the lake.
Properly fueled and recharged, we continued towards Nickajack Dam, past where Highway 24 arcs high above on a trestled bridge. Turning back towards Chattanooga, we took our time passing through the unbroken scenery of the Prentice Cooper State Park encompassing the Tennessee River Gorge, dwarfed by Raccoon Mountain, Signal Mountain and Lookout Mountain high above. With a day like today it would be easy to conclude our stay in Chattanooga, satisfied that we had made enough memories, but our trip wasn't over.
The next morning, we hailed a taxi and ventured off to explore a portion of Chattanooga's storied history – beginning with the Tennessee Valley Railroad Museum. The largest historic operating railroad in the South, the Tennessee Valley Railroad Museum continues to offer railroad service for the Chattooga and Chickamauga Railways, transporting tourists throughout the Southern states as well as back in time, across rail lines once used and fought over by warring campaigns in America's bloodiest war.
We hopped a ride aboard the Missionary Ridge Local for an hour's ride over 6 bridges and through a pre-Civil War tunnel, dead-ending at a turn-of-the-century turntable before sending us back. The massive 4-8-4 steam-powered locomotive erupted smoke and embers, jolting and jerking passenger cars over the same stretch of narrow-gauge Western and Atlantic rail as The Great Locomotive Chase of 1862 (a great piece of American history that we strongly recommend you look up).
On the morning of our final day in Chattanooga, we opted to check out the famous Tennessee Aquarium. Recognized as one of the country's top public aquariums, the Tennessee Aquarium is broken up into two major buildings: The Ocean Journey and River Journey.
The Ocean Journey exhibit contains a huge 618,000 gallon tank recreating the environment of the Flower Garden Banks National Marine Sanctuary in the Gulf of Mexico – stocked full of sand tiger sharks, and green sea turtles as well as other notable fish. The tank also features a undersea cavern which you can walk-through as fish swim overhead. At the top level, there's a touch tank of small sharks and rays, as well as a butterfly atrium housing several South American species.
Across the courtyard is the River Journey exhibit, containing a 400,000-gallon tank, which what was the world's largest freshwater aquarium in the world when it was built. Home to North American river otters, song birds, native fish species; an Alligator Bayou recreating the Mississippi Delta, populated with American alligators and a pair of alligator snapping turtles; and a River Giants exhibit, featuring giant freshwater fish from around the world, like alligator gar, redtail catfish and giant freshwater stingray.
During our visit we were entreated by the newly added turtle exhibit displaying a vast variety of species from across the world – with turtles of every shape, size and color. In many cases, they were as curious of us as we were of them. While we certainly could've stayed another 3 days, our time in Chattanooga drew to a close. We are incredibly grateful for Tim and the team at Sea-Doo, and to the Chattanooga Area Convention & Visitors Bureau who welcomed The Watercraft Journal so openly.
If you're looking for some absolutely unspoiled scenery, a trip back through America's history, or a perfect spot to take the family, we cannot recommend Chattanooga enough. In fact, we've been back twice since this trip – and there's still lots left to see.