It was time for a change. I loved my job, but I also wanted more than just to be an Associate Editor, and it wasn't looking like my boss had any ambition to ever leave for greener pastures. It was early 2007, I was newly married, and looking to advance my career so I accepted a job offer back in Southern California only a few miles from the town I had grown up in (we were living in Florida at the time). The position offered nearly double my salary, the coveted position of Editor, and the promise of cool days on the water over sweltering afternoons at the racetrack. The decision wasn't that hard to make, and thus I became the 5th and final Editor of Personal Watercraft Illustrated.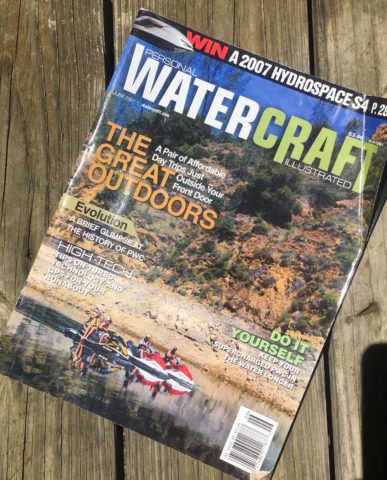 Given a scant two weeks to transplant all of our earthly belongings from one coast to the other, I bitterly left my wife of 6 months, as she chose to stay an extra 3 weeks at her job (it payed well) and pack up the rest of our stuff; as well as my prized '69 Dodge Charger at a paint shop in Central Florida, expecting to see it returned straightened, rust-free and painted in a year's time. Alone, and with a majority of my tools, remaining car parts, and some clothes, drove out west, and stowed all but a duffle bag of clothes in a storage unit. I bunked at my brother's house in Garden Grove those first few weeks, but was rarely around.
Upon arriving at CN Publishing, the parent company of Personal Watercraft Illustrated, I was given a crash course in the publication. Admittedly, I barely recognized the title although I did recall stacks of Cycle News on the table at my father's powersport rental company during the 1980's. PWI was the longest-running personal watercraft enthusiast magazine in the industry, having launched with the June 1987 issue. Coincidentally, it was the June 2007 issue that was to be my first. The previous Editor, Josh Burns had weirdly celebrated the anniversary prior to his leaving, some months prematurely, and I felt.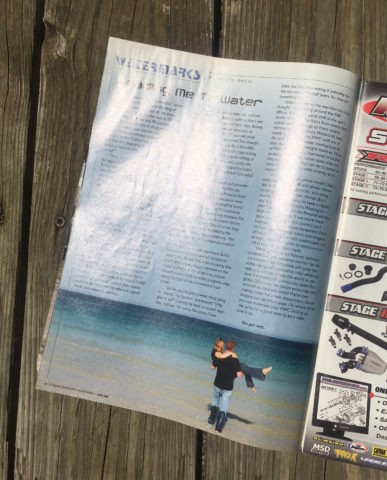 Moreover, as I was absentmindedly going about cleaning and organizing my new office, our Art Director, a lovely but no-nonsense woman named Sunny Kwon came in to let me know that there was little over two weeks remaining to get the June issue submitted for layout.
Thus far, nothing had been submitted so as it were, I was on the hook for 76-something pages of content. My Senior Editor, Paul Carruthers, the same who had launched PWI 20 years previous, offered some help – pointing towards longtime contributor Chris Lauber and connecting me with freerider Taylor Curtis, who Josh had been working with earlier.
A succession of 10-to-14 hour days followed; I was often first or second into the building and almost always last. It's then that I developed a taste for Rockstar and Monster energy drinks as I hammered into the keyboard incessantly (a habit I only abandoned last December).
Of that first issue, I personally wrote 65-percent, grateful to Heather Selwitz-Briglia, the aforementioned Chris Lauber and Andrea Wilson, the latter who stood on the breakwater as then Sales Manager Rick Lake and myself rode around Dana Point, CA, snapping pictures. With half a dozen pages to fill and no seat time beneath me, I propositioned Rick with a day on the water.
Rick, of course, had been with the magazine for 5 years, having jumped from Jet Sports Magazine, the former publication of the IJSBA, to PWI. He suggested the offshore course of Dana Point to Oceanside, and back as a good "break in the new guy" ride. Equipped with a then-brand new '07 Kawasaki Ultra 250X and a Yamaha VX Cruiser (there was never a more mix-matched pair of skis), we suited up and went for a ride. The Ultra of course, fared far better in the surf but despite the 50-something-mile round trip, the VX still had plenty of fuel in reserve. A trend that has seemed yet to change in a decade's time.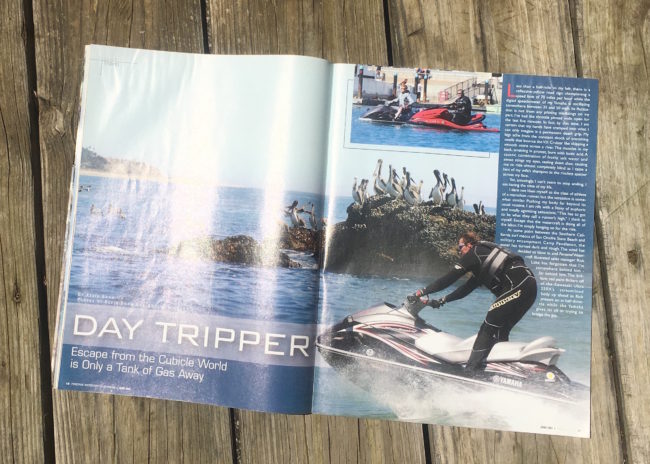 Admittedly, most of the stories ran far too long, fluffed with too much exposition or massive full page spreads. At the conclusion of my two-and-a-half-week sprint to my first-ever deadline as an Editor, I was scheduled to fly back to Florida where I'd join my wife for a delayed honeymoon cruise and then drive back together to California. Fatefully, queries regarding layout and editing arose in my absence, which only frustrated my seemingly perpetually frustrated copy editor and Sunny, who I learned quickly never to cross. Doing my best to extinguish fires via email, I scurried back to Orange County, California, half expecting a mutiny.
Rather, my Publisher, Bob NorVelle, greeted me pleasantly, praised the issue and slapped me on the back with an "attaboy." I hadn't failed in spectacular fashion as the nightmares that kept me up at night had threatened. And in the following months, I was able to learn how to stay ahead of my deadlines, prepare and deliver on superior content, elevate both the readership and quality of the magazine, and moreover, come to know and befriend the people, companies and organizations of this industry. I still trample a few toes and stumble over my own tongue once and again, but the road to my becoming an Editor of a personal watercraft magazine is one that I cherish.
Go Get Wet,
Kevin