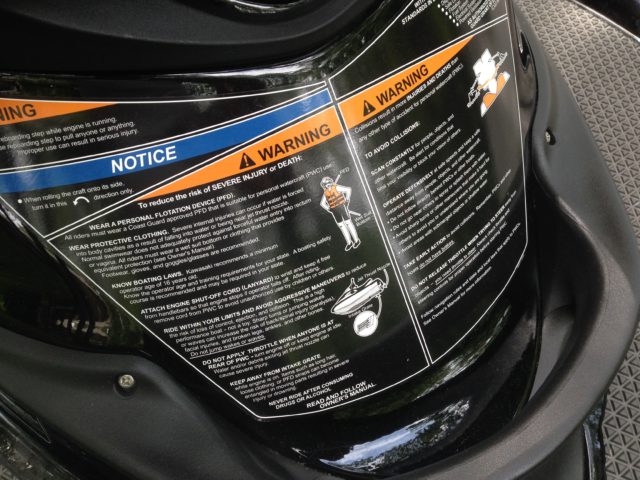 A very unique lawsuit out of Texas is starting to cause waves in the PWC industry concerning injuries suffered by high-pressure water jets from personal watercraft. Filed against Kawasaki and Bombardier Recreational Products (BRP), they claim water from the jets forced into bodily orifices have caused injuries to rectums and female genitalia (even deaths in some cases), according to a report in Breitbart News. The injuries are claimed to have been caused when a personal watercraft rider falls off the back of the vehicle and comes into direct contact with the high-pressure water blast coming from the craft's propulsion system.
"When a rider lands in the path of the high-pressure water jet thrust, the thrust is powerful enough to force water into the rider's orifices which can result in severe mutilating injuries to the rider's vagina, rectum, perineum or anus. Oftentimes, individuals sustaining such injuries require emergency medical intervention including the surgical implantation of a colostomy bag," says attorney Brian Mazzola from The Mazzola Law Firm. Mr. Mazzola has argued that while injury warning labels are in place from the manufacturers (see above), they are inadequate to prevent these exact types of personal injuries. He also argues that the rear seat design needs to be changed to prevent the passenger from falling off backwards directly into the blast of the water.
Two such cases of this have been reported. In one case, a 28-year-old woman sustained a ruptured anus after falling from a PWC while at a high speed. It's not reported if the injury was from the craft's jet or from hitting the water itself. In another case, a 21-year-old woman fell off the back of her friend's PWC when she was not holding on. It's claimed she fell off the back and directly into the blast of the high-pressure jet stream from the engine causing injuries to her genitalia which has led to nearly twenty surgeries. A lawsuit in a Florida federal court was filed against Kawasaki from this incident and resulted in the woman being award $1.5 million for damages.
Protective neoprene clothing has been strongly recommended by manufacturers for decades now; in fact, warning decals such as those shown above (again) are an industry standard after such an injury was incurred years earlier. They work very well with preventing water from penetrating areas where it isn't supposed to go. And in most cases, the injured parties have not been wearing this type of clothing. Mr. Mazzola says that such clothing is often not readily available for casual passengers who spontaneously take rides with a friend, and those are the ones most at risk of these injuries – despite all three PWC manufacturers producing such shorts and offering them through their dealerships' parts & service departments.