When Yamaha entered into the Rec Lite segment with its EX series in 2017, many of us at The Watercraft Journal noted that the new WaveRunner entry was a conservative – almost "grown-up" response to the segment's first entry, the Sea-Doo Spark. The EX platform was Yamaha's way of recapturing a bit of its loose and playful history with watercraft like the WaveBlaster, while still providing first-time buyers and entry-level riders a somewhat more stable platform with a few more added modern perks.
Mechanically unchanged since its introduction, the EX – particularly this 2020 EX Sport, which came to us in a very attractive Black/Azure Blue livery – remains as-is even for 2021, so this review of a then-new 2020 model is just as pertinent if it was a 2021 unit. The black-and-blue coloration carries over into the two-tone Hydro-Turf traction mats in the footwells and swim platform, accessible through a standard-equipment single-sided folding reboarding step.

The saddle is narrow allowing for plenty of movement, which is great, because this little craft responds amazingly to body English. Ergonomically, the control console is spartan to say the least. A small 4-inch LCD screen is set below the fixed handle bars, reading off speed, RPM and fuel but in the least complicated way possible.
The Sport trim level doesn't include Yamaha's dual throttle brake and reverse system, RiDE (you'll need to opt for either the Deluxe, Limited or racy EXR for that). Rather, Yamaha's dreaded right-hand side manual reverse lever returns from the grave. There's also no electric trim control or other bells-and-whistles to really count either. It's basically a real-deal throwback to the loosey-goosey 2-seaters from the 1990s, which is just fine by us.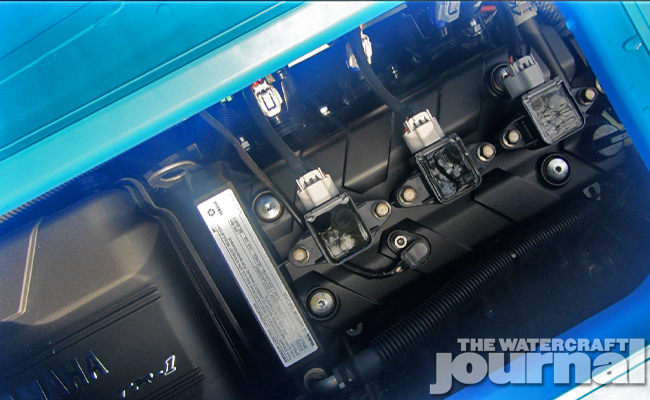 Of course, the 2020 EX Sport isn't running some blue-smoke belching two-stroke but a modern, 3-star rated super-fuel efficient 1049cc TR-1 EX 3-cylinder four-stroke pumping out a respectable 100-horsepower. While that might not sound all that much, it's plenty to push this 584-pound runabout up into the low 50's at wide open throttle. We saw 52 miles per hour at 7,300rpm with half a tank of gas – but then again, that was reading the speedometer, and not tracking with a GPS.
Fuel capacity is 13.2-gallons, which is the most in the segment to be sure, and storage – although scant – is 7.7-gallons (again, making it a class leader). Stowage is broken up into a shallow wet storage bin in the bow (ideal for a dock line); a removable tub beneath the rear passenger; and a lockable glove box that's deceptively deep. Thankfully, our test model this day came to us with three optional features available through Yamaha's Parts & Accessories Catalog that radically increased our cargo capacity:
The first being Yamaha's Stern Mounted Storage Bag ($129.99). Made from durable, weather resistant compression-molded black EVA foam with a mesh base that allows for quick water drainage, the rubberized zippers provide easy access, as well as use of a tow rope without removing the bag (a nice little feature we appreciated). Equally, our EX Sport also had Yamaha's new Hatch Mounted Storage Bag ($54.99).
This small waterproof pouch is ideal for stowing more sensitive items like smart phones, wallets, keys and cameras – and even includes a transparent window to allow visibility and interaction with your smart phone (but you'll definitely only want to use a waterproof phone or a phone with a waterproof case). Again, the EX Sport is a fun, playful ride, so don't expect not to get wet. …because you're gonna get wet.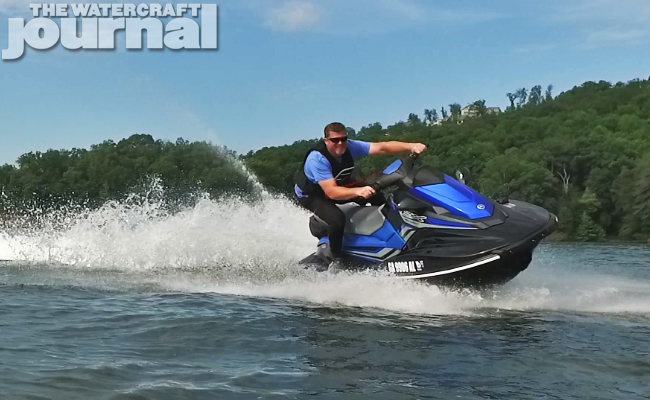 The final addition, which we can't believe isn't standard equipment is Yamaha's EX Fixed Bow Storage Bag. This roll-up style dry bag replaces the shallow wet storage plate under the front lid. Adding an additional 5.4-gallons of storage, the Fixed Bow Storage Bag is a great solution for those looking to bring along a towel, T-shirt or other items that need to stay dry (and can't fit into the glove box). Priced at $75.99, it's the one "gotta have" item for the EX.
The EX Sport WaveRunner is, as we noted, incredibly fun particularly for those who remember how personal watercraft used to be before the days of cruise control, Bluetooth speakers and heated handgrips. It's a bit of a throwback. Priced at $7,999, the MSRP is pretty retro too. Cutting sloppy donuts, hopping the wake of a passing boat or snapping it on its bondrail for a gnarly powerslide is precisely what this little WaveRunner loves to do – and you'll love doing it too.