As personal watercraft have continued to march towards further digital innovation, the aftermarket has had to adapt and evolve to meet the pace. Advanced fly-by-wire engine management systems, complex fuel and ignition timing curves and ever-increasing demands for greater horsepower have separated the men from the boys, and few outlets have risen to the challenge quite like RIVA Racing.
Today, RIVA Racing offers performance enthusiasts and professional racers the single-most comprehensive catalog of engine management software, tuning capabilities and efficiency-increasing hard parts regardless of brand or model year. This herculean effort did not materialize out of the ether either. In a recent interview with RIVA's President and CEO, Dave Bamdas, he placed the credit in large part on Jesus Garcia.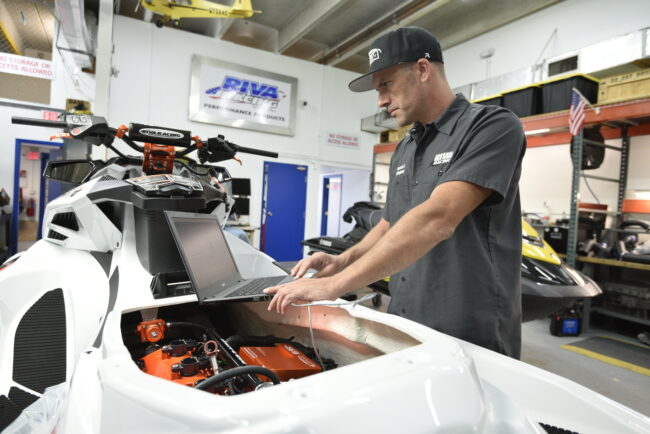 "Jesus has played a leading role in adapting the MaptunerX engine management system to the personal watercraft application," Bamdas explained. "Prior to bringing Garcia into RIVA's Performance Development Department in 2016, our customers had very few options in the way of ECU (engine control unit) tuning. In just a few short years, Jesus has developed an ECU tuning system that can be done at home and in a matter of minutes."
Per Bamdas' account, engine tuning options were incredibly limited: either shipping off the watercraft's existing ECU module to permanently modify and reprogram the existing software or completely replace the existing ECU (and often a portion of the wiring harness) altogether with an incredibly expensive aftermarket ViPec or MoTec control module.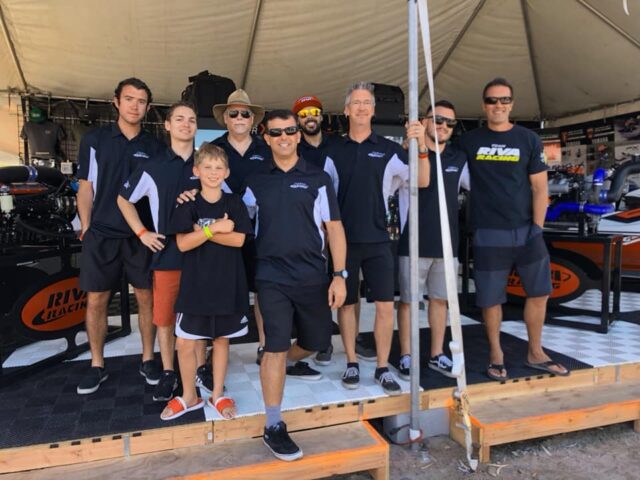 With Garcia's development of the Maptuner/PWC functionality, it has not only revolutionized the watercraft performance industry, but established RIVA Racing (and Garcia, consequently) as a leader in the PWC performance industry. "His contributions have been nothing short of groundbreaking," Bamdas continued. "Without Garcia, I don't think we'd be seeing the level of performance parts sales and racing that we do today."
In addition to leading RIVA's Engine Management Development, Garcia's position as Head Tuner in charge of RIVA's Watercraft Racing Team has earned international acclaim. Responsible for building and tuning the championship-winning machines of RIVA's top racers (including Brian Baldwin, Erminio Iantosca and Erick Lagopoulos), Garcia's role in the racing program has resulted in both national and international championships.
In the process of working closely with the RIVA race team and interfacing V-Tech engine management software into a palatable consumer-friendly upgraded ECU tuner (not to mention logging volumes of engine tunes using RIVA's state-of-the-art engine dynometer facility), Garcia began honing pre-established packages offered as "Performance Kits" offering consumers proven combinations to achieve specific performance goals.
"As it stands today, the RIVA Performance Kit product line is really his creation," Bamdas admitted. "RIVA Racing has always prided itself on offering our customers the best in handling, steering and acceleration-enhancing products; it was Garcia who paired these parts with an applicable engine tune to maximize the total efficacy of the other components. And with each 'stage' that the customer climbs, a new engine tune can be downloaded to their MaptunerX. The engine map literally grows with any new added part."
A final bit that often goes unnoticed is Garcia's role in developing specifically-pitched jet pump impellers, each paired to match the engine maps that he writes. "He works closely with RIVA Racing development partner Solas Science & Engineering Co. to design and test the highly successful line of RIVA/Solas jet pump impellers," Bamdas detailed. "Ensuring each ECU tune is paired with an impeller that can process the added rpm is essential. Garcia's skill in this regard is unrivaled."
The impact that this single person has made on an entire industry cannot be understated. The mechanical abilities, intuitive understanding of these machines along with the development skills that Jesus Garcia wields have made an indelible mark on the personal watercraft industry and competitive watercraft racing.