Change is often met with resistance, especially big change. With the announcement of the 2017 Yamaha WaveRunner lineup, news that the FZ series (FZR and FZS, respectively) were being retired and replaced with a whole new craft based upon the existing VXR architecture was simply too much for many to handle. Surprisingly, the announcement spurred a rash of online backlash. And why not? The FZR is a well-established performance platform, with literally several hundred podium finishes over its illustrious 8 year run. Not only that, but aesthetically, the FZ models have remained some of the most favored on the market, with race car-inspired analog gauges, telescoping steering and muscular curves.
Unfortunately, the industry crash in 2008/9 was enough for Yamaha to prescribe a time of death for the FZ. Back at the revised VX's introduction in 2015, Yamaha Product Manager Scott Watkins explained, "We made the new VX to do pretty much everything in case we had to reduce the line down to one platform." At the time he also hinted at the future of the hull, saying, "We made the VX to accept all of our engines. We've even got one with a SVHO. It's bad ass." While the idea of a SVHO-powered VXR was tempting (we even published rumors earlier this year that the FZ series were to be phased out, replaced by a VX-based machine), we didn't think to connect Watkins nod to what Yamaha revealed last month.
The central problem with the FZ series was that even in light of Yamaha's use of its stacked composite bonded NanoXcel2 hull and deck material, the FZR (and FZS) came in at a dry weight of 791-pounds. Add to that the weight of a single rider, a half-tank of fuel and 5 pounds of gear, the FZR tipped the scales at 1,073 lbs. If Yamaha was going to secure future championships without introducing a 300-horsepower Super-Duper Vortex High Output (SDVHO) [and we want a commission rate for use of that name – Ed.], the route to take was improving their overall power-to-weight ratio. And anyone who has paid attention to Yamaha's ad materials and T-shirts can attest, the company sure likes to win races.
Making sure that Yamaha's replacement for the FZ maintained both a top level consistency in its manufacturing as well as superior weight savings is Yamaha's proprietary two-part compression mold system that uses heat and pressure to compress the "High SMC Compression FRP" into a hull. Watkins detailed the compression mold process: "All WaveRunners are manufactured in a High Compression Molding process. That results in better fit and finish; a smooth, paintable finish (giving us those automotive-grade metallic finishes); controlled tolerances and consistent results each and every time. And the process creates no VOC emissions."
This process opened Yamaha to develop its NanoXcel2 hulls and decks (first introduced two years ago, supplanting its previous NanoXcel as the go-to performance level material), which not only reduce total weight, but also strengthen the final mold's bond and tensile strength (that over traditional, or common SMC composites). With this, Yamaha created a lighter vessel (18-pounds lighter than the NanoXcel VXR), and added to it its SVHO supercharged 1.8L four-stroke, and 160mm, 8-vein impeller mounted in a 75mm hub, thus giving us the 2017 Yamaha GP1800 WaveRunner.
As per the plan, the GP1800 comes in at 769-pounds – 22-pounds less than the FZR – yet with all of the dependable power of the outgoing machine. And unlike the FZR, the GP1800 comes heavily-equipped with features previously unavailable to its predecessor: most notably RiDE, the brand's own on-the-water brake-and-reverse dual throttle lever system. Next is Yamaha's quick-response electric trim system, a welcome replacement to the antiquated lock-and-twist manual system that was all-but-impossible to adjust on the fly. Yamaha also tossed in its folding swim step for good measure. More importantly, the GP1800 comes in significantly more affordable than the outgoing FZR; the GP's $13,999 MSRP handily beating out the FZR's $14,799 pricetag. So to recap, dramatically improved power-to-weight ratio, more performance features, and $800 cheaper.
Beneath the race-inspired "cut-and-sew" two-tone, two-piece bench seat is the race-proven Super Vortex High Output (SVHO) supercharged, intercooled four-stroke. Although Yamaha still shies away from advertising official horsepower numbers, in private dyno testing, the powerplant was rated at 265 brake horsepower. No modifications were made to either the 1,812cc engine or intercooler to fit the SVHO into the GP1800 hull, so all of your performance parts that worked for the FZ will apply (save for some cold air kits and exhaust hardware). Although a knock-sensor will keep you from injuring the engine in case your brother-in-law fills the tank with 87 octane, the SVHO prefers the recommended premium fuel.
Aesthetically, the GP1800 distinguishes itself from its VX-brethren with two choices of livery: Azure Blue Metallic or Torch Red Metallic. The steering system is fixed like the current VX models, meaning no tilt or telescopic steering, but features fun color-matched pistol-inspired hand grips. New CNC-cut traction mats cover the tray and swim platform. As with all VX models, the GP1800 features a 18.5 gallon fuel cell, 24.6 gallons worth of storage (front stowage, glove box and a removable watertight bin beneath the rear seat), and an automatic bilge pump. Although the LCD "multifunction information center" (ie. gauge cluster) is unique to the GP, it's a little underwhelming in its lack of a boost gauge and other high-end data that gearheads would love to see.
A slight and almost unnoticeable change was made to Yamaha's RiDE system, as its features "Traction Control," but not in the way many performance enthusiasts might want. Instead, RiDE's Traction Control is a counter measure to ensure that when engaged it doesn't come on too strong, especially with the SVHO-equipped models. Many found that RiDE – particularly with the supercharged units – packed a heck of a punch and could cavitate the ski even while backing off of a trailer. Now, reversing is smooth and concise, allowing for tight 180′ turns even in a crowded dock space. As a side note, while the GP1800 replaces the FZR and FZS, gone too is the VXS and the final SHO-powered FX models, the 9-year-old engine being retired.
In our two-days' worth of testing, the 2017 Yamaha GP1800 proved itself a worthy successor to the FZR. Being based on the VX, the narrow, scalloped seat allows for faster weight transitions from side-to-side. With the lighter hull, the GP1800 rides high on the surface, yet retains significant pump engagement, even in moderate chop. Top speeds were timed at 68.8mph on a Garmin GPS, but top speed isn't what this machine is designed to do; snapping breakneck turns is, and it does so really well. Even when purposefully trying to break the tail loose, the GP1800 doesn't want to let go. Rather, the GP leans hard on a sharpened, swooping outermost chine. Although photography shows it leaning securely on the rail, it feels incredibly flat in corners, giving the rider a slot-car sensation. Power response is immediate yet linear, so you won't feel jerked around either.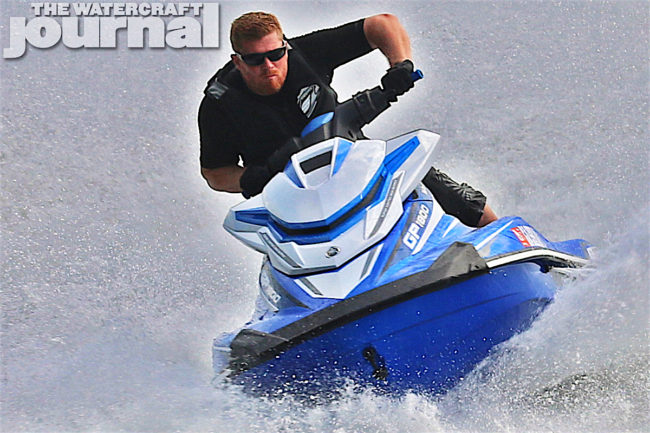 In all, the GP1800 is superior to its forbearer in nearly every single way, which we know might be a very insensitive thing to say to those still in mourning. It is also worthy of its ancestor's name, although any physical resemblance is negligible. Rather, the 2017 Yamaha GP1800 WaveRunner shows all the promise and potential of being the single-most dominant machine in the realm of closed course racing next year – not to mention countless friend-versus-friend drag races on lakes and rivers across the globe. As mentioned previously, the GP not only comes in at less overall weight (while retaining all of the same performance) despite being packed with more performance features, but also nearly $1,000 less expensive than the outgoing FZ. That alone is significant. If this is what you've been waiting for, then today you're one lucky duck.