A year ago, during a particularly bad flu season, I bundled up on the couch and wallowed in six straight seasons of "Dangerous Waters." The open sea adventure show circling a handful of jet skiers traversing the Northern Passage (and other atypical routes) was quite the slog, and a corresponding review reflecting my displeasure not only sparked a flame war in the comment section, but spurred the ire of the show's host himself.
Last week, I learned of a newly released comedy series titled, "Rob Riggle's Ski Master Academy" and thought, what the heck, I'd give it a try. Headlined by former "The Daily Show" correspondent Rob Riggle, the titular Riggle plays a self-named caricature of himself, but as a has-been action star who made his career through a series of cartoonish jet ski-based summer blockbusters at one time.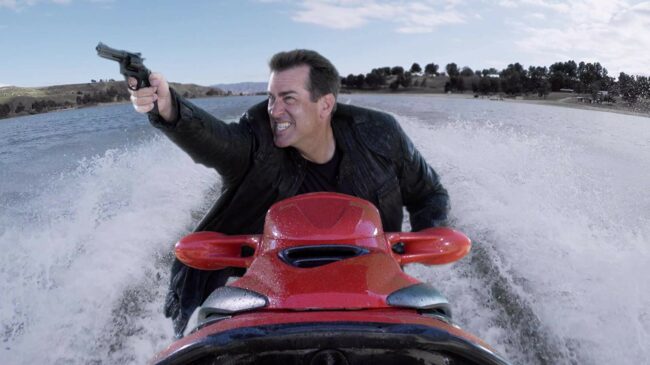 Now, down on his luck, Riggle has leveraged his waning fame into a lakeside camp dedicated to "personal watercraft education." The camp, held on the shores of Boner Lake, is down on its luck after a series of deaths, a tear in the space-time continuum, a ghostly jet skiing bride and feral hog-bitten zombies. Not only is "Rob Riggle's Ski Master Academy" as dumb-as-rocks, but it kinda hates you as much as it hates itself.
The vast majority of the jokes land at Riggle's expense (well, that is, the jokes that do land). The rest of the entirely unlikable cast of lampoons – with names like "Preggers", "Brit-Brit", "Jebidiah" and "Dirk Hamsteak" – drag along reciting the limp scripts, and notably contort themselves to never use the words "jet ski". That, and there's almost zero skiing in the show. Like not until the last two episodes – wherein, who we presume to be Mark Gomez, performs a short flatwater routine on a Rickter ski, and Riggle briefly cruises a Yamaha VXR.
Obviously, the show was never really about learning how to ride personal watercraft, but the way they present people who like them is pretty offensive if you're prone to taking offense from a moronic web series. The show does manage to sprinkle in a fair share of B and C-level celebrity guests (Tim Meddows, Dermot Mulroney, Haley Joel Osment, Christopher McDonald, Cheech Marin, David Arquette, Jamie-Lynn Sigler and Hall of Fame footballer Brian Urlacher to name a few).
The jokes are pedantic, dumb, condescending and abysmally lowbrow. Riggle has made a paper-thin career out of the same "dumb jock" schtick and little has changed. In the shadow of Meatballs and even, Wet, Hot American Summer, "Rob Riggle's Ski Master Academy" was first released through Sony Crackle Originals, an online streaming service, during the late summer this year; the first season of eight 22-minute episodes is found free on Crackle's site. But don't bother. It's a burning hot dumpster fire.