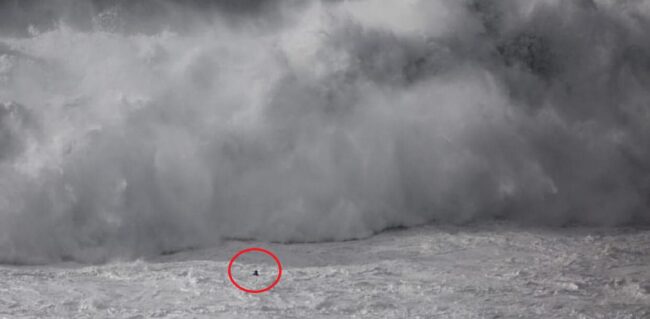 This story comes to us from Surfline's Wipeout and PWC Rescue of the Week. Another giant swell hit Portugal's infamous big wave break, Nazare. Big wave surfers from all over the world wait and watch for swells like this one that just hit the North Atlantic. While more big wave chargers line up to wait their turn for one of the mountains rising from the depths of the ocean in Portugal's frigid waters, many more wipeouts and rescues will take place. Some will end well and some will not have happy endings. Big wave surfer Thiago Jacare recently discovered a happy ending after taking a massive beating and several hold downs.
It doesn't matter how well a surfer plans or how hard one trains, heaving mountains of water have the potential to brutally injure or even kill a person. Thirty-five year old Brazilian surfer, Thiago Jacare experienced this firsthand during the recent giant swell at Nazare. He and his tow partner, David Langer mounted their jet ski and gunned it to the outside on December 14, 2018 to tow into the waves. Langer pulled Jacare into the first wave of a set and Jacare let go of the rope and got into the wave.
However, he was soon hit by a large side chop and was unable to keep his rail engaged in the face of the wave. He was thrown off of his surfboard and engulfed by a mountain of whitewater. The surfer faced a series of hold downs that lasted for what probably seemed like forever. After the first wave pummeled him, he made his way to the surface just long enough to grab a quick breath. Langer was unable to swoop in and grab him. The scene was just too gnarly and heavy water was holding Jacare in the wash cycle. Jacare took five waves on the head before finally being rescued by Sebastian Steudtner. Steudtner swept in on his PWC and grabbed Jacare and quickly rushed him to the beach.
Jacare had this to say about his experience, "This was by far the worst wipeout of my life, "I barely got the chance to breathe between waves. When I got to the sand, I was completely exhausted — to the point I couldn't even move."