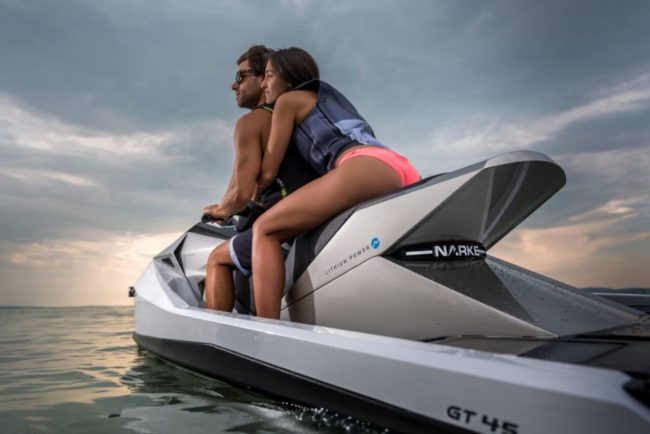 For the past decade, inventors, manufacturers and tuners have been busily tooling on electric personal watercraft concepts. The closest production-ready unit we've seen thus far has been the Free Form Gratis that mysteriously went silent after the company was purchased by Utah-based Nikola. Now, Hungarian-based Narke has just announced that it's ridiculously narwhal-shaped ElectroJet is not only production-ready, but is accepting pre-orders with deliveries ready for Spring 2019.
Featuring a huge full-color digital dash, the ElectroJet also replaces the standard safety lanyard for a wireless "Man Overboard" device. Built entirely of carbon fiber, the 13-foot, 2-inch Narkewhal is powered by a watercooled, zero-emission electric powertrain pushing the 827-pound, battery-laden runabout to a maximum speed of 34-miles-per-hour (about 11mph slower than a 60-horsepower Sea-Doo Spark 3-up). But hey, priced at $49,955 you can have all the smugness of saving the environment for waaay too much money while kids on EX's and Trixx's blow past you.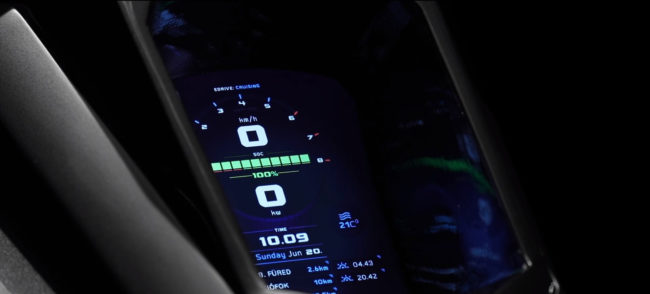 Here's the official press release:
After the exclusive Cannes Yachting Festival and the Genoa Boat Show, NARKE the Electrojet® was launched at Europe's leading luxury event, the Masters of LXRY, held in Amsterdam on 6-10 December 2018. Among the many high-end exhibitors, NARKE is not only a new statement in the world of personal watercrafts, it revolutionizes the way we look at green mobility.
NARKE is a masterpiece of 21st-century naval architecture, its elegant design is combined with a powerful look. Made of carbon fiber and equipped with high-tech electronics, NARKE was designed for maximum endurance and top performance in terms of maneuverability. This brand-new generation of watercrafts sails silently at a speed of 55 km/h and easily tows a wakeboard.
NARKE is equipped with a unique, water cooled electric motor that is matched to the jet propulsion, has a state-of-the-art battery management system and a high brightness color display with phone connectivity for smart functions. NARKE also uses a wireless Man Over Board system that is much more convenient than the standard Lanyard ones. Moreover, for easy low speed maneuvering, every vessel is fitted with an electronic brake and reverse system.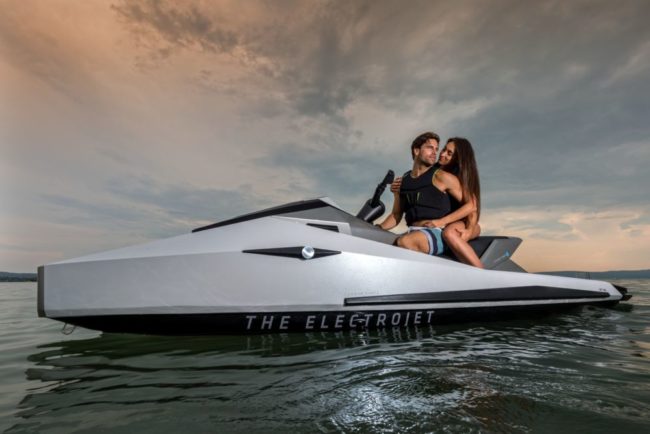 Whether you are out on water alone or with your family and friends, NARKE guarantees 100 percent pleasure and safety, and 0 percent pollutant emissions thanks to its electric drive. You can thus enjoy NARKE on any water, let it be a protected lake or the sea.
Developed and manufactured in Hungary, NARKE is now under series production and can be preordered from February 2019. The first pieces will be handed over as of Spring 2019.
NARKE in numbers:
Length: 4,02m
Width: 1,2m
Dry weight: from 375kg
Power: 45kW
Battery capacity: 24kWh
Maximum capacity: 3 person or 225kg
Operating time per charge: up to 1,5h
Charging time: 80% in 2h (with optional fast charger)
Price: from 44,000€