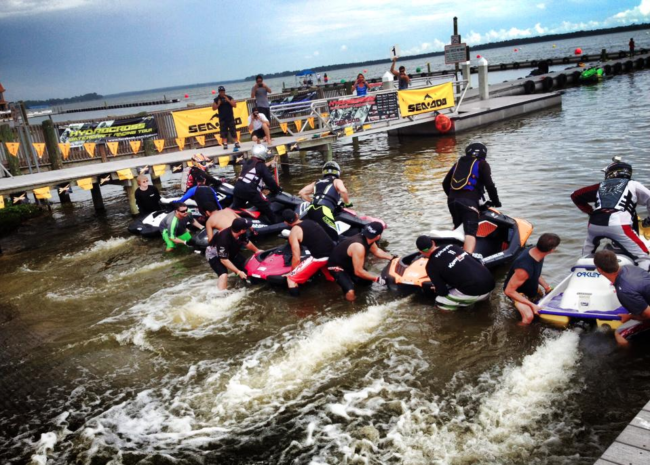 The Sea-Doo Spark has been a hot little personal watercraft since it first came out about five years ago now. With its lightweight construction and revolutionary design, it has been one of the highest selling watercraft of all time.
It's extremely low price and nimble agility make it an easy choice for an entry-level racing watercraft and now the Powerboat Nationals are making it even easier to get into racing with the announcement of their new series dedicated to the Spark.
That's right for 2019 the Sea-Doo Spark will have its very own exclusive series at some select Hydro-Cross events. Technical specifications will be announced at a later date however this new series will mean that nearly anybody who is interested in one of these Rec-Lite watercraft can participate in organized racing.
For more details, you can check out the press-release below and stay tuned for further information.
(Columbus, OH) Powerboat Nationals announced today that it will be adding a new series to its racing line up that features a high performance, budget-friendly personal watercraft.
Powerboat Nationals will be racing the Sea-Doo Spark in its own exclusive series at select Hydro-Cross events in 2019.
The Spark is an entry-level personal watercraft (PWC) that can be purchased at Sea Doo dealers across America. The Sparks racing in this new series will be the same watercraft you see on the showroom floor.
Final Spark Series technical specifications are under review and will be announced later.
"We wanted to create and promote a series that was affordable, competitive, and, most importantly, fun," said Powerboat Nationals' Managing Director Dan Bunting. "The Spark is a fast, exciting boat that will get people out of their seats and into our sport without breaking their budget."
Bunting continued, "We also want to rebuild the 'What wins on Sunday sells on Monday' aspect of racing that has been lost in other types of motorsports. We fully intend to work with Sea-Doo/BRP and local dealers to grow Spark sales, the Spark series, and our Hydro-Cross racing in general."
Highlights of the Hydro-Cross Spark series will be included in Powerboat Nationals' television coverage that will be seen nationally and regionally on nine television networks including MAVTV.
Founded in 2014, Powerboat Nationals is a national touring series that provides world-class tunnel hull powerboat and jet ski/PWC racing on rivers and lakes across North America. For more information, please visit www.powerboatnationals.com.