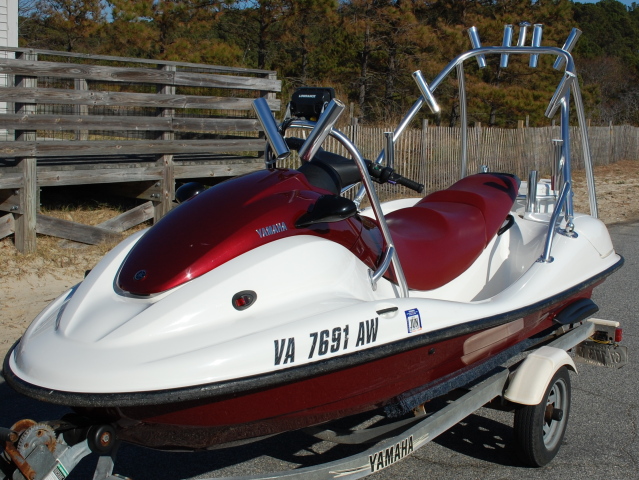 Out-rigging a personal watercraft for offshore fishing use isn't as expensive as you might think, but then again, to do it right (and have it last), it takes more than a bunch of PVC pipe and contact cement. If you enjoy the subject of jet ski fishing, then you've probably seen this outfitted Yamaha SUV before. I often get questions about how I did it or how much it cost, so I thought I would do a post on the subject.
My brother recently purchased a used 2001 Yamaha SUV 1200 just like the one I've been using for a while. It wasn't the most popular ski Yamaha produced, but the SUV is very stable, the engine is reliable and the extra storage comes in real handy. I rigged it up for him and took some pictures of the process as well.
First off, purchasing a used 2001 Yamaha SUV with 85 hours set us back $5,000. Next, we picked up some necessary navigational equipment, namely a chartplotter/sounder for $500 and a VHF radio and antenna for $180. We also grabbed an Optima gel battery ($150), and some marine grade hardware and wire connectors ($200) as well as some miscellaneous safety equipment (flares, mirror, compass, Spot GPS tracker, dye pack, whistle, air horn, life vest, personal strobe, anchor, rope and chain for around $500). Finally, we dropped the ski off for some custom pipe fabrication to hold our rod holders and cooler ($850).
All in all, we ended up with a pretty nice fishing ski for $7,380 give or take.
"How I Did It, Rigging A Jet Ski" was originally published by "Jet Ski Brian" Lockwood on July 19th, 2013. You can read the original report here.