When Yamaha Motor Corp. USA calls and says, "How'd you like to test ride the new '21 SuperJet before anyone else?" You first say, Yes! and then you dig through all of your riding gear to make sure you've got what you need. As Yamaha Project Manager Scott Watkins reminded, "I always wear boots and gloves when I ride [a standup] for anything longer than a few minutes." And so do we.
We already had a pair of neon green-and-black Slippery Wetsuits' Liquid Race Boots that we reviewed back in 2018. And they were still in pretty good shape too – a lot better than the black-and-grey Liquid Race boots that we had since 2009. And unlike the 11-year-old boots, our newer Liquid Race Boots didn't have any broken laces, or a torn heel strap. No, these were just fine.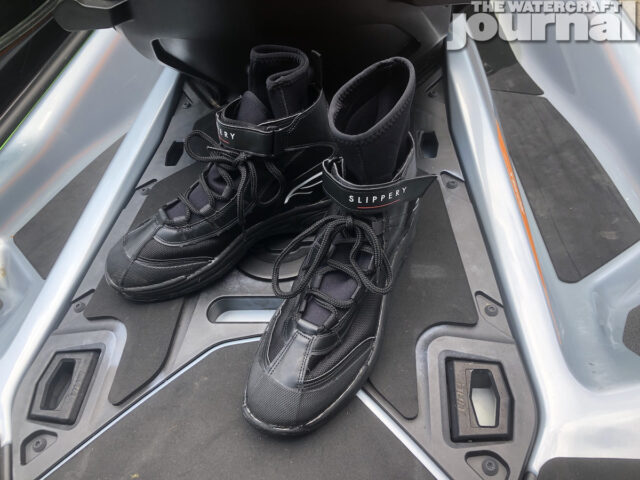 Yet, since Slippery is The Watercraft Journal's official riding gear of our YouTube show, we reached out to let them know about the special occasion. A pair of new boots was the last thing on our mind. Nevertheless, the wetsuit manufacturer urged, "We'd like you to try a pair. We've made some improvements that most folks might have not noticed, that we think you will."
So we agreed and received a fresh pair of all-black Race Boots shortly thereafter. Unlike a previous pair of riding boots, which we reviewed rather highly, Slippery's boots come with their own 1.5mm neoprene inner booties. No extra purchases required. Equally, when we compared the Lime Green-and-Black boots to the new 2020 all-Black boots, we found some unique differences. We guess they were right about folks not noticing…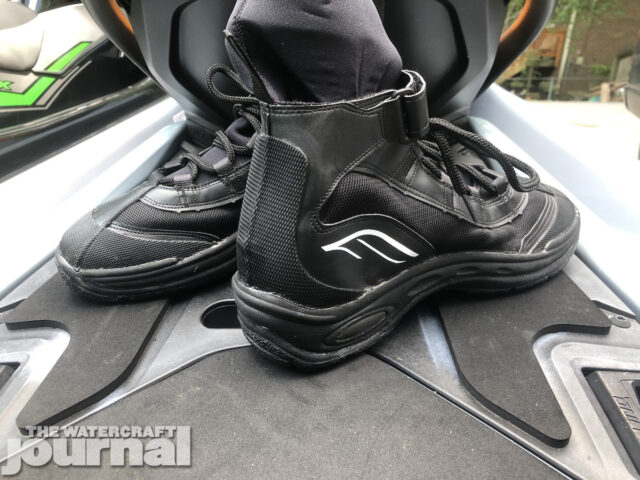 Nearly identical to Slippery's previous design, the lace up boot features heavy duty loops and a thick shoestring to draw the laces taut. Above the ankle is a large velcro strap that cinches the boot closed. On the back is the aforementioned pull tab to help pull the boot on. Previously, the boot's "chassis" was made of a thicker material with only small portions able to breathe through.
For 2020, the boot features far more perforated "airmesh" on both sides for increased ventilation and drainage. There's more give and flexibility in the new boot, letting it feel more forgiving. Slippery has added super-durable anti-abrasion traction pads at the heel and toe, protecting the foot from shock while increasing grip while moving around the tray.
Equally, the design is all the more spartan. No big clunky silicone labels or unnecessary screen printing to be scuffed up. Rather, a solitary "Slippery" print runs across the ankle strap. Even the once clear window in the heel revealing an air pocket cushion (similar to ancient Air Jordans from the 1980s) have been filled in.
The sole wraps high up around the edges for increased traction, support and stability. Equally, it's thick and doesn't flex as easily as a soft bootie or water shoe, which is intentional as racers and aggressive riders often pivot off of their toes and heels. In previous reviews, we found that sizes over 11 felt a little tight – but not so for our XXL boots this year. Our toes were never cramped or squished.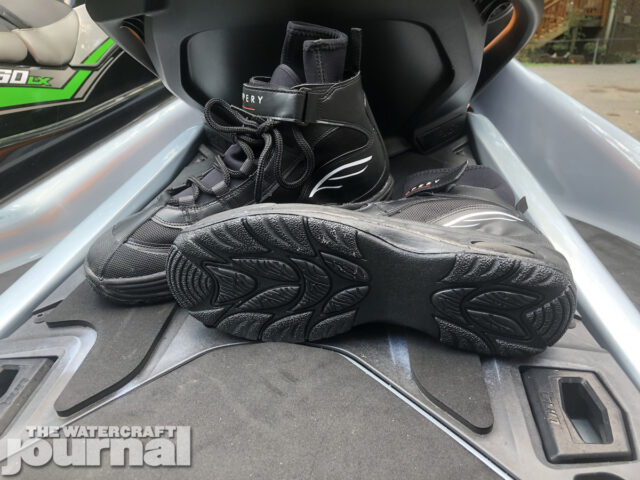 Priced at $89.95, Slippery's Liquid Race Boot has increased in price by $10 since our last bout. But they're still a solid purchase at a fair price – particularly as other boots with less breathability and lacking the inner liner cost quite a bit more. Whether you're looking for added grip for aggressive riding, better protection from rubbing and scrapes, or just wanting to keep your toes warm, the Slippery Liquid Race Boot is a solid choice.