In a world full of luxurious personal watercraft the Yamaha SuperJet is often touted as "old school cool" due to absence of a seat, like the early first personal watercraft of the 1970s. Make no mistake though, while paying homage to historical roots, the 2019 SuperJet rides on rails and has the uncanny ability to plaster a permanent smile across your face.
The 2019 SuperJet remains, other than graphics, unchanged since this hull's iteration debut in 2008. Powered by a 701cc, two cylinder, two-stroke engine that is also mostly unchanged since the early 90s. Like a fine wine, the SuperJet's simplicity and playfulness have aged well. Ride a new SuperJet and you'll understand why Yamaha keeps this winning combo available on showroom floors.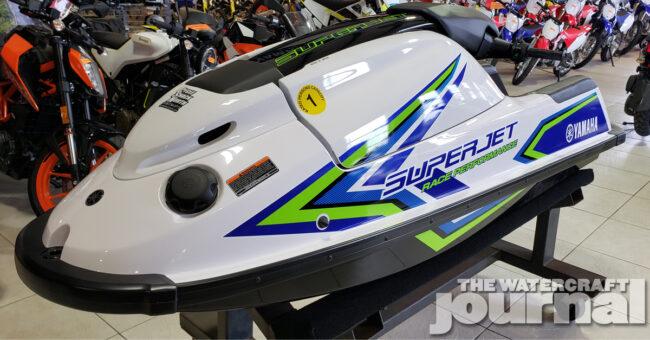 Yamaha first introduced the mighty SuperJet in 1990. Some say the dawn of the 90s ignited the "glory days" in the standup world. The new SuperJet touted a 633cc two-stroke engine and unprecedented handling. In 1994 it earned a more powerful 701cc engine that remains mostly unchanged to this day, only receiving small tweaks in 1996. Yamaha's first hull design cruised through the years from 1990 to 2007 with the only cosmetic change being the top deck going from the "Square Nose" to "Round Nose" design in 1996. The bottom hull remained the same for those years despite some component adjustments.
In 2008, everything changed for the Yamaha SuperJet. And by everything we mean a few small tweaks that altered the playful old school machine with a hull designed in 1990, to a corner-carving race-winning monster. The 2008-2019 SuperJet looks similar to its ancestors on paper. The current hull weighs in at 306 pounds dry while being 88.2 inches long, 26.8 inches wide, and 26 inches tall. The 2019 model starts at an introductory price of $8,499.
Notable hull characteristics include built-in front sponsons (previously only an aftermarket addition to widen the hull and add stability), shorter handle pole that allows the rider to stand more forward in the tray, intake grate, pump, and ride plate moved rearward for increased hookup (traction), and redesigned stainless steel impeller for less cavitation and acceleration.
Water performance, however, has drastically improved. Older stand ups were often described as "slippery" meaning they would easily slide away from the rider when leaning into a corner. This facet did not instill rider confidence, one second you were upright, the next taking an unexpected swim. People drawn to freestyle and freeride harnessed these properties to their advantage, but these traits made it more difficult for someone who needed to confidently hold a line on the race course.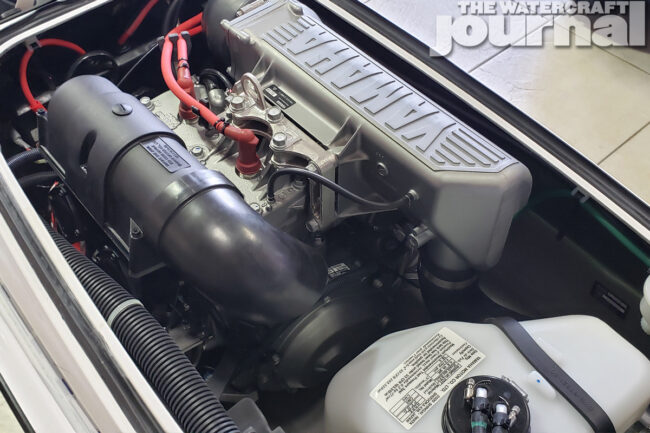 While the new SuperJet carves corners as good as or better than its race-bred Kawasaki competitor, the 2003-2011 two stroke SX-R 800, it is smaller and lighter to retain much of the playfulness found in previous models. That's right, Yamaha managed to produce a multi-trick pony with the 2008-2019 SuperJet. A unicorn if you will, able to satisfy the needs of almost any rider of almost any age. A great recreational watercraft, multi-class race machine from Stock to highly modified, or even a cross-training tool for those hot summer days when you don't want to be on the motocross bike, snowmobile, etc.
There are a few notable things to mention first that might make driving down to your local Yamaha dealer for 2019 SuperJet a bit different than your average WaveRunner purchasing experience. For one, the famed 701cc two-stroke, carbureted engine does not meet emissions standards in a few states (California, New York) and cannot be purchased. Older models are "grandfathered" in so if you live in one of these states, buying a used stand up from a private seller might be a workaround.
Secondly, a SuperJet is technically available for "closed course competition use only" which requires a membership to the International Jet Sports Boating Association, (IJSBA) for Owner Registration. At $65 for a yearly membership and easy online registration, that is hardly a factor. Lastly, the SuperJet does not come with a warranty. Don't let any of these things minor differences sway you though, most people learn to ride their new SuperJet on a public lake. Follow local boating laws and you'll be just fine.
Motorcycle riders will appreciate the SuperJet's ability to carve corners at 2-3Gs without worrying about someone swerving into their lane. Runabout riders understand the nuances of controlling something with a jet pump, such as staying on the throttle to turn and will relish the same controls with far less heft. For the non-motorsport athletes, there is no doubt that riding a SuperJet is an incredible full body workout. Legs take the place of suspension, arms control and steady the body while moving with the pole, and the core & back tie everything together in one balancing unit. Ditch the gym for a day on the water!
If you are none of the above, don't worry, a clean slate is a great way to get started with the 2019 SuperJet. Yamaha created a beginner friendly machine that has almost limitless potential and an enormous array of aftermarket options for the advanced rider. I had many failed attempts at standing when I first learned to ride, but when I finally stood the pride in that accomplishment that spread like wildfire. That feeling of joy is addicting and the SuperJet, with playful simplicity, is happy to feed the addiction.
Cornering confidence is much improved on the 2008-2019 SuperJets due to the built-in front sponsons and better pump, intake grate, and ride plate placement. Turn the handlebars, squat low, lean your body into the turn, add throttle, and feel the water fly by underneath your feet. Catch the water surface just right and maybe even drag an elbow! Cornering not your thing? Take to the sky off of lake chop with a blip of the throttle and land with a splash hunting for your next wave.
The fun doesn't stop after mastering the basics. The new SuperJet an excellent corner carver and wave jumper in stock form, but with a multitude of aftermarket accessories to increase speed and handling you can customize your new toy to suit your riding goals. If your plan is to race the SuperJet is a fantastic platform to build on, currently holding podium finishes in Lites Ski and Limited Ski classes around the world. Flatwater freestyle and surf riding are also in the Superjet's wheelhouse if you fancy slides, hops, submarines, and surfing.
Don't let the learning curve scare you off. There are numerous articles and videos and a supportive online community available to guide you through the learning process. The famous quote that goes something like, "It isn't the end goal, but rather the journey to get there, that is most satisfying." If you love to have fun, the 2019 Yamaha SuperJet definitely deserves a place in your garage.