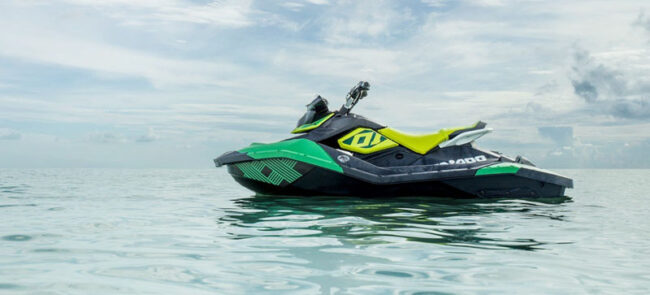 Every year personal watercraft manufactures such as Sea-Doo, Yamaha and Kawasaki come out with new models. The norm seems to be a redefined version of an existing model or maybe a new color scheme. Sometimes the manufactures come out with a completely new model and get people excited. When they do, people go crazy. Which is why in August 2013, when Sea-Doo announced the Spark, the industry changed as we knew it.
Almost everyone took to the internet and gave their opinion on this new type of watercraft. Questions like, "Why is it made out of plastic?" and "How were they able to make it so cheap?" were circulating all over. Little did they know that for many years prior, Sea-Doo had been working on a project called CAFÉ. Which stood for Clean, Affordable, Fun and Easy-to-Operate and by combining all of those items, the Spark was born.
Owning and operating a personal watercraft is not cheap. From the initial purchase to gas and maintenance, there are additional costs the whole time of ownership. BRP realized that the price of a watercraft was what was deterring many people away from owning a Sea-Doo. By spending thousands of dollars in their research and development department, they were able to create a watercraft that was completely new, much cheaper than any product on the market and make maintenance a breeze. The powerplant chosen was the ROTAX 900 ACE 4-stroke motor, a durable motor that had proven to be reliable.
Given the Spark's smaller hull, using Polytec material versus standard fiberglass allowed the overall weight of the watercraft to be much lighter. The need for a truck or SUV was over, anything with a tow hitch, even mini vans and sedans would be able to tow around a Spark. This is another way BRP's research and development team were able to indirectly cut costs for the consumer.
By having great success with the original Spark, Sea-Doo has now come out with different models such as the 2-up (2 seater) and 3-up (3 seater), different color combinations, ergonomics, big speakers, graphic kits, iBR and the new TRIXX model. This allows anybody to start living the Sea-Doo life at a fraction of the cost but allowing some room for the consumer to build their own.
For those of you that like to see the hard numbers, according to the National Marine Manufactures Association, "In 2018 sales of personal watercraft grew 6-8% to more than 68,000 units sold." While that number is huge, the expectation for the 2019 season is even more!
Not to be bias or one sided, Sea-Doo has done a tremendous job seeing a void in the market and designing the Spark. The way they have been able to allow more people to get into the sport at a fraction of the cost, is a great way to grow the sport. We are seeing more people purchase watercrafts, more people entering races and tons of people enjoying what the Sea-Doo life is all about.