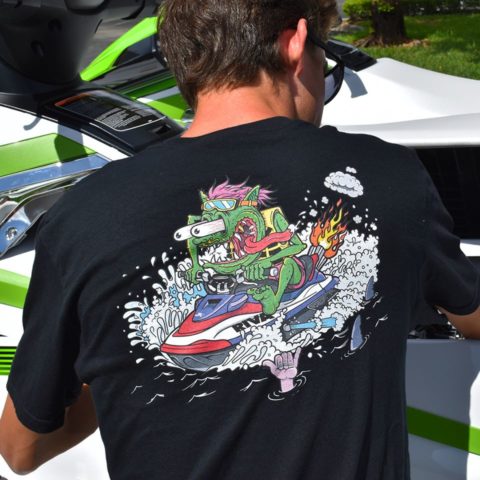 "Yeah, yeah," you're thinking. "I already know that RIVA Racing produces a lot of T-shirts and hats. Heck, I've got one or two already." Well, yes. You'd be right. RIVA has been printing official T-shirts since forever, but did you know that RIVA Racing – the world's biggest developer, manufacturer and vendor of performance PWC parts – also offers a wide variety of riding gear, including a range of competitively-price nylon life preservers for men, women and youth? Yup. Check 'em out here.
Specifically colored to match your own watercraft or the official color of your favorite manufacturer (Honda red, Yamaha blue, Kawasaki green, Sea-Doo yellow, you get the point); the entry-level pricing for the officially-branded RIVA Racing PFDs are enough to make you reconsider that high priced side-entry you've been eyeing. Of course, each PFD is USCG-approved and rated for the specific weight group, with sizes between Extra Small (XS) all the way up to triple extra-large (XXXL) and priced between $35.96 to $44.96.
Of course, you'll probably want something to wear underneath that new RIVA PFD or just while you're at the dock, so yeah, pick yourself up a new RIVA Racing T-shirt while you're at it too! They've got a whole array of brand-specific and model-specific shirts, embroidered beanies and baseball caps (both fitted and snap-back, and even perforated trucker-style caps too!); they've even got koozies and a limited edition spatula if you're planning on tailgating after your ride! Check out the whole enchilada HERE.