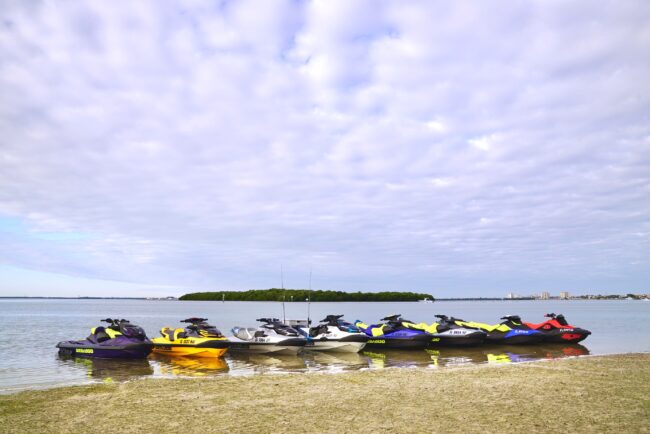 Itching to ride the all new 2021 Sea-Doo Watercraft lineup?  Well you're in luck because Sea-Doo is hosting the Florida #SeaDooLife Test Ride Tour and plans to make 29 stops throughout the Sunshine State this spring.
What an awesome way to treat existing and potential customers by literally allowing them to try the products in a personalized way.  Sea-Doo has been known for this and frequently does these regional and national tours when they can.
Literally what other manufacturers do this?……No one!  With so many exciting new features and technology to show off for 2021, this is a great way for Sea-Doo to kick off the season.  See what all they have to say about the event below.
Sea-Doo will be producing 29 Test Ride days across Florida this spring providing watersport fans the opportunity to try before they buy. The test ride tours will splash six different Sea-Doo models including the new 2021 Sea-Doo RXP-X 300, GTX with iDF (intelligent debris free pump system), SPARK and GTI platform units. Product specialists will be on-site to help teach guests about the newest ease-of-use technologies such as the exclusive iBR (intelligent Brake & Reverse) and direct them to their own on-water Sea-Doo experience.                                                    
The #SeaDooLife Test Ride days will be conducted in a controlled manner and interested guests are encouraged to pre-register to secure their desired time slot. Guests can view the tour schedule and register at demo.sea-doo.com.  All ride days follow a COVID safety protocol including all people on-land wearing masks, guests encouraged to bring their own safety gear, on-site sanitizing stations, and each Sea-Doo watercraft is sanitized between each ride.
Guests will be able to live the Sea-Doo life firsthand and learn about the value the Sea-Doo sound systems and modular LinQ accessories bring to Sea-Doo fun. Guest will also be eligible for special promotional offers following their rides. Let's ride.