[This episode of Seven Deadly Questions comes from a Wiseco Performance Products interview with the five-time IJSBA world champion and Yamaha racer Tyler Hill. – Ed]
WPP: Give us some history on your racing career.
Tyler Hill: I have been racing personal watercraft since I was eleven years old and have grown up in the watercraft racing industry. In my first year of racing, I captured my first world championship title when I was eleven years old in the Junior 13-15 Runabout limited class in 2008. Over the next several years I became a top contender in the Sport class, competing in Sport Spec, Sport Spec Open, Sport Modified, and Sport GP. Two years later, I won the Sport Spec world championship title at the age of thirteen. In 2012, I placed second in Sport Spec and Sport Modified. I placed third in Sport GP and first in Sport Spec Open in 2013.
After finally winning the Sport Spec Open class, I set my sights on winning a world championship in Sport GP. The following year, I took a third place in Sport Spec and a second place in Sport GP. The world title eluded me in 2015 when I placed second in Sport GP. After a lot of hard work and determination, I achieved my goal of Sport GP World Champion in 2016. I also took a second place in Sport Spec. I returned to the Runabout class in 2016 and won a world championship title in Runabout Naturally Aspirated Stock.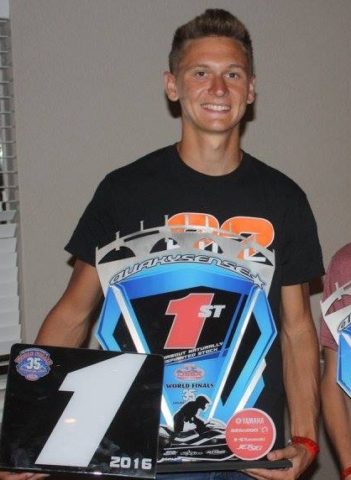 WPP: What's your favorite place to race and why?
TP: My favorite place to race is Lake Havasu. I love the rough water conditions, especially in the fall at the World Championships. I think I race my best when a challenge awaits me.
WPP: What's your favorite hull/engine combination to run and why?
TP: My favorite hull to run is my Yamaha GP 1800 with its CC displacement of 1812. The GP 1800 is a supercharged 4-stroke that in stock form, goes over 70 mph. With the correct combination of handling parts, it is a fun boat to race and fast. I also enjoy racing my Sport GP HX which is powered by a Seadoo 951 engine with Wiseco Pistons. Last year, I won a world championship in Sport GP racing through some of the roughest water conditions seen at the World Finals in Lake Havasu.
WPP: Have you seen any growth in the sport since you've been racing? If so, what do you attribute that to?
TP: Over the past few years, I have seen the Sport class grow in both Sport GP and Sport Spec. I think that several of us sport riders have contributed to making the classes more exciting to watch and competitive to race in. My race boats have inspired others to build Sport GP boats. My fellow racers hope that they will get the chance to beat me on my Sport GP HX..
WPP: What's the driving factor for you to stick with your key sponsors?
TP: I am a very loyal racer to my sponsors and want to represent them as a positive influence in the sport of watercraft racing. My sponsors have been very generous over the years and I truly appreciate their support. I could not have won 5 world championship titles without their help and sponsorship. Each year, I am proud to run their company names on all of my race boats.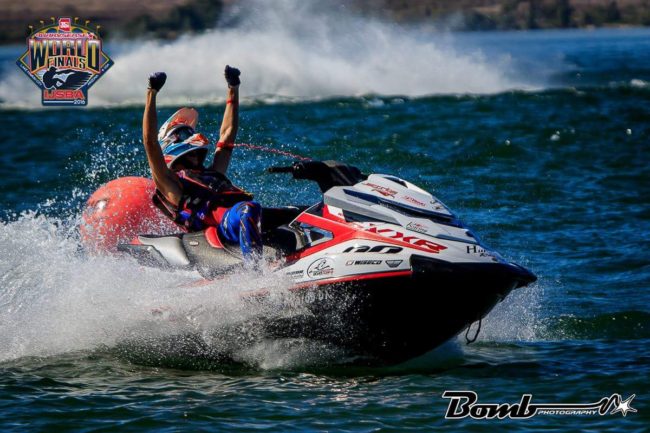 WPP: What have you been focusing on in the recent months?
TP: I have been training for the upcoming 2017 World Finals of Watercraft Racing to be held in Lake Havasu City, Arizona on September 30th through October 9th. I have been on a strict diet to keep my body fat percentage low, along with a weight lifting program at the gym. I incorporate active cardio type of activities into my program like road cycling, mountain biking, and surfing. I will be training on the lake every day for the month of September. I will be racing both Sport Spec and Sport GP once again at this year's World Finals. I have also made a big step up to the Pro Runabout Stock class.
WPP: What's next for you in the coming years?
TP: In the coming years, I want to become one of the top competitors in every aspect in the sport of watercraft racing. I train extremely hard to be competitive in the sport, from endurance racing to closed course. I want to continue to better myself in all areas of watercraft racing which include racing in all classes: Runabout, Sport, and the Ski class.
Racing photography courtesy of Woramun Boonrawd at Bomb Photography. All images are available HERE.