The Watercraft Journal: Hi Brynton happy to have you on The Watercraft Journal! Could you tell us a little about yourself and your jet ski history?
Brynton Handshy: I started riding a Kawasaki 300SX when I was 6 yrs old. My brother had a Yamaha Superjet that I would take off on because it was faster. Back in those days what made me want to try riding was watching my brother and dad ride and race. My brother raced JR Sport Spec when he was 13, and was pretty fast. My dad has raced stand ups for a while, and he has won multiple regional titles in the Ski Lites class and won races in Ski GP classes also.
WCJ: Was it difficult to learn to ride a stand up ski, and once you learned to ride why did you choose racing stand ups?
BH: Since I wrestle I had good balance and I was only about 50lbs when I learned to ride, so it was kinda easy. Started racing stand ups when I was 10. I wanted to be like my dad and his friends so they pushed me to become faster, and put in lots of laps at practice.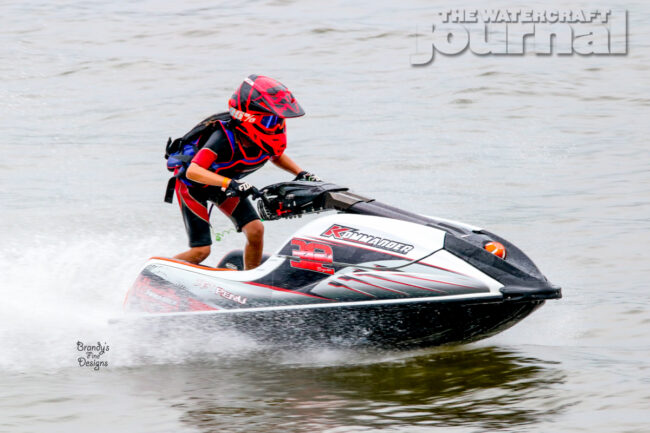 WCJ: Let's move on to some favorites! What is your favorite part about riding stand ups and what is your favorite ski?
BH: Winning and getting to hang out at the races with all my friends, as well as the challenge that racing brings! My favorite ski is my Hydrospace, but I also like carving on my Kawasaki SXR 800.
WCJ: What do you currently ride, what classes, and what are your future riding goals?
BH: I race a Hydrospace and Kawasaki SXR 800 in the Junior 10-12, and will also be moving up to the Junior 13-15 class soon. This season I'm determined to win every heat and main race, and go to World Finals to show how hard I've worked with all the countless laps I've ridden at practice to prove I can be a World Champion!
WCJ: That is truly inspiring Brynton, how do you train/practice to reach your goals?
BH: We set up a track twice a week and have an average of 10 stand up riders that come to practice. My Dad is a huge supporter of me, pushing me, and supporting me all the way. He is my greatest role model.
WCJ: Any sponsors you would like to thank/mention?
BH: Yes we couldn't do it without all the help from sponsors – Jet Renu, Kommander Industries, Craig Ingram with Performance Watercraft, Trey Southerland for all the tech and mechanical help, Level 6 wetsuits, and of course my Mom and Dad.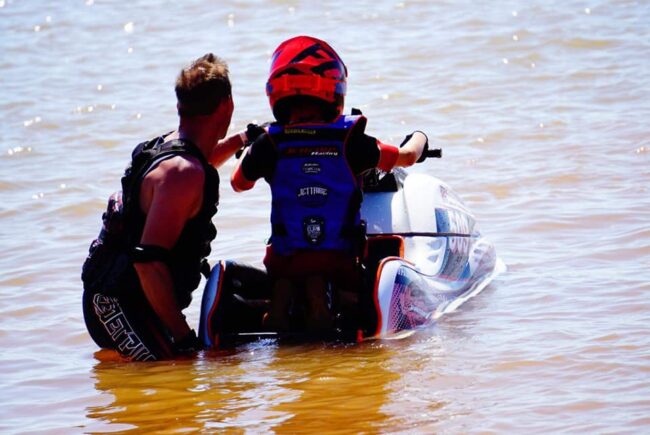 WCJ: Outside of skis, what other things do you like to do?
BH: Wrestling, soccer, football, and basketball. I like riding scooters too, and taking things apart to figure out how they work. Another fun thing is I like to play with my dogs, and chase my cats around the house.
WCJ: Thank you so much for sharing your story and determination Brynton! Before we go, what advice do you have for fellow racers and people interested in learning how to ride stand ups?
BH: Practice and practice and never give up! Keep on working on your goals, and don't be afraid to try.