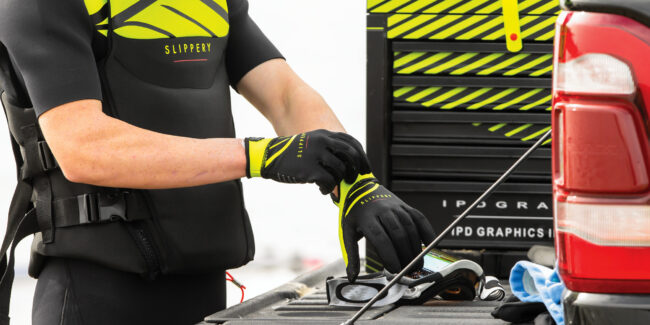 It's no secret that we're big fans of Slippery Wetsuits here at The Watercraft Journal. Even before they came on as the official apparel and riding gear for our YouTube channel, you can clearly see us sporting the brand's lifevests, gloves, boots and wetsuits in our photoshoots. Now celebrating its 30th year in business, Slippery has joined another major personal watercraft entity as it's "official" brand: the Pro Watercross Tour! It's a big deal for both parties involved, whether you've ever donned a wetsuit prior to riding or not. Check it out!
Here's the complete press release:
Pro Watercross is pleased to announce that Slippery Wetsuits will be the "Official Wetsuit" of the 2019 Pro Watercross National Tour and World Championships. Slippery Wetsuits is the industry leader in watercross race wear and a welcome addition to the Pro Watercross family.
Josh Shorter the Brand Manager for Slippery Wetsuits and Vests is beyond excited to be connected with Pro Watercross for the National Tour and World Championships in this their 30th year of protecting riders. Josh confided that the timing couldn't be better for the introduction of the completely new design and "Vibe" of the 2019 Slippery product line. "Pro Watercross is the premier tour for personal Watercraft Racing in the US and the live stream they produce will keep fans updated about our whole new line," said Josh.
To view all the new products and view the schedule for the National Tour follow the link at ProWatercross.com or go directly to the site at www.SlipperyWetsuits.com
For more information about Slippery Wetsuits and all our sponsors go to www.ProWatercross.com/sponsors