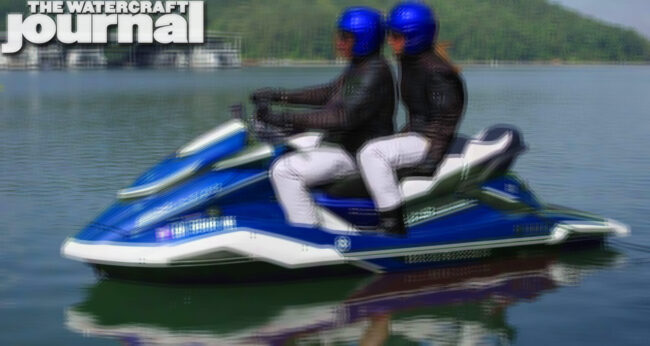 Sometimes leaks happen from the unlikeliest sources. Over the weekend a reader sent us a very low resolution image pulled from Yamaha's own online accessory store ShopYamaha.com that supposedly had been posted earlier last week and quickly taken down – but not before some eagle-eyed Yamaha enthusiasts grabbed it first!
We blew it up and tried to sharpen the image in Photoshop, and what we got was what you see above. Clearly it's an iteration of the FX Cruiser (we think a SVHO because of the large print logo behind the passenger's foot) in a very catchy metallic blue, a color option not available for 2019 so we're presuming it's a 2020 unit.
But what is more striking is what the riders are wearing:
The long riding pants and "float coat" style jackets appear to be new cold weather riding items slated to arrive in next year's apparel section; but the big items are the open faced helmets! Obviously, helmets aren't required riding gear – particularly open-faced ones – so that left us scratching our heads.
We asked around to some inside sources who alerted The Watercraft Journal to Yamaha's plans for opening up its watercraft accessories line in a very big way. The first being the integration of existing Bluetooth driver/passenger communication technology (borrowed from its Star motorcycle line), and an industry-first audio entertainment package!
Little did we know that the existing 7-inch all-color LCD screen is ready to be upgraded into an infotainment console capable running live trip data, linking a smartphone to bring your pre-recorded music with you, or stream Pandora thanks to the onboard USB or Bluetooth wireless connection option.
Through the speakers and microphone integrated into the helmets, Yamaha's new Communications Suite will put the driver in crystal-clear communication with the passenger as well as through the Bluetooth-connected smart phone, allowing them to make phone calls or select music all via voice command.
Obviously, not everyone will want to ride wearing a helmet, so Yamaha Accessories Division plans on offering a lesser-priced headset-and-microphone package. With this, we're certain Yamaha will leapfrog the competition in rider-friendly accessories and infotainment!