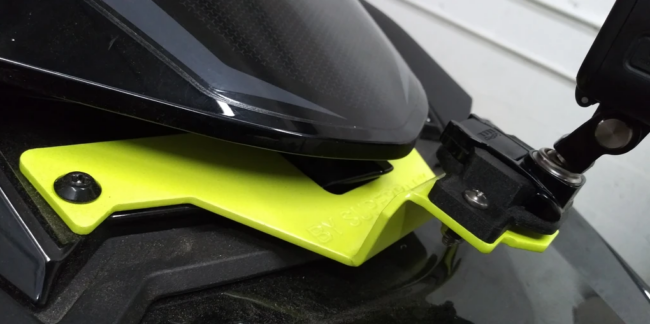 Many of you regular readers of The Watercraft Journal know that we also publish a bi-monthly YouTube show wherein we video record reviews of the latest personal watercraft as well as the occasional spotlight on a particular lake, river or riding location. Part of that process is capturing live footage with action cameras, often mounted all over the PWC we're riding. Thus far, we've only lost one GoPro camera to the bottom of our local lake – but with Super Rack LLC's new mounting bracket, that could've been saved!
Known for their stellar PWC racks and storage systems, Super Rack LLC's new GoPro Bracket is designed to fit all current (2018-up) ST3-based Sea-Doo 3-seaters (GTX, RXT-X, Wake Pro 230 and Fish Pro). Made from 100-percent marine-grade aluminum, the bracket installs easily to the front "hood" cover using the same factory screws – requiring no new hardware. According to Super Rack, the "GoPro mount is included, all you need is your camera; there is no need to buy any extra parts or accessories."
As a nice final touch, Super Rack LLC offers the bracket in a variety of powder coating color options. While the colors are not meant to match any PWC, they are "close enough" to some colors use by Sea-Doo, so make sure to check out what's available! And for a limited time, the regularly priced $69.99 bracket comes to you with free shipping, saving the savvy buyer a few extra bucks!