So, you have your riding gear for this season. Rash guards, neoprene shorts or spring suits, life vests, and perhaps a good pair of gloves. Well don't forget about protecting your feet.
When it comes to riding shoes and boots, Slippery Wetsuits has you covered with their full lineup of footwear that is new and improved for 2020. Entry level offerings include the Amp Shoe which is a low cut neoprene shoe and the Amp Boot which is an above-ankle version.
Both the Amp Shoe and Boot offer the same level of protection against the elements. The 2mm neoprene will keep your feet warm while the molded rubber sole will give great traction while riding or walking around.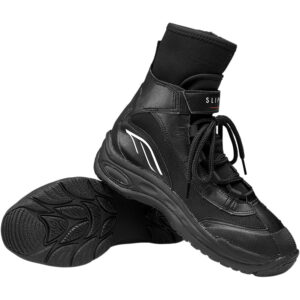 For the ultimate in foot support, traction, stability, and abrasion resistance, you want to check out the Liquid Race Boot.
This latest version of the race boot has been specifically redesigned to exceed the demands of racers and hardcore recreational riders. The athletic sole provides excellent stability and traction so you can ride all day without enhanced fatigue.
Other features include a mesh design and perforated chassis for ventilation and drainage. The 1.5mm neoprene liner is removable for easy cleaning and the unique pull-tab and lacing system allow for ease of entry and removal. Additionally, the heel and toe give anti-abrasion and extreme durability.
When it comes to the ultimate riding footwear, look no further than Slippery Wetsuits.